Culture and Tradition in the Seychelles
Known for their paradisiacal setting, sublime beaches and turquoise sea, the Seychelles boasts other equally captivating riches. These magnificent islands off the Indian Ocean arouse interest in their history, civilisation, customs and culture. Travellers will remember their stay in the Seychelles, a people united in diversity and a genuine way of life.
A fascinating mix of cultures
The Seychellois culture is characterised by the diversity of the people who have settled there over the years. Through its art and traditions, the archipelago is thus enriched by African, Asian and European influences. This results in a curious, but harmonious mixture in the way of life of its inhabitants.
During your stay in the Seychelles, you will observe this multicultural touch in the gastronomy, crafts and architecture of the country. Generally speaking, the way of life of the Seychellois will testify to this joyful melting pot. The various religions practiced here illustrate this point. Christianity, Islam, Hinduism and local beliefs blend harmoniously.
The languages ​​spoken in the Seychelles follow this same reasoning of mixing different origins. Creole is spoken throughout the country, while English and French are used as the language of administration. In Seychellois cuisine, rice, curry and coconut milk, used as staple foods, will also recall these multiple origins.
A simple and relaxed life
In addition to the diverse but mixed culture of Seychellois, what strikes the Seychelles is the sweetness that reigns there. As in many islands, the smile, the kindness of the inhabitants and the friendliness they show daily charms the visitors. These little things in life certainly reflect the best facets of Seychelloise habits.
During your Seychelles vacation, you will get the impression that every day is like a party. During the day, the Seychellois find themselves in a particularly busy market. In the evening, young people invade the beaches for a drink, dance and meeting. You will spend rhythmic days in the heart of an environment that invites you to relax and escape.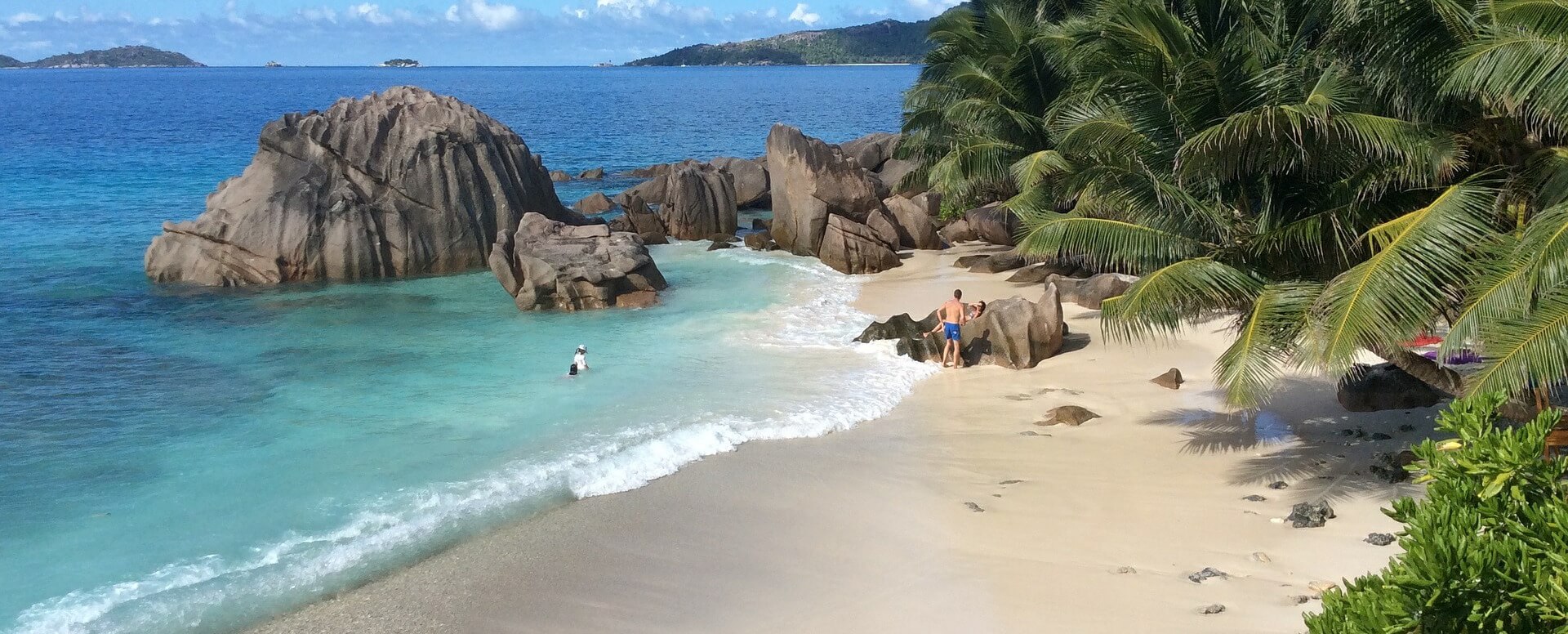 Traditional Traditions
Take advantage of the rhythmic atmospheres to discover the Seychelles folk ambience during your stay. It is with joy and good humour that you will discover dance and Seychelloise music. The latter have their roots in African influences. This is the case of the Séga and Moutia, traditional dances where paces and swaying enhance sensuality to the rhythm of the drums!