Rent a villa with staff: a choice with many advantages
There are a thousand and one ways to spend your holidays comfortably. But if you want to live unforgettable moments with family or friends, renting a villa with staff is one of the few guarantees for a perfect stay.

Choosing a villa for your holidays allows you to find yourself in an exclusive setting, a private and confidential place, a cocoon for you and your loved ones. Everyone enjoys the facilities and equipment of the house at their own pace: swimming in the pool, tennis, reading on a shaded terrace, walks in the gardens, viewing a film on a big screen.

Add home staff and the happiness of having a charming or luxurious villa will be increased tenfold. Abandon the chores to others. You can devote every minute of your time to your leisure time, your cultural outings, family moments or your escapades in the wilderness. The services of a professional cook or chef will delight you. You will be happy to taste the traditional local specialties while choosing the menus and dishes for the following day. If you wish, you will of course be able to attend the preparation of all these good dishes so you can learn too.

>> Discover the most beautiful homes with staff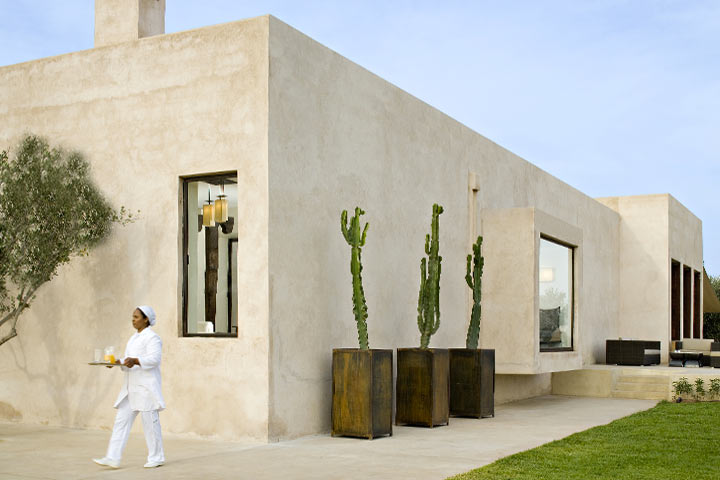 Rent a villa with personnel: where to go?
Morocco, world renowned for the kindness of its inhabitants and its guests, is also recognised for its traditions of being welcoming which has been engraved in its culture. From Marrakech to Essaouira via Taroudant and Tangier, villas with quality staff are numerous. They are available for the duration of your stay at no additional cost. Some properties are equipped with hammam so they also benefit from a service of scrub and massage at home, perfect to relax after the numerous cultural excursions offered by the destination.

In the continent of Asia, Bali or Sri Lanka are other great destinations where you can enjoy high quality service. Greeted by a warm and very professional staff, travellers are often surprised by the many attentions they enjoy during their stay. We are never far from services totally tailored to the image of a luxury hotel. In Bali wellness is also at the heart of the concerns and the famous Balinese massage will make you regain all your energy and tone.

In Europe the villas with housecleaning and cook or star chef are not lacking. Ibiza, Luberon, Greece, Italy, Corsica, and Verbier are some of the destinations in which comfort-conscious owners have entrusted their property to nursing staff. Villanovo have found them to offer to a clientele looking for a customised holiday and 'la dolce vita'.

So why deprive yourself? To have access to these magnificent houses just make a request directly on our website www.villanovo.com and rely on each of our advisers who know every detail about the property. Custom service starts from the moment Villanovo receives your request for a stay!

>> Our choice of charming villas at low prices with the service of staff included

More information: Villanovo offer extraordinary villas all over the world, luxury and charming houses selected one by one and tailor-made services to fully enjoy your stay. Discover a selection of over 1,200 villas, chalets and riads chosen with the utmost care by our local teams.