Bored of traditional restaurants? For more fantasy during your trips, think about booking in one of these restaurants with unusual environments and delicious cuisine.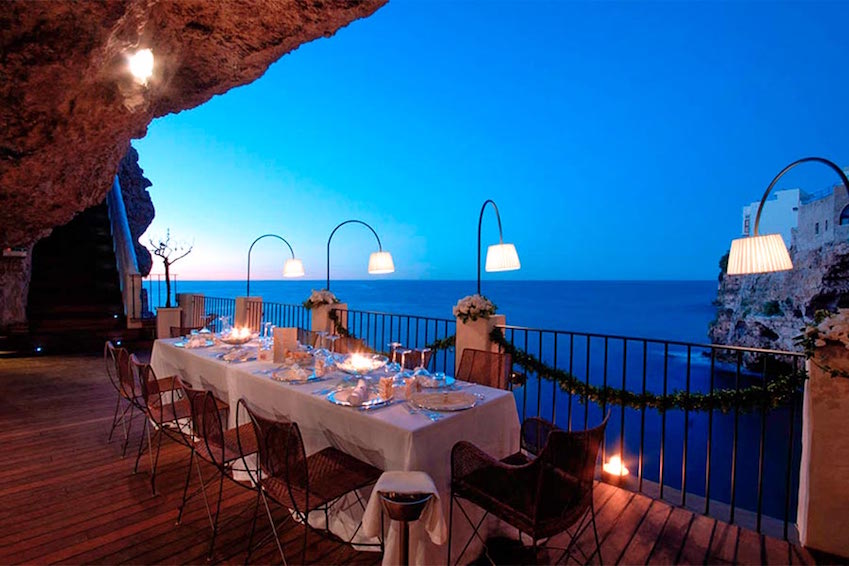 Restaurant Grotta Palazzese – Puglia, Italy
Located in Poligno a mare in Puglia, this
Italian restaurant
will sublimate your diner thanks to its incredible setting. In the middle of a cave called la Grotta di Palazzo, have
dinner in this cave
and enjoy a mysterious atmosphere on the seaside. Perfect for a
romantic and original
invitation, you will remember this unusual decor that both tourists and locals love.
Reserve your dinner in this fabulous restaurant here!
>>>  Book a luxury villa in Puglia
3 842 - Chamonix, France
If we are proud to have a French among this top 5, this one is quite exceptional: off the beaten tracks,
have a meal in the peak of the famous Aiguille du Midi
in Chamonix! At 3842 meters high, taste some
French mountain dishes
with a breathtaking view on the Northern Alps. On the menu, you will find a savoury Savoy rumsteak and roasted veggies, among others. Anything to give you the strength you'll need for this ski holidays in the
Alps
!
Book your lunch in the incredible 3842 here!
>>> Rent a splendid property in Chamonix
Sirocco restaurant - Bangkok, Thailand
If Bangkok is a
boundary breaking experience
by itself, what would you say of sharing a
gastronomic meal on the roof of a tower
of 63 floors? Rooftop enthusiasts, you won't be disappointed! Indeed, this restaurant set on the top of the cliff of the famous State Tower is one of the busiest
restaurants in Thailand
. Knowing that it has a capacity of 150 persons, it is essential to book before. However, if you simply want to enjoy the view, why not getting a delightful cocktail in the bar? Thrills guaranteed!
>>> Your dream villa in Thailand
Ithaa undersea restaurant - Maldives
First undersea restaurant in the world made of ice
, this restaurant invites you to eat 5 meters under water! Voted the
most beautiful restaurant in the world
in 2014 by the New York Daily News, the place also offers a 180°C view on the marine nature. However, don't expect to taste local specialties... Here, we serve a refined
European cuisine
. Know that you also have the possibility to privatise the place for a breakfast, a wedding or any other special occasions.
>>> Our sumptuous properties in the Maldives
Sublimotion - Ibiza
At last, if you like
light games
, Sublimotion is made for you! In this
colourful and dynamic environment
, let yourself be amazed by a true show of lights which will transport you in different universes during your meal:
an exclusive artistic performance
which explains the high prices of this Spanish restaurant. The head chef Paco Roncero, which owns 2
Michelin stars
, will surprise you with original creations of a reputation that is not to be made anymore.
Awaken your visual and gustatory senses
and enjoy this moment with your loved ones for an unforgettable stay on the famous
Balearic Islands
.
Try the experience by booking here!
>>> Find here an exceptional property for your holidays in Ibiza