In the heart of the Mediterranean, Corsica is a dream destination you should not miss this summer. With family or friends, discover this insular jewel that combines steep cliffs, marine reserves and spectacular natural landscapes. Between sea and mountains, Corsica has real treasures. From its villages perched on the side of the walls to its green hills, lose yourself in the beauties of Corsica. If you have not yet booked your summer vacation, here this is a selection of charming villas still available to discover the island of Beauty and live a unique experience in the world.
Corsica, a destination for nature lovers
One thing is for sure, natural spaces are not lacking in Corsica. Secret and wild, this island jewel that is often nicknamed "the island of Beauty" will take you to another world. From steep cliffs to hills covered with chestnut and olive trees, Corsica enjoys breathtaking natural landscapes. Take a tour of the marina of Calvi, the Corsican city closest to the continent. Here, in summer, the joy of life is in full swing. If the crowded sandy beaches are not the most pleasant in the middle of the summer, we recommend that you stop at the citadel, built at the end of the 15th century. Imposing and picturesque, this architectural marvel will enchant you with its rocky promontory and ocher walls.

Then go to visit Cap Corse, which is an island in an island. If you are traveling with your children, Cap Corse is the perfect opportunity to organize a family road trip. Located in the North of Bastia, Cap Corse is one of the most beautiful parts of the island of Beauty. Lose yourself in its hills, mountains and valleys. Crossed by a rocky ridge, Cap Corse offers a splendid setting to rest and spend a relaxing holiday away from the worries of everyday life.

Do not miss Bonifacio, one of the most touristic but also the most beautiful cities of the island. Suspended above the water, Bonifacio amazes with its rocky cliffs and its perched village. We advise you to discover these spectacular landscapes during a boat trip, perfect to admire the beauty of the Bonifacio cliffs! During your stopover in Bonifacio, do not miss the beautiful natural reserve of Bouches de Bonifacio. Bouches de Bonifacio is the largest natural reserve in Metropolitan France and covers almost 200,000 acres from Corsica to Sardinia. Here, you will be able to admire unique natural spaces in the world as well as a very rich biodiversity.

For a break, make a stop in Porto-Vecchio, the ancient city of salt, where you will find beautiful beaches where to sunbathe. Porto-Vecchio is also a popular spot for celebrities so keep an eye out!
Make the pleasure last by marveling at the Aiguilles de Bavella. Connecting the Alta Rocca to the East coast of Corsica, the Aiguilles de Bavella are characterized by large rock walls and are lined with pine trees twisted by the wind. You will be stunned by these impressive points of red porphyry carved by erosion. Fascinating and spectacular, Corsican nature is here at its peak.

Finally, a stay in Corsica can not be complete without a stopover in Ajaccio, the first Corsican city. From the citadel of the city, which became the "capital" of the island of Beauty to the Parc de Milelli overlooking the Ajaccio Golf Course including the incredible Palais Fesch, Ajaccio deserves a few hours. Stroll on the fine sand of Ajaccio's pretty beaches, especially those of Ricanto and the Iles Sanguinaires (literally "the Blood Islands").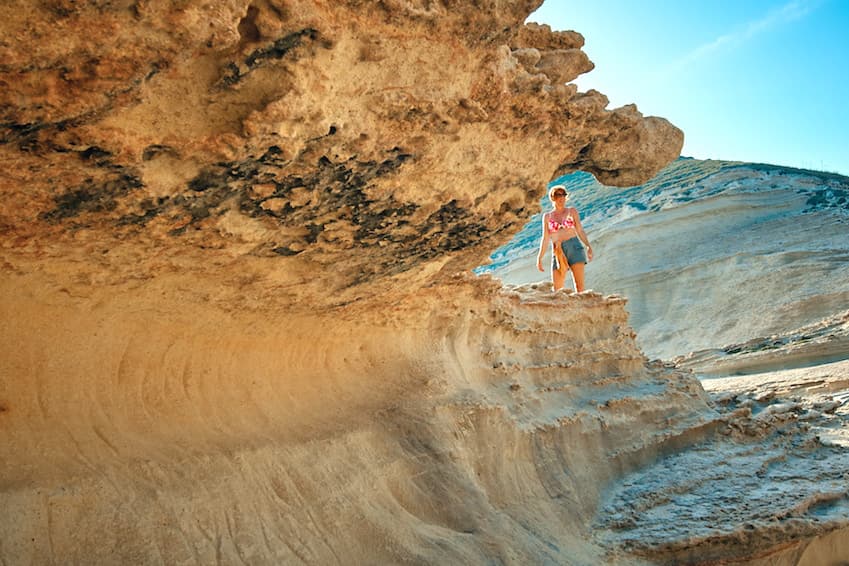 A lot of activities to do in Corsica
The beautiful natural landscapes of Corsica invite to organize outdoor activities, especially if you visit the Island of Beauty with your children. Equestrian tours can be organized at various farms scattered around the island. There is also a new activity on the island that is on the roll: crossing Corsica by donkey. With its valleys and picturesque mountains, Corsica will also delight all lovers of climbing. In particular, the mountain of Bavella is a must. During your stay, you can organize beautiful bike rides and discover the Corsican nature on this occasion. Finally, last but not least, the mountainous terrain and natural areas of the Island of Beauty offer fantastic opportunities for all hikers. Among the most famous tours, do not miss the GR20 crossing the island from Calenzana to Conca. Be careful though, this itinerary is reserved for the sports aficionados. If you want to explore Corsica at a slower pace, choose Mare a Mare and Mare a Monti.
Our latest villas available in Corsica this summer
If you have not yet booked your summer vacation and are wondering where to go, Corsica is an excellent choice. Enjoying a very sunny climate between June and August, Corsica shines with its spectacular natural landscapes and wild coves. Discover our latest villas available this summer and book your stay on the island of Beauty!

To offer you an ultra-luxury experience, Villa Jasmin is the one you need. Located near Saint-Florent, on the edge of the Agriates desert, this beautiful contemporary villa enjoys breathtaking views of the surroundings. Relax in the infinity pool which can be heated on request and share beautiful moments with your beloved ones on the terrace which offers one of the most beautiful sea views. To make your stay even more pleasant, a house staff is at your disposal to clean and prepare your meals. With luxury comfort and high-end services, your getaway in Corsica has never been so delicious.

Near the Gulf of Saint-Florent, there is also Villa du Cap. Located in a very quiet area offering a lot of privacy, this prestigious property has a plot of 37 acres covered with Mediterranean vegetation. Stroll among cypresses, eucalyptus trees and countless olive trees. Many terraces are also there to welcome you with lemon and orange trees to scent the air. Take a break in the beautiful swimming pool, accessible from inside the villa, or have fun on the private tennis court. A house staff is also at your disposal to make your stay even more pleasant.

Let's go for a walk around Porto-Vecchio where you will find Villa Giulianna. Nestled on a hillside, this prestigious villa is close to Santa Giulia Beach. By the stairs of the terrace, join the large heated pool and swim in the clear and warm waters of this little corner of paradise. A fenced garden will also allow you to bask in the sun or organize outdoor activities with your children. Inside, find warm and bright living areas, decorated in a contemporary style. Equipped with high-end furnishings, the property has eight bedrooms and seven bathrooms.

To enjoy Porto-Vecchio this summer, you can also choose Villa Carpa which enjoys a breathtaking view of the Bay of Porto Vecchio and the Aiguilles de Bavella. Perched at the top of a private residence, this property is without any opposite. Take advantage of this total privacy to organize a great holiday with family or friends and relax under the sun of Corsica. Dive into the beautiful private pool, secured by an alarm system if you are traveling with your children. Teak terraces will also allow you to share beautiful moments with your beloved ones and to contemplate the magnificent view of the surroundings.

If you want to taste the ultimate luxury in Corsica, we recommend you Villa Marinka. Built on a huge plot of 5000 sqm, this luxurious property offers exceptional 180-degree views of Palombaggia Beach. Thanks to a direct access to the beach, Villa Marinka enjoys a dream setting, perfect resting and relaxing! Share precious moments with your beloved ones on the large furnished terrace and dive into the beautiful heated infinity pool. Equipped with four bedrooms, Villa Marinka has warm living areas decorated with high-end furniture.

If you prefer a more traditional holiday, go to Villa Angia. This old stone farmhouse is typically Corsican. By staying there, you will discover the authentic side of the island of Beauty. The villa is fully air-conditioned and has a swimming pool with stunning views of the surroundings. A fully equipped wooden deck is also at your disposal to share delicious al fresco dinings. Inside, find warm living areas including a living room with a beautiful fireplace.

Another traditional house in Porto-Vecchio: La Bergerie de Julie. Unique and elegant, this property is a former sheepfold located not far from the turquoise waters of Santa Giulia. This sheepfold shares with its neighbor, Casa Juliana, a beautiful pool from which you can enjoy splendid views of the Gulf of Santa Giulia. Combining tradition and modernity, La Bergerie de Julie is decorated with contemporary and rustic elements, giving the property a unique character.