Best places to go wild (freshwater) swimming in Spain and Portugal
Written on : 28 February 2019
The joy of summer for many people is the combination of warm sunny weather and jumping into refreshing cool water. Going to the beach is beloved by all, but there's something special about immersing yourself in freshwater lakes, rivers and waterfalls. It feels like a cleansing, normally in the heart of nature in more isolated areas than many popular beaches. Sunkissed Spain and Portugal are home to dozens of spectacular wild swimming locations, where your summer can be splashed with carefree memories with your friends and family. Pack a towel and picnic, and spend a few hours or an entire magical day swimming, sunbathing and relaxing.
Embalse del Negratín, Andalucía, Spain
One of Andalusia's largest freshwater lakes, Lake Negratín is located on the border of the provinces of Granada and Almería, near the villages of Freila, Cuevas del Campo and Zújar. The huge lake changes colour throughout the day with the movement of the sun, all hues of blue. The rugged mountains surrounding the water then provide an incredibly picturesque backdrop, creating interesting reflections on the calm surface. The beach is made up of small stones, but, as soon as you enter the water, there is pleasant sand beneath the soles of your feet. It's a wonderful location to bring along your children too, however do take care with younger, more inexperienced swimmers, as the water becomes deep quickly. For a slightly less wild swim, head to Los Baños de Zujar at the far end of the lake for a swim in the beautiful open-air thermal baths, which are heated by the mountain's natural hot spring. These waters are also believed to have therapeutic qualities!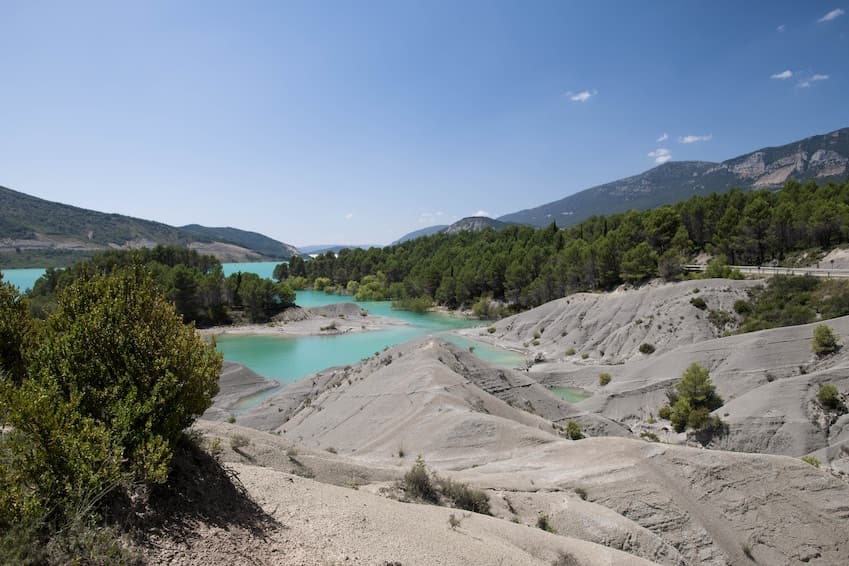 Lac de Yesa, Pyrenees. Spain
Just over a 2 hour drive from the Basque Country, you can find this vast artificial reservoir of incredible sapphire tones. The colour is owing to the limestone rock and pale mud of the lake, which allows the light to reflect through the water to create such a stunning shade. This mud is soft but rather sludgy underfoot, which can be an interesting sensation! It also stirs up easily, so take your photos of the beautiful landscape before jumping into the water! The reservoir was built in 1960, and enjoys a scenery of thriving oaks, beeches and pines, and also has the benefits of very deserted surroundings despite being so close to the road. In the summer it can be a little busy, however outside of peak season you can feel as though you have much of the area completely to yourself.
Gorgues de Santa Margarida, Cataluña, Spain
Located in Les Planes d'Hostoles in the province of Girona, this magical waterfall feeds into a beautiful pool surrounded by woodland and the mossy rock ledges that the water cascades over. After admiring the falls from the water's edge, you can actually walk right up to them and then behind the curtain of water! This offers a very unique perspective and allows you to enjoy the roaring sound up close. The paths that reach this natural pool criss cross over dry streams and between large rocks, making the journey feel like an adventure. As the bottom of the pool is rocky and at times slippery, take care as you make your way in for a delicious dip! This location is ideal for families who want to find a beautiful swimming alternative to the beach, though the path behind the waterfall may not be suitable for smaller children.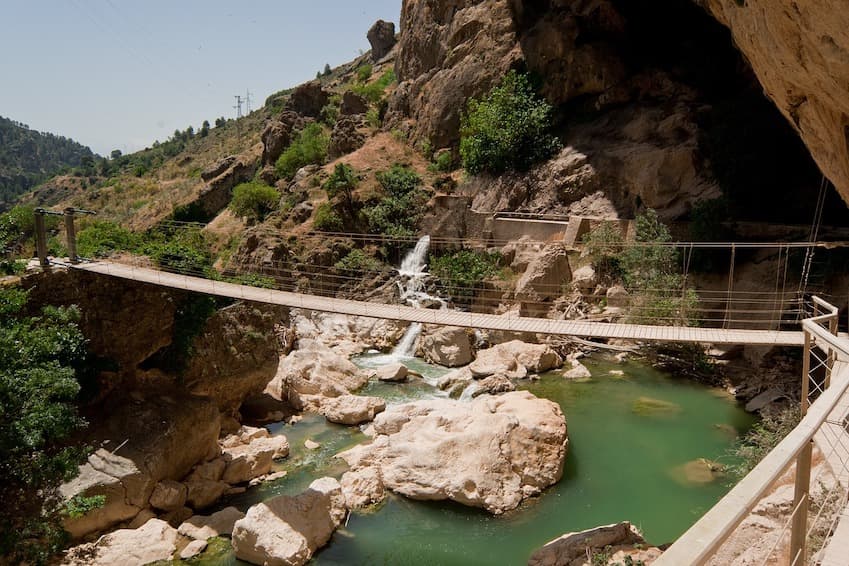 Río Verde, Andalusia, Spain
As the name suggests, the colour of this river is a jewel-like green, coordinating with the lush green mix of subtropical trees, plants and pine forests of the area. Many thrillseekers come here to practice canyoning, climbing and throwing themselves into the water from rocky outcrops and scrambling along the streams and narrow gorges. For those dedicated to finding their own secluded watery paradise, approximately 90 minutes drive northeast of Málaga you will find an area of crystal-clear untouched beauty. Freshwater rock pools, both shallow and deep, welcome you to float in serenity. Rocky scrambles lead between various different pools, one of the most scenic being La Poza Central. Here, a small waterfall drops down yellowish rocks into the clear turquoise swimming hole, and it is truly irresistible for a swim! There are even some rope bridges with wooden planks that link between different sides of the gorges, a fantastic place to explore for those who aren't afraid of heights!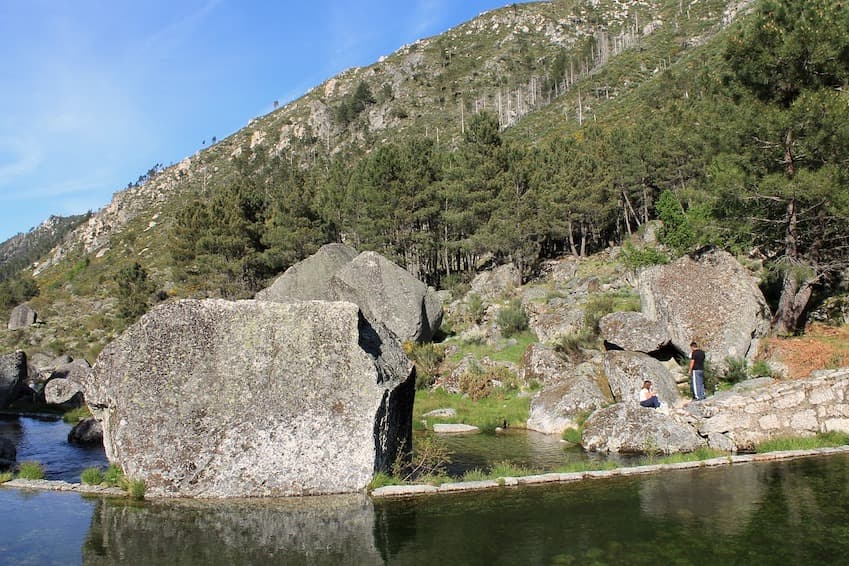 Loriga River Beach, Central Portugal
Found in the sweeping valleys of the Serra da Estrela Natural Park, around two and a half hours' drive from Porto, the water of this natural pool flows straight from the glacial mountain valley, meaning, yes, the temperature is a little fresh! However, despite the altitude of this site, in the summer months the air temperatures can soar, so you are still likely to be running into the water to cool off. The turquoise rock pools are blissfully transparent, with shallow areas that are perfect for young children to paddle around. The surrounding mountains and terraced farmland slopes provide spectacular views, one of the best being from the edge of the natural infinity pool. Here you can look down over the multiple layers of rock pools descending into the valley, savouring the complementary sensations of the refreshing water and warming sun on your skin. During the months of July and August there is a lifeguard on duty and a café for those who want something more than their picnic, and these are also the months that it is advisable to arrive early for both parking and a good spot. Competition for the shaded areas beneath trees and rocks is hot, so bringing a sun umbrella of your own can be a good idea. Bring some good walking shoes as well, after a swim there are many stunning hikes in the area!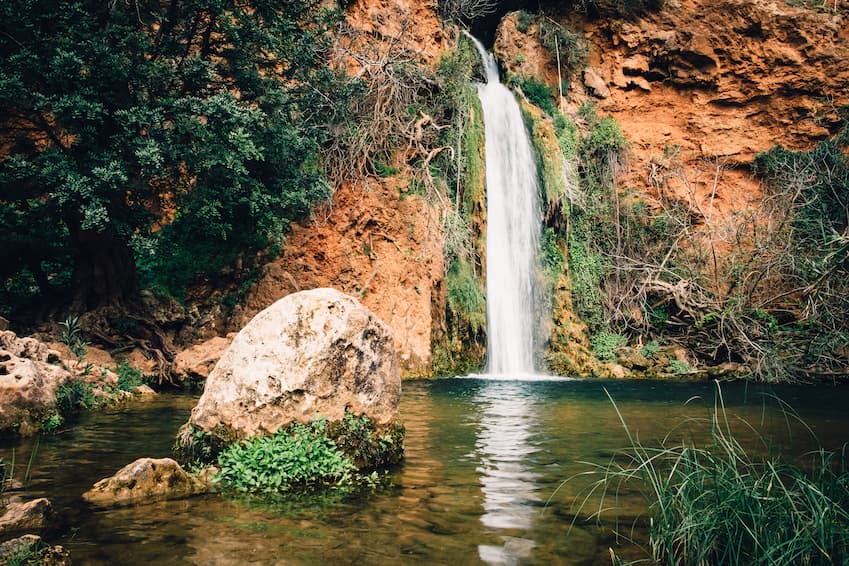 Cascata Queda do Vigário, Alte, Algarve, Portugal
With a vertical drop of 24 metres between cliffs of earthy red, this waterfall provides a stunning swimming location in the Algarve. The oval pool beneath it is much warmer than the glacial water of Loriga, and is also deliciously clear. Moreover, it's a spot that is fantastic for children, where they can play in the natural jacuzzi and jump off the rocks in an idyllic setting of fig, carob and olive trees and wildflowers. The swimming hole is easily and conveniently accessible from the incredibly picturesque Alte, a village of vine-adorned white houses and cobbled streets surrounded by orchards and vineyards. There is a paved path leading to a stretch of lawn that is perfect for a picnic, then the falls are just beyond. In Alte itself there is also the delightful Fonte Grande, a canal-like, long natural pool lined with trees and crossed by several small bridges. This is another wonderful place for swimming, with many shaded places to lay out your towels along the stone walkways. If you are in need of more food and refreshments, there is a restaurant here with a large terrace overlooking the beautiful stretch of water.
Ponte de São João, Rio Coura, North Portugal
Perhaps the most enchanting of this list is the azure pool of Ponte de São João in Northern Portugal, large and deep enough to dive into, with dancing light beams piercing through the transparent water to the rocky bottom. The pool is edged with smooth granite rocks that you can lay out and sunbathe on, and even has quartz caves you can swim within! A lovely waterfall feeds the pool, which begins at a spring at the hilltop monastery of São João. To get here, you pass through woodland and down a steep stony track that leads under an old bridge, approximately a five minute walk from where you can park your car.