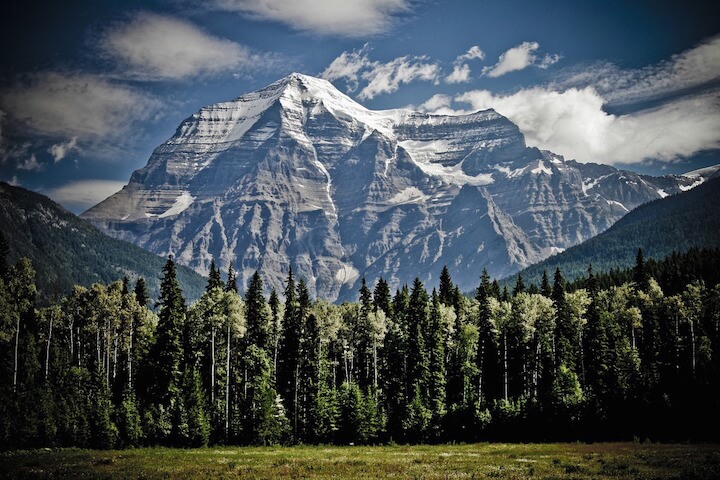 Canada, a great country
As big as the third of Africa, 3 times like India, 16 times like France, 26 times like Japan, Canada is an inexhaustible reservoir of tourist experiences to live, in three very distinctive regions.

>>> See all our experiences
 
The North
When we talk about Northern Canada, we are not talking about the North of a country but about the North of the planet itself.

On the natural side, there are vertiginous valleys, rivers on uneven levels, endless mountain ranges, strange natural parks, thousands of hectares of forests and tundra, the midnight sun, the northern lights, a true paradise for adventure, outdoor and observation enthusiasts.

Wildlife includes polar bears, moose, elk, caribou, bison, sheep, foxes, hawks, beluga whales, bowhead whales, musk oxen, narwhals, seals, walruses and others that can be safely observed and often approached.

Culture is Dawson City and the Klondike gold rush in the late nineteenth century, it is the culture of the Dene and Inuvialuit, the first inhabitants of the Denendeh region, it is the home of friendly people from these isolated places.

A great desert of snow, ice, rocks, permafrost and communities of interest!

>>> Discover our luxury concierge service
 
The West
Western Canada is Alberta and British Columbia dominated by the Rocky Mountains.

Alberta's horses, cowboys, bison, oil, Calgary and Edmonton are often the starting and ending points of a Rocky Mountain crossing. In the latter, Alberta is also Banff, Jasper, Lake Louise and Waterton Lakes, world famous sites to visit and live for a few days out of time. Highlights of skiing in Canada, these resorts are mainly active tourist spots all year round and allow you to ski in the eternal snow in the morning and comfortably swim in the pool at the foot of the slopes in the afternoon.

On the other hand, British Columbia is descending the Rockies to its spectacular islands in the Pacific Ocean. Majestic glaciers, temperate and boreal rainforests, countless lakes and rivers, land ranches, vineyards and orchards - British Columbia offers priceless potential to nature lovers. It also offers unforgettable city breaks in cities like Vancouver, Victoria and Whistler, often visited for their distinctive charm.

>>> Why rent a luxury villa?
 
The East
To the East, Ontario, Quebec and the Atlantic Provinces are Canada's main tourist region.

Ontario is home to the Great Lakes and one of Canada's major tourism icons, Niagara Falls, at the head of Lake Ontario. Toronto, Canada's largest city, is built on the banks of the river, and in Kingston, whose fortifications are a UNESCO World Heritage Site, the outlet of Lake Ontario becomes the St. Lawrence River where soon spread the Thousand Islands archipelago. Ontario is also home to Canada's capital, Ottawa, which is popular for its Parliament, its monuments, the Rideau Canal, its famous people and its peaceful charm.

With 21 active regional tourism associations, Quebec is full of treasures to discover. Francophone province where the majority also speak English and other languages, Quebec offers urban tourism with its numerous festivals, museums, restaurants, theatres, gardens, in Montreal, Quebec City, Saguenay, Trois-Rivières, Gatineau, Aboriginal, rural, regional and large-scale tourism in large ensembles such as the Laurentians, Appalachians, Chic-Chocs and the St. Lawrence Valley. Fauna and flora deliver a continuous show, the flavours of the soil are rich and varied, contacts with the locals are done alone, and opportunities to make masterpieces of photos are innumerable.

In the Atlantic provinces, or the Maritimes, what attracts tourists is mainly the fishing industry and fresh seafood, the unique and touching history of this region, Acadia, culture and hospitality of its inhabitants, the large salty and windy spaces of the seaside. It is also the sandy beaches, the warm sea and the largest tides in the New Brunswick world, the steep coastline and the human history of more than 9,000 years of Newfoundland, lobster, harbours and stories of Nova Scotia, red cliffs, gentle green hills and Prince Edward Island's world-renowned golf course.

>>> Top 10 most modern villas and chalets
 
In short
Five time zones, four seasons, three oceans, two official languages, one country, Canada is a destination with a mass amount of tourism resources.

>>> 3 tips to organise your family holidays