Dalmatia is a small jewel of the globe and an ideal destination for a relaxing and rejuvenating holiday. Welcome to the Dalmatian coast, its warm sea, breathtaking landscapes and magnificent Mediterranean spirit. You are entering a land where people know how to live and where, above all, everyone loves to be outdoors from dawn to dusk. You have probably already heard about the superb (and touristic) Split? No need to say more on this subject.  We will rather and without further ado, talk to you about the nature and idleness, through four favourites: Hvar, Primosten, Brac and the island of Rab.
>>> Our luxury villas in Split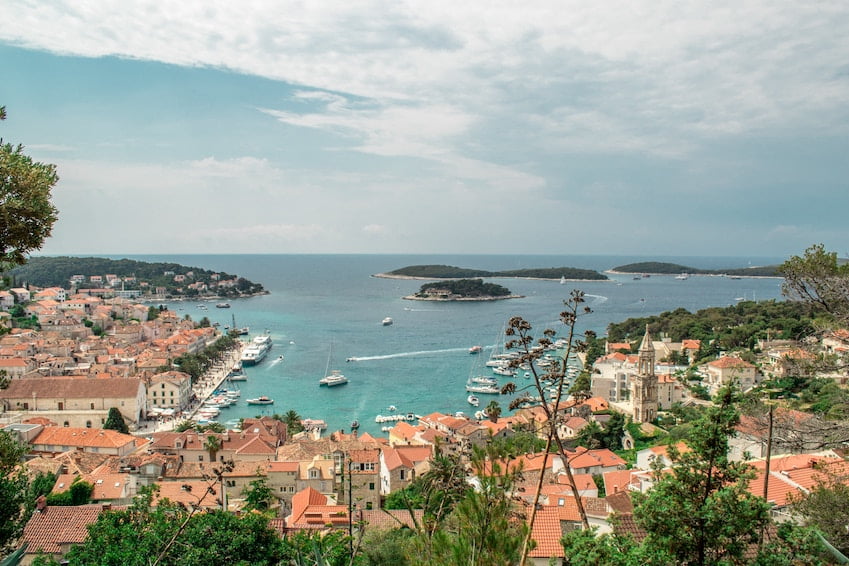 Hvar, Saint-Tropez Dalmatian
The magnificent island of Hvar, where the evenings are lively and the atmosphere conducive to holidays! Whether you are a partygoer, a lover of historical heritage (the island was in turn Italian, French, Austrian, Yugoslav, then Croatian and has a heritage that dates back to the Illyrians in the 4th century BC) or art, a researcher of authenticity and picturesque charm, Hvar has something for everyone. 
Hilly in the west, ending in a narrow rocky ridge covered with scrub in the east, Hvar offers a diversity of superb natural landscapes to discover over 68 km long. Among all the wonders of the island, we can mention the famous 21 islets that form the Infernal Islands, southwest of Hvar. Holidaymakers appreciate their beaches and the crystal clear water that invites them to enjoy podigious swimming. Hvar in general has many sumptuous places to go for a swim, including Malo Zaraće Beach, Dubovica Beach, Pokonji Dol.
>>> Our superb villas in Hvar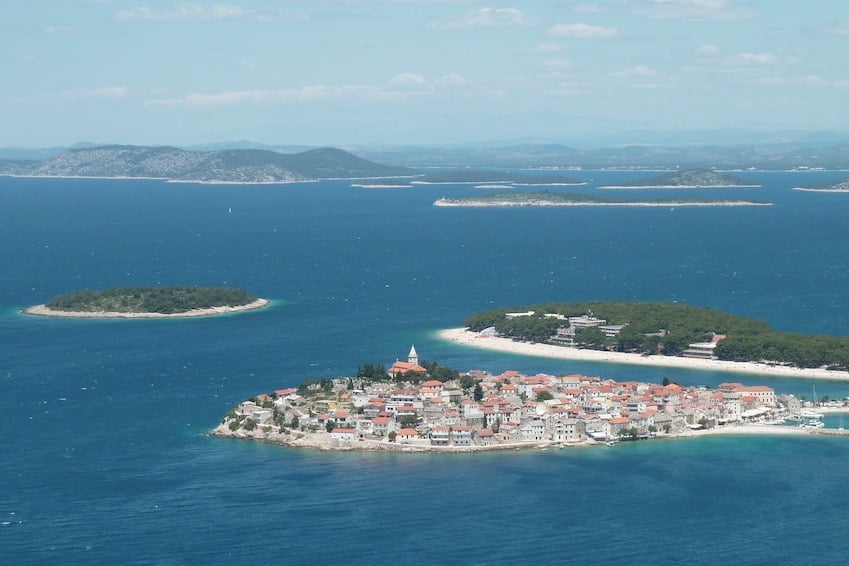 Primosten
35 km from Split airport, discover this superb historical city that adorns a rocky peninsula before unveiling a new city built on dry land. Primosten, a name whose origin dates back to 1564 and which literally means "to build a bridge" (primostiti): it is because there was once a mobile bridge between the peninsula and the land, now replaced by an artificial median strip. For several centuries, this small region was part of the Republic of Venice. You can feel this legacy when you walk along the old 17th century wall or near the church of Saint-Georges (15th century) at the top of the island, very close to the marine cemetery. 
You are in a land where man lives with nature. Of course, this does not stop at the flowered alleys! All around you, 7 uninhabited islets, bathed in azure. The traditional economy (not to mention tourism) is based on the cultivation of olives, fishing and vines, there is much to see! But there are also some very beautiful beaches that make Primosten's reputation, including Velika Raduća Beach, the most famous of all. The latter, made of stones, offers a very beautiful view of the historic city. It is ideal for relaxation, snorkeling and all beach sports in general. If you want to go further by exploring the seabed, contact the "Diving Center Pongo" and enjoy an unforgettable experience with them. The beauty of Primosten is also found in its waters!
>>> Our luxury villas in Primosten
Brac, one of the most beautiful islands in Croatia
To get there, you have to take a boat out of Split and it will take you 50 minutes by ferry to reach Brac. It is on this island that the most famous beach in Croatia is located: Zlatni Rat (in Bol) which means "golden horn". It is also a pebble beach, with an atypical horn shape, as its name suggests, charming although touristic! 
Otherwise, the whole island is ideal for a family holiday, especially if you are going with nature lovers and sportsmen. You can discover Brac by bike and discover small typical villages. Bol is one of them, 1.5 km from Zlatni Rat, with the small port and stone houses. You will also find many bars, restaurants and mini-markets. Other beautiful villages on the island: Postira, Splitska, Sutivan or Pučisća which has a long tradition of stone carving and has its own carving school, to be visited in summer. In particular, the famous white stone of Brač, used all over the world, including for the White House in Washington or for the parliaments of Vienna and Budapest, is carved there! 
On the nature side, you can of course practice many water sports, but there are also beautiful hikes to go on, up to the top of the island: Vidova Gora. This high point allows you to have a beautiful aerial view of Zlatni Rat beach and to observe neighbouring islands such as Hvar. The Croats claim that "on a clear day you can even see Italy!". It's up to you to check it out!
>>> Our magnificent luxury villas in Brac
Island of Rab, a jewel that seduced even the royal family of England
Here is an island that has a whole range of seduction equipment and manages to conquer the hearts of crowned heads, as was already the case with Edward VIII 75 years ago! Rab, in the words of British journalist Jennie Bond, is "like a mixture of the Caribbean and Switzerland, with beautiful beaches but also green pine woods and small coastal villages". They are berries that you quickly fall in love with, a fragrant and green atmosphere, a land of change of scenery and rejuvenation. In the Gulf of Kvarner, you can see these coasts where severe rocky escarpments alternate with the softness of the fine sandy beaches and the small coves with crystal clear waters. Hills, scrubland, oak forests... this island contains a variety of reliefs and landscapes as well as charming villages. 

You can then walk through the narrow streets of one of them: Lopar (ideal for hiking), Supetarska Draga, Mundanije, Kampor (and its 15th century Franciscan monastery) or Barbat and Banjol. Taste Rab's cake, a famous almond pie based on a secret recipe designed by the Benedictine sisters, which Pope Alexander III himself tasted in his time (12th century). On the scenic side, everything is beautiful on this island, including cultural events such as the Rabska Fjera (Rab fair) or the Knights' Tournament of the Rab Crossbow Shooters Association. 

Have a nice holiday in Dalmatia!