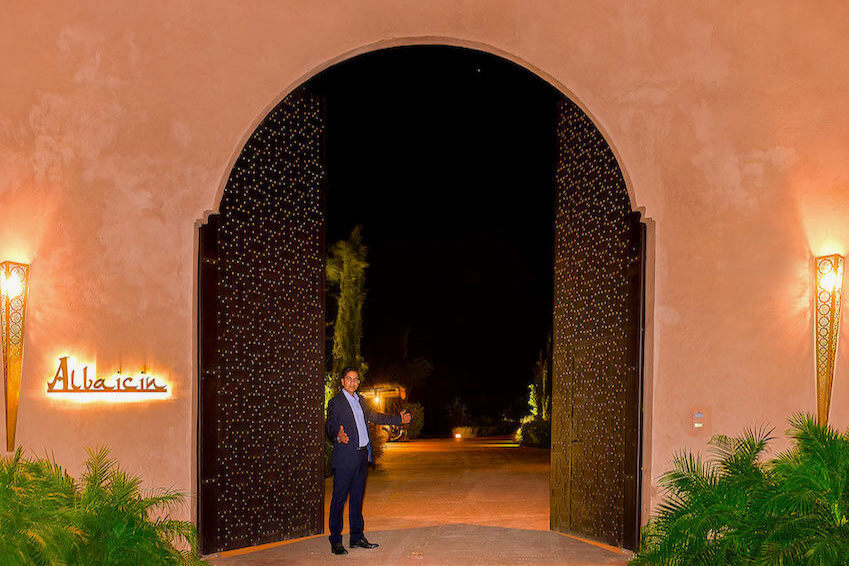 As you could find in our facebook article "Villanovo concierge service: a tailor-made and local experience", we are committed to provide you, in addition to our exceptional villas of quality, an exclusive and personalized experience all throughout your stay. To achieve our aim, our concierges strive to get to know you and your expectations, in order to establish a relationship of trust and listening.

 
In total proximity and transparency with you, we propose you an unusual article: get to know our staff and discover the behind the scenes of the 
concierge service
, and the motivations behind its dedication.
Meet Bettina
, passionate and attentive
concierge in Marrakech
, who will deliver her secrets and anecdotes to the concierge service during an interview. You will not be disappointed !
As a local…
Why did you choose Marrakech as a destination?
Funny enough I knew as a child that I would be living here after I read the book by Elias Canetti "The voices of Marrakech". I came to the country the first time when I was about 30 years old and fell in love with the city but most of all with the people. There kindness, hospitality and serenity was for me, as a well-travelled person, unique.
And the weather of course!!

Any advice about the "must sees" of Marrakech?
Apart from the usual historical sites like Bahia Palace, the Saadien Graves, the Jamal Fna Square or Majorelle Gardens and YSL Museum, I would say there is a lot to discover. The whole old town is now an UNESCO Heritage site and there are numerous little courts and gardens opening. So, let yourself just go and discover the city.
Also, one should leave the town and experience the unique souring of Marrakech and Nature. We have everything rock desert, lakes, meadows, mountains and hills.
You could live out your dreams here…

For what reasons would you recommend a holiday in Marrakech?
Diversity of living and lifestyle, a great variety of activities and culture for every taste, sport in every aspect from hiking to horse riding to Golf. And a great service in all aspects (Villas, transfers, guides, food...).
As a concierge...
What are the fundamentals of this profession? 
Above all diplomacy, friendliness, honesty, speed in answering. Being there on the phone or Whatsapp. Secondly, being a destination expert, having historical, political and local knowledge aiming to give reliable advices to our clients. And very important, having a circle of partners you can rely on and trust.
What are your motivations?
I have one motivation, and that is that I love it when our guests go home with the feeling, that they had a wonderful holiday and a magical time in Marrakech.
We are so lucky in our work, we take care of the people in their favourite time, on holiday and we are part of this… What could be better ?
One example : we had a young family in Marrakech just a few weeks ago. Their 13-year-old son was a real computer gamer and IT freak. Never wanted to leave the house. The parents took their 4 children into the city, with a guide I've worked with for many years. At the same time the King was in town. The guide told the kids wonderful and fascinating stories about Marrakech and took them to the palace were the King was staying, to show the different uniforms.
The parents called me in the evening : suddenly, the little boy was mesmerised by history, by the different life here in Marrakech. For the first time he did not take his tablet to play games on, but to inform himself more about the King of Morocco and the country. That is, what this place and the people can do and that will stay in the memory of happy clients
What is, more specifically, a personalized service?
Be there when they need you, give accurate information, get to know the clients and their needs as quick as possible to provide the best service. For the guests who are coming again, I check the file and make sure that I get to know their habits: what wine or food they like, or sometimes they loved the driver and would like to have the same one again. It is about little attentions like those.
What are the challenges of this profession?
One of the biggest challenges is to keep the relationship with our clients on a friendly warm bases without getting to involved and listen more than talk. And especially, be there for them 24/7, so when they leave they know they had the best service.
Have you ever had to say "no" to a too specific request?
Only if it is against the law of the country
Could you briefly describe a typical day?
In the morning I would answer the mails which came in the night before.
Then go of to see the clients who arrived the day before, depending on time of arrival, and what time they would like to meet me.
Once with the client I answer all questions and help them organising their stay. Some clients have already all planed, some others want to organise their holiday on the spot depending on the weather. I also normally connect with the guests via WhatsApp, so they could get in touch with me as quick as possible if needed.
After the visits I get back to the computer and organise their program regarding their wishes and I answer mails.
Sometimes the guests contact us late in the evening when they need something, but that is why we are here.
Do you often have to deal with sensitive requests? How do you handle discretion?
As a concierge you sometimes feel like the 3 monkeys – see not – hear not – talk not
The guest can sometimes confide you in difficult situations, so just keep calm and professional with the problem at hand.
Discretions is very important, even my husband does not know when a client tells me a confidence.
Regarding the client...
How would you describe them? What are the typical needs and expectations?
To 90 % it is very easy. As I said the client is on holiday so in general they are happy, like to destress and have a good time.
It starts at the airport: tell them that there can be a delay at customs, so that they are prepared. Their pick-up must be on time and better tell them a spot to find the driver easy
Once in the Villa, when the food is good, the pool is warm, (the heating on in winter) and the sun is out, the holiday is already perfect
It is also so reassuring for us, here in Marrakech, that all the staff in the Villas and Riads are so helpful and so friendly. So, the client feels like at home straight away.
But of course, some expect more than others. The good thing is, we have a long exchange of mails and phone calls before the guests arrive and that is why we get a feeling of the character and lifestyle for each individual client. We can react and inform the staff of the Villa what to look out for.

What has been the most unusual request that you have ever had? How did you handle it?
In basic this does not exist. What the client wants the client gets. From belly dancers to helicopters, from special foods to personal trainers, yoga teachers or massages, etc.
Only one time I was very surprised, when a photographer of a fashion shoot asked me for TRAINED scorpions and snakes. It was not the fact that he wanted the animals and reptiles, that is not the problem, the impossible was that he wanted them TRAINED. But the model did not want to have creatures crawling all over her at the end, so we got a bodypainting show instead. Problem solved!