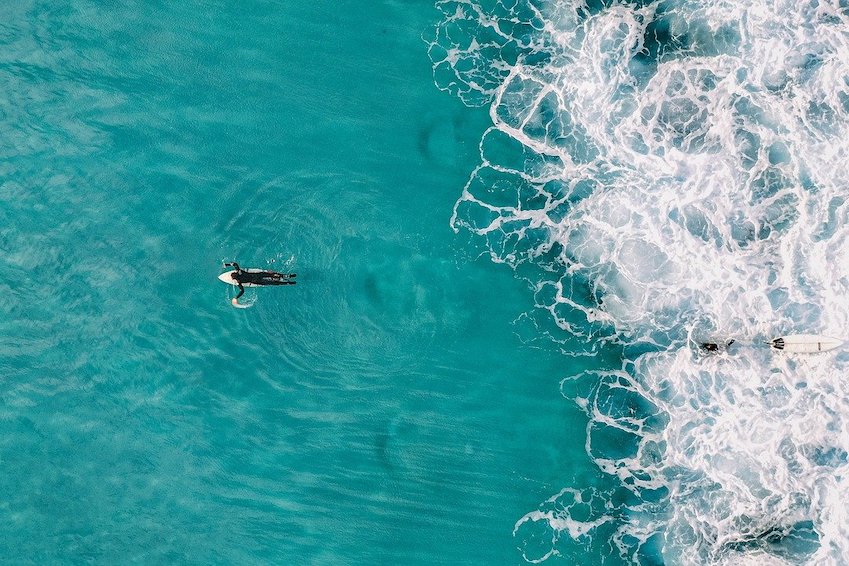 Mauritius is a tropical island situated in the Indian Ocean, east of Madagascar. It's a popular holiday destination for people all over the world searching for sun, sea, sand and particularly surfing. Apart from having a wide array of luxury holiday villas all across the island, Mauritius also offers the ocean enthusiast a great selection of water-sports to participate in. In this post, we look at the 5 best water-sports to try in Mauritius.
Kitesurfing
Kitesurfing is one of the most popular water-sports in Mauritius, as the island consistently gets great wind throughout the year. In fact, it is known as one of the best places in the world to kitesurf. This is because almost the entire island is ensconced by a reef offering up many large lagoons in which to kitesurf. The best months to visit are between June and September, although the rest of the year usually produces enough wind to still enjoy the water. Le Morne is the epicentre for kitesurfing in Mauritius offering something for kitesurfers of all abilities.  
Surfing
With its many reefs and a coastline stretching over 330 km, Mauritius also offers up some incredible surfing. Most of the breaks are reef breaks, but there are also some point breaks. As it is situated in the Indian ocean you won't have to worry about wearing a wetsuit. The best surf spots include La Morna, Tamarin Bay, Black Rocks and Riviere Des Galets.
Be aware that Mauritius is notorious for localism. As a visitor, always respect others around you in
the lineup
and don't snake any waves. There are many places to rent surf surfboards and take lessons in La Morne. The other surf spots do not offer such facilities, so if you plan on renting a board for your entire stay be sure to have a car that can comfortably accommodate your surfboard.  
Undersea Walk
Yes, there really are undersea walks without the need for Scuba gear. Enjoy a safe and fascinating underwater walk on the ocean bed. You go down as deep as 3-4 metres. You'll be able to see the magnificent marine life of Mauritius including a diverse array of tropical fish and coral. Qualified guides will take you along the course of the Underwater Sea Walk ensuring maximum safety at all times.
The Underwater Sea Walk does not require any previous diving experience and if you wear glasses you won't even need to remove them. The excursion starts with a boat transfer from the center of Grand Baie to a platform situated inside the lagoon at the northern end of Mauritius. Once you arrive at the platform you will receive a briefing on how the gear works, the local marine life, and on safety procedures during the underwater walking tour. Then, with your entrusted guide you will begin the adventure.  
Kayaking
Kayaking in one of Mauritius' many lagoons comes highly recommended. This is a great opportunity to disconnect from your busy life and discover the beauty of the lagoon, the white sandy beaches, and some of the small islands that surround Mauritius. You could find yourself paddling through mangrove swamps or directly above some sublime coral reefs. Sometimes you may even be lucky enough to come across a pod of dolphins. Kayak tours in Mauritius last anywhere from 1 hour through to 4 hours. On the longer tours the guide will usually offer food and drink.  
Scuba Diving
Any paradise is bound to offer Scuba diving and Mauritius is no different. With its remote location in the Indian Ocean, white sand beaches, warm clear blue water, and well-preserved coral reefs, Mauritius is an ideal place to Scuba dive. For seasoned Scuba divers Mauritius can generally be described as a utopia for those looking to see large marine animals.
Compared to other Indian Ocean dive spots, the reefs in Mauritius might seem a little desolate. This can be attributed to the many cyclones it receives as well as over-fishing. Nevertheless, the diversity of the reefs is phenomenal, similar to other parts of the Indian ocean.
You can expect to see endemic angelfish, butterflyfish, parrotfish, nudibranchs, peacock flounder, and even the rather rambunctious mantis shrimp. You will also most likely see many species of morays, striped eel, catfish, lion-fish, marlin, turtles, stingrays, scorpionfish, trevally, octopus, grey reef sharks, as well as over 185 species of coral in one dive! Soft and hard corals with novel shapes and colours are in abundance.