A tropical paradise for an unforgettable holiday
This part of the island is the wildest and yet very close to many activities in the North, Central and East. 3 villas are ideally placed to take advantage of all the attractive possibilities of the island: sea trip by catamaran or keelboat, cultural discoveries, hiking, gastronomy, fun outings both day and night and total relaxation at the edge of the Indian Ocean...

The villas Flamboyant, Vétyver, Dune, Almira and Tiara offer a range of accommodation for all. Our team of Villanovo advisers will guide you to build your Mauritian trip with an exclusive rental of villas or rooms. Contact us!
 
Beautiful landscapes and a myriad of activities
First, a little aside around the currency. The prices listed below are orders of magnitude of price. The Mauritian rupee designated Rs is worth:
1 € = 41.5 Rs / 1 Rs = 0.025 €
1 $ = 32.40 Rs / 1 Rs = 0.032 $
1 £ = 52 Rs / 1 Rs = 0.02 £

Then here is a small description of things to see and do around our villas in the East. For the bravest, the tour of the island is quite conceivable with a car.

Grand Baie: the coastal village where it moves! Luxury hotels and a tourist flow that induce a lot of restaurants, bars, nightclubs and shops. The city lives to the rhythm of travellers and tourists.

The garden of Pamplemousses: one of the most beautiful tours of the island, the garden was created by Mahe La Bourdonnais, mythical figure of Mauritius and enriched by Pierre Poivre (naturalist and philosopher) and Nicolas Céré who introduced rare essences. 26 ha including 600 arboreal species including 85 varieties of palms. Open everyday from 08:30 to 17:30 (100 Rs = 2 € 50).

The Château de La Bourdonnais: family home, garden, rum, restaurant. Here the exotic fruit is king, you can also do your shopping (more expensive than the markets but better with some products not found elsewhere). Visits at 09:00, 11:30 and 14:30 from Monday to Friday at 10:00 on Saturdays (Rs 290).

The adventure of sugar: cultural visit par excellence that traces the history of Mauritius around the importance of sugar cane. A space dedicated to children very well done (educational and fun), a village "boutique" and a delicious restaurant (the Fangourin) decorate your day.

The Pamplemousses road at Poste-de-Flacq: a splendid and contrasting interior route: hilly landscapes and sugar cane fields as far as the eye can see, a large Creole house dating from the 18th century (one of the last in Mauritius), Lake Nicolière, crossroads of Salazie with a striking sight on the coastal plain…

Catamaran or Keelboat ride from Cap Malheureux or Pereybere: several islets to the North are accessible by boat (Islet Gabriel from Cap Malheureux, Islet Bernache, Islet of Amber - very touristy, Flat Island, the Coin de Mire - not accessible, and the islands far away natural bird sanctuaries, Round Island and Snake Island). Trimarans also offer crossings and cruises with dinner and snorkelling during the day, romantic dinner, sunset with an inimitable point of view... Departures are early morning 08:30, return at 16:30 (Rs 1,200 per person).

Nautical activities: Bulk kayaking, parasailing, big game fishing, glass bottom boat trips to discover the seabed, excursion aboard the Nessie (submarine: 3 departures per day at 10:00, 12:30 , 14:30 / 700 Rs), scuba diving "Undersea walk" (900 Rs).

The village of Trou d'Eau Douce: essential tourist village, very often a base of departure for nautical excursions (Deer Island), one finds there very beautiful beaches of white sand, the village is very beautiful and typical, a very pretty church and all the tourist activities possible. Dynamism in perspective!

Deer Island: departure from Trou d'eau Douce by boat for the excursion of the island which is the tourist emblem of Mauritius. Once arrived at the pier, move away to find your piece of paradise... white sand, turquoise water of the lagoon... The island deserves the detour. You can also multiply the water activities: parasailing (1,600 Rs / 2 people), kite surfing but the most fun according to us is the Speed ​​Boat (1h speedboat to go around the island and snorkelling (departure at 11:30, 450 RS).

Goodlands: Historic Marine workshops are an opportunity for a successful family outing. You will discover models of boat from every angle and can leave with a model if you wish (open Mon-Fri from 8:30 to 17:00, the weekend from 09:00 to 12:00).

Roches Noires: a very nice hike is possible at Bras d'Eau Forest Reserve (Mon-Fri from 07:00 to 16:00, weekends from 08:00 to 17:00). You will visit the nature reserve and the ruins of a lime kiln and an old sugar refinery.

Anse Jonchée: the Kestiel Valley estate offers hikes in unspoiled nature to meet deer and brown pigs... Entrance is free, hiking fees, different types of courses from 125 Rs per person, every day from 08:30 to 16:30. Discover also on the property the distillery of Ylang Ylang which perfumes the place...

Old Grand Harbour: for the lovers of the sea, the Hendrik museum presents the incursion of the Dutch on the island in the first fort Dutch, a very pretty garden which goes down to the shore is associated with the visit (closed on Wednesday) . But the site not to be missed is the Valley of Ferney (a bit expensive but the site deserves a visit - 750 Rs per person for a hike - 4 departures per day). At the heart of your hike, you will have the opportunity to have lunch in a charming lodge.

These are the excursions or activities that we recommend, but there are so many others that you will be pleasantly overwhelmed by the possibilities...

>>> All our magical experiences in Mauritius
 
Rent a villa in the East of Mauritius
All our villas have been selected by our local team to satisfy our demanding clientele, most of them are beachfront or waterfront and have their own private pool.

>>> Our exceptional villas in Mauritius
 
Villa Dune I in Poste Lafayette
In Poste Lafayette, Villa Dune I can accommodate up to 8 people in exclusive rental from € 250 / night for a minimum stay of 7 nights. The villa consists of 3 bedrooms, one with ensuite shower room (master suite with double bed). The other two bedrooms have twin beds and share a shower room. The mezzanine TV room brings two possible additional beds with sofa-bed that can accommodate two children / adolescents (beds of 80cm x 190cm).

>>> Discover Villa Dune I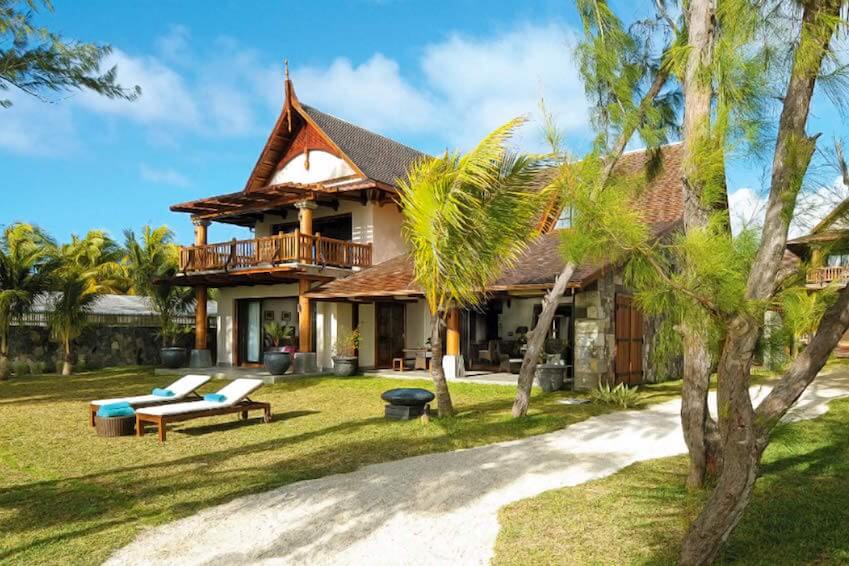 Villa Tiara in Poste Lafayette
Villa Tiara is a magnificent property consisting of 5 bedrooms all with private bathrooms for up to 14 people. Possessing a splendid private beach, the exteriors of the villa between heated swimming pool, relaxation lounge, outdoor equipment will offer all the comfort to live in full nature.

Villa Tiara has all the services of a 5-star hotel: hammam, business centre, heated swimming pool, TV lounge, WiFi, star chef, 24/7 security, privacy and confidentiality... Pure luxury! The villa is rented for a minimum stay of 7 nights at 1,619 € / night.

>>> Discover Villa Tiara
 
Villa Flamboyant in Belle Mare
A beautiful villa rental exclusive to Belle Mare, just next to a golf course of 9 holes (the Saint Geran), offers 3 double rooms with private bathroom. It can accommodate up to 6 people at 450 € / night for a minimum stay of 7 nights. The garden is particularly beautiful and gives direct access to the beach. Near the pool, a kiosk brings freshness and a superb shelter from the sun. All outdoor equipment is available: lounge, deckchair, dining area, barbecue...

Nearby (3km), the 2 golf courses of Belle Mare are also very accessible. The beach of Belle Mare is one of the most beautiful and intact of the island. She runs from Pointe de Flacq to Trou d'Eau Douce. A park dedicated to water activities is located a few kilometres away (giant slides, wave pool, jacuzzi, artificial rivers... all to spend a fun day with family).

>>> Discover Villa Flamboyant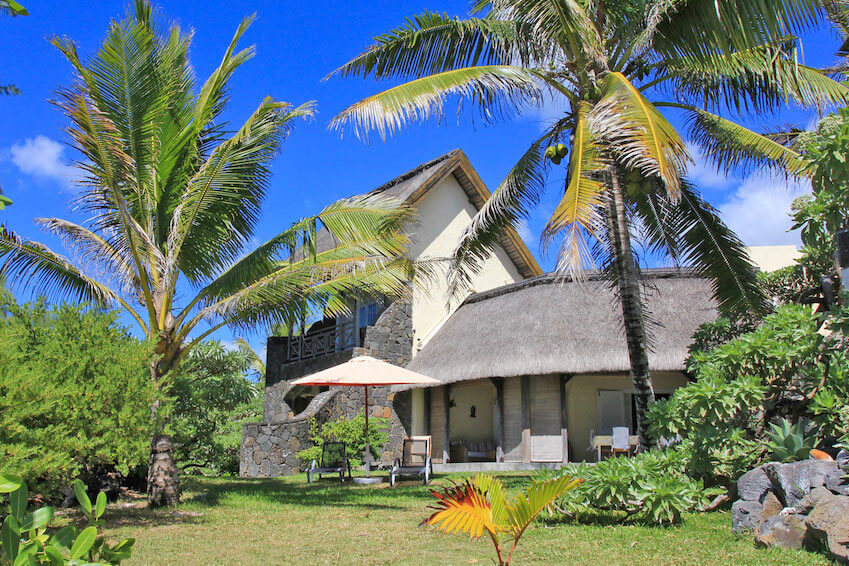 Villa Vetyver in Flacq
Villa Vetyver is a Mauritian thatched cottage located in Flacq, with direct access to the ocean. It consists of 4 bedrooms all with bathrooms for 8 people. Its rental price is from 635 € / day for a stay of 7 nights minimum if you wish to have the exclusivity of the villa. It is possible to rent this villa per room. Very nice living rooms complete the house indoors and outdoors: TV lounge, dining room, living room, terraces...

At Flacq, a Hindu temple stands and stops the time on the island: Sogar Shiv Mandir at Poste de Flacq. An unforgettable visit... Kite surfing is king on the East coast, between Deer Island and Poste Lafayette. You will see coloured squares in motion on the horizon, let yourself be tempted by an initiation on the beach.

>>> Discover Villa Vetyver