10 things to do in Barcelona
Through its kilometres of winding alleys, the capital of Catalonia displays centuries of history. If you are coming to Spain for the first time, this list of 10 things to do in Barcelona will allow you to discover the best attractions of this destination.
9 - Admiring the exhibitions of the National Art Museum of Catalonia
During a detour to the National Art Museum of Catalonia, you will appreciate many baroque and Renaissance masterpieces. It welcomes its visitors in the National Palace of Montjuïc, which extends over 50,000m². You will find masterpieces by Salvador Dali, Ramon Casas and other great names of Catalan art.

Opening hours: Tuesday to Saturday from 10am to 7pm, Sundays and public holidays from 10am to 2:30pm.

Entrance fee: 12€, free for children under 16 and seniors over 65 years old.
8 - Climbing the hill of Montjuïc
From the top of the hill of Montjuïc, the city unfolds like a postcard. To get there, you can climb on foot or board a cable car.
7 - Visit the Picasso Museum
One of the most beautiful stops in Barcelona, ​​the Picasso Museum houses some 4,251 of Picasso's first works. It is located in the El Born district. Among the works on display are "L'homme au beret" which dates from 1895 and "Bodegon" from 1901.

Hours: Tuesday to Sunday from 9am to 7pm, and until 9:30pm on Thursdays. Closed on Mondays and public holidays.

Prices: 11€ for the permanent collection, 14€ for a temporary exhibition, free on Sundays between 15:00 and 20:00.
6 - Switch to the district of Barceloneta
Travellers who like to find themselves in the heart of entertainment will surely take a walk in the famous seaside district of Barceloneta. It is also known for its unique way of life. This former fishing village is a must before lounging on the 5 kilometres of beaches in the city. Facing the sea, many restaurants offer all kinds of seafood specialties.
5 - Exploring the Boqueria market
La Boqueria is a gastronomic place not to be missed during a stay in Barcelona, it ​​is perhaps the most famous food market in the world. Discover La Rambla, near the El Raval district, as it offers a taste of the local flavours.

Opening hours: Monday to Saturday from 6am to 9pm.
4 - Walk in the Gothic Quarter
The Gothic Quarter or Barri Gòtic is a unique universe where architecture has been spared by time. To discover this unusual area, descend along La Rambla, this busy Barcelona pedestrian boulevard. Santa Creu Cathedral, Sant Jaume Square and the City History Museum are just some of the neighbourhood's must-sees.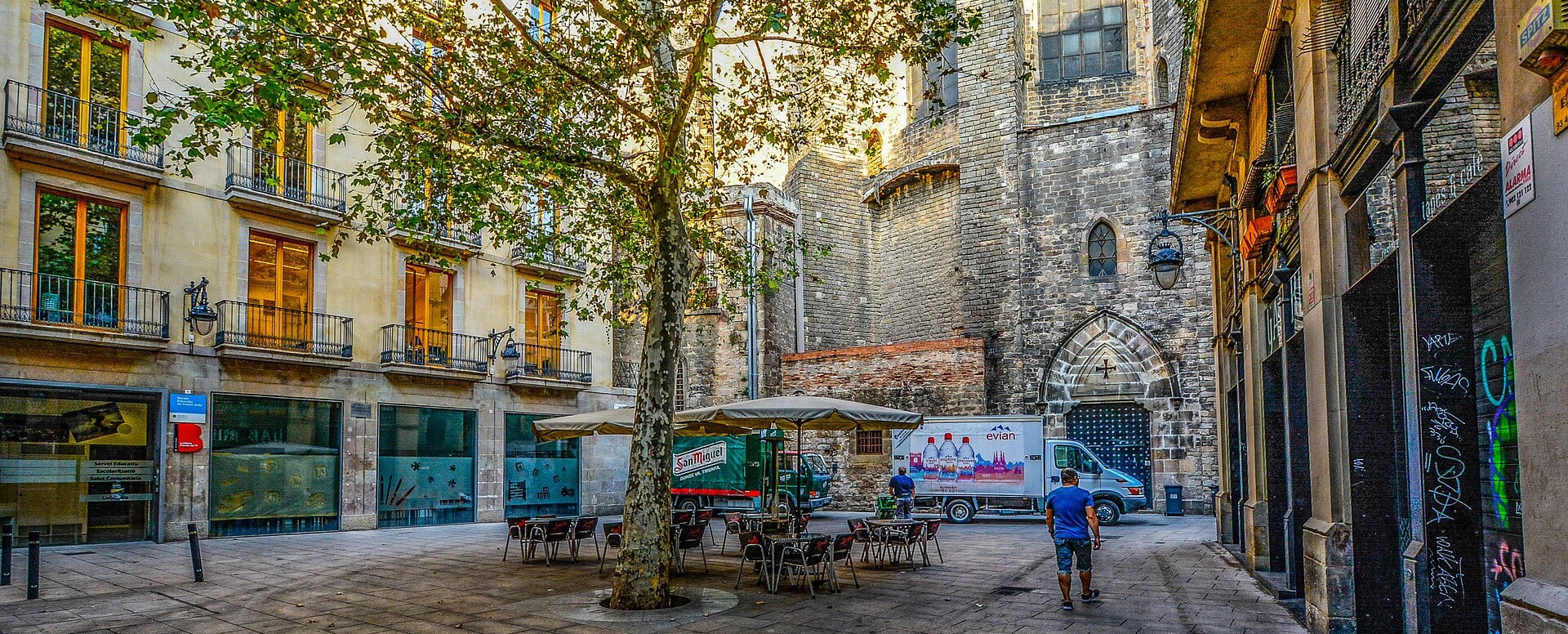 3 - Casa Batlló
Casa Battló is one of the most emblematic and visited sites of Barcelona. It is distinguished by its kaleidoscopic mosaics and its wavy façade. Another masterpiece by Antoni Gaudí that absolutely has to be discovered in the Eixample district.

Opening hours: daily from 9am to 9pm.

Admission: free for children under 7, 15€ for residents, 20.50€ for children over 7, students and seniors, and 23.50€ for adults.
2 - Guided visit to Park Güell
One of Gaudi's biggest hits, Parc Güell gives the city a distinct character. In this park, declared UNESCO World Heritage, houses, pillars, fountains and alleys seem to be extensions of nature. The park is open every day, but with different schedules depending on the season.

Autumn-Winter: 8am to 8.30pm from 28 August to 28 October, from 8.30am to 6.30pm from 29 October to 25 March.
Spring-Summer: 8am to 8:30pm from March 26 to April 30, from 8am to 9pm from May 1 to August 27.

Rates: from € 4.90 and free for children under 6 years.
1 - Contemplating the Sagrada Familia
Barcelona's emblematic building, the Sagrada Familia is fascinating with its futuristic façades and architecture. It is a subtle blend of Gothic and Art Nouveau styles. Although the construction of this basilica began in 1882, its great peculiarity is that it is still not completed. Not to be missed, even if you have to wait in line! Some small advice, it is better to buy a ticket from 15 € in advance and not have to wait. You will then have priority entry.
10 - Rent a superb villa or apartment for you and your loved ones
Feeling like home while enjoying a beautiful setting for the holidays, it is the promise of a rental villa or apartment of high standards. Villanovo have discovered rare pearls in the heart of Barcelona, ​​on the heights of the city or in the outskirts, nearest to nature.