11 villas with unusual equipments
Written on : 03 January 2019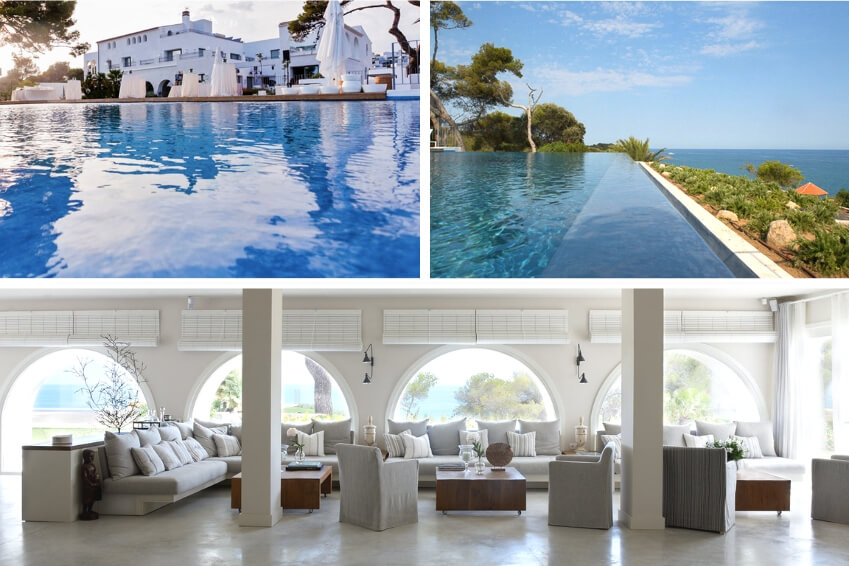 6- Casa Marina - Sitges, Spain
This sumptuous sea view villa in
Sitges
, knows how to host. In fact, its living room divided in 3 different atmospheres allow to welcome every kinds of
events
: professional meetings and conferences, birthday, weddings, big receptions, etc. Needless to say, the property has its own disco basements to host crazy parties!
>>> Casa Marina
9 - Villa Cecy - Corfu, Greece
Situated in the paradisiac setting of Corfou, the villa Cecy is a real piece of heaven. It owns its own private pool, as well as its private mooring pontoon. Get to the property from the sea, indulge in a boat trip, or enjoy a wonderful sunset of the turquoise sea. Everything is at your disposal for exclusive holidays!
>>> Villa Cecy
Water slides in your villa
1- Villa 36 - Algarve, Portugal
If you have noticed its giant chessboard, its luxury
home cinema
, or its modern spaces, you're not over your surprises. In fact, the villa 36 owns its own water slide landing straight to its
spacious pool
. Offering a capacity of 26 persons, its unusual facilities will please all the family;
the younger ones
, as well as adults.
>>> Villa 36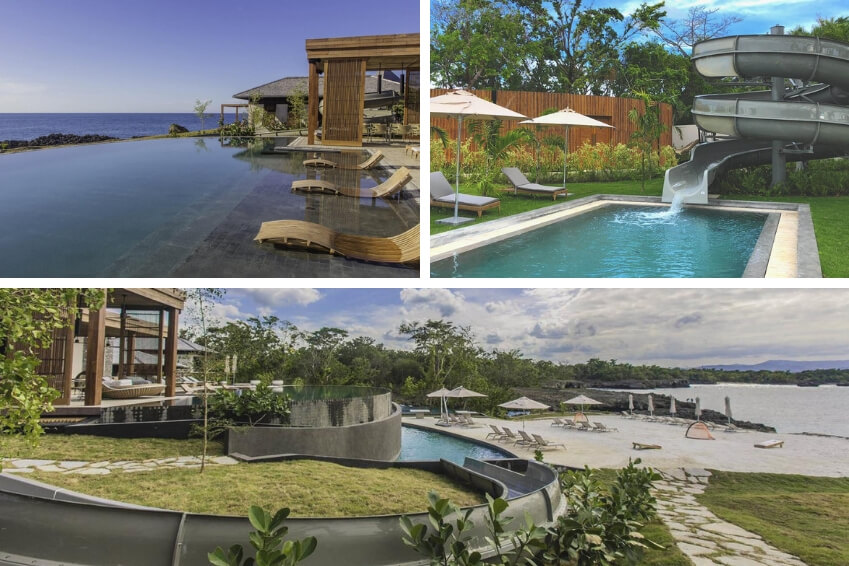 2 - Ambar Estate - Las Terrenas, Dominican Republic
To say the least, this villa is extraordinary. In addition of its
fitness room
, its
spa
and its tennis court, you will find water slides bringing you straight to its different pools! Owning a
direct access to the sea
, you'll land in a bath situated on a
paradisiac white sand beach
…!
>>> Ambar Estate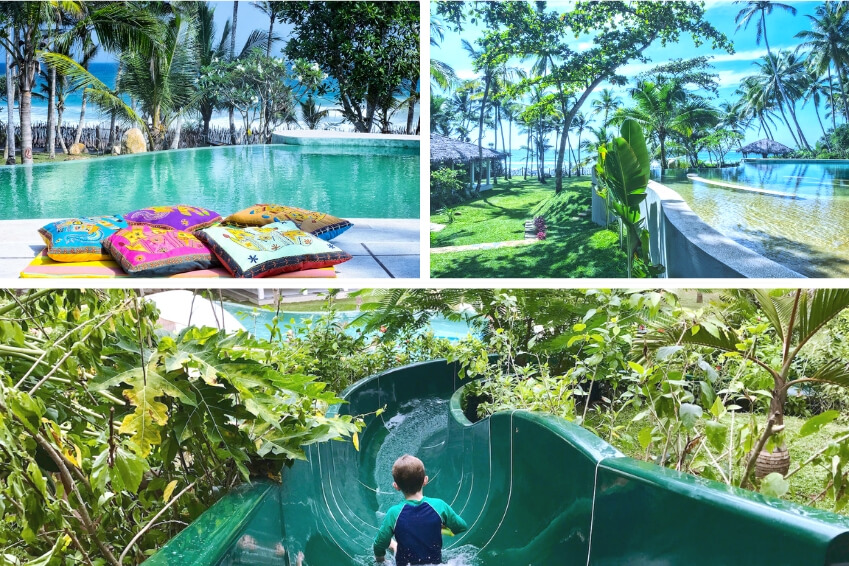 3- Villa Medara - Tangalie, Sri Lanka
In Villa Medera, you could once again, indulge in a little move on a water slide. But this time it will be in the middle of the
asian flora
, while enjoying a sublim view on the white sand beach directly accessible from the big garden. Its 14 persons capacity is ideal for big
family holidays
.
>>> Villa Medara
Home disco
4- Chalet Impérial - Megève, France
This splendid chalet of 7 rooms has all you need:
private pool
,
jacuzzi
, home cinema, located
nearby the slopes
… Yes, all you need, even its own disco. With a capacity of 15 persons, you could be the king of your parties shared with your friends and family. This unusual facility will allow you to stay away from the mountains cold and the crowded nightclubs' nuisances.
>>> Chalet Impérial
5- Chalet des Marmottes - Courchevel, France
Chalet des Marmottes is perched at the peak of luxury! Very close to the slopes and
Courchevel
center, it is exclusively equipped. You could be the king of the dancefloor thanks to its disco owning its own DJ turntable, while enjoying delicious cocktails close to the bar. In addition, you will find a home cinema,
indoor pool
with jacuzzi, a
hammam
, a sauna, and a fitness room.
What if you would spend your next end of year celebrations in the middle of the snowy mountains, in your private disco?
>>> Chalet des Marmottes
Regarding the facilities of our villas, you must think that you were over your surprises: An exclusive movie projection in your private home cinema, a pool game in your personal playroom, a little gym session in your home fitness room, as well as a golf or tennis tournament on your own court… And yet, we have not finished to surprise you! What about a water slide landing in a pool situated on a Caribbean white sand beach? Or what about a night club in your own villa? Or owning your own private pontoon for exploring the american coasts? Discover right now our selection of villas with the most unusual equipments.  
Boxing ring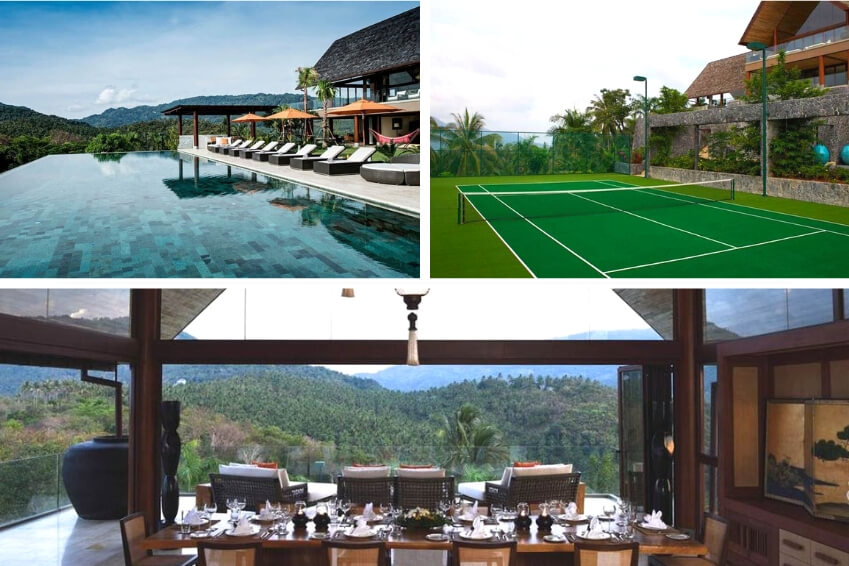 7 - Praana Residence - Koh Samui, Thailand
Located in a paradisiacal place of
Thailand
, Praana Residence has the best in terms of entertainment, including its own disco like the villas mentioned above. But the property reserves another unusual surprise: it houses a boxing ring Muay Thai! If you are a fan of martial arts, you will find your happiness! Whether you want to get started or improve, you can hire an instructor for an hour of Muay Thai lessons during your stay. What an exclusive Asian experience!
>>> Praana Residence
Golf simulator
8 - Villa Thaia - Phuket, Thaïlande
The villa Thaia has been conceived with the aim of offering an exceptional experience to its visitors. It is one of the most exclusive properties of
Phuket
. Who says exclusive, says unusual equipment: Home cinema, trampoline, fitness room, badminton, playroom, but especially a golf simulator. This facility is idea for those who want to initiate themselves to the activity. Indulge, virtually, in the most famous golfs in the world!  
>>> Villa Thaia
Private pontoon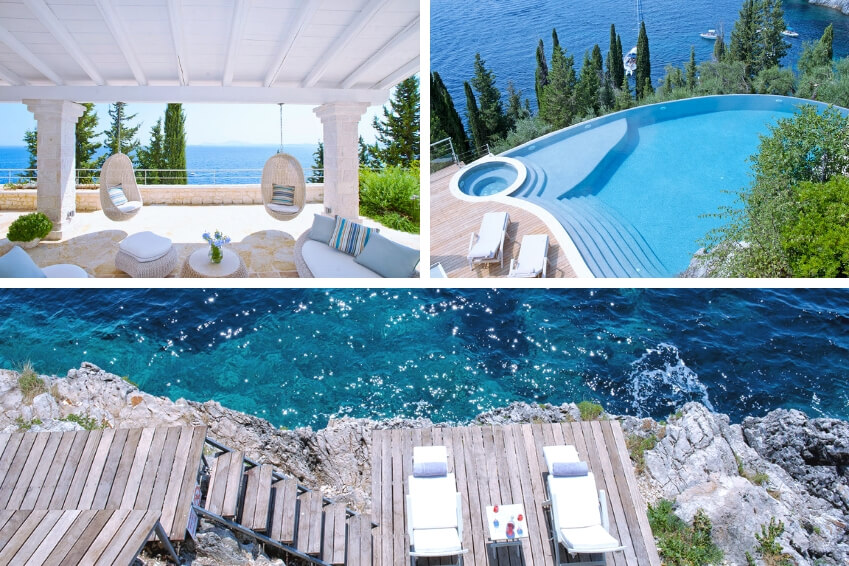 9 - Villa Gava - Corfu, Greece
This elegant property offers the most beautiful views of the
Ionian Sea.
It has an infinity pool, but also a private pontoon to allow visitors to explore, in exclusivity, the blue waters of
Corfu
. Thanks to its private dike and direct access to the sea, the villa Gava promises a
holiday feet in the water
!
>>> Villa Gava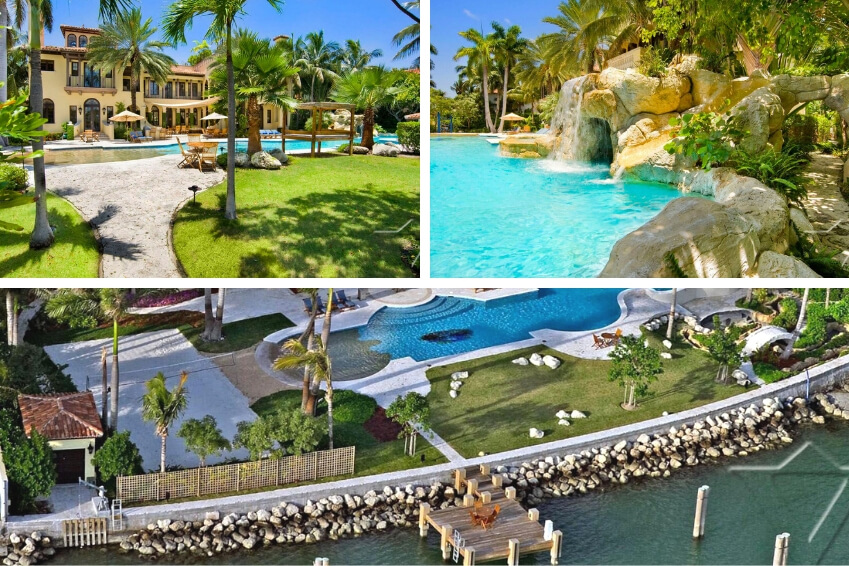 10 - Villa Contenta - Miami, Florida
The villa Contenta is located on the exclusive Palm Island in
Miami
, and promises the comfort and service of a luxury property. Spectacular, the villa will undoubtedly make you live the American dream. Owning its own private dock, you could leave for a boat ride, to explore the American coasts.
>>> Villa Contenta