Where to eat in Ibiza? Discover 5 beach restaurants to test
During your stay in your beautiful villa in Ibiza, take time to stroll around the city before going to one of its restaurants that will make you discover part of the culture and tradition of the Balearic Islands. If you want to savour some of the delicious dishes made with local products, try one of the five restaurants of choice in Ibiza.

>>> Discover all the great restaurants in Ibiza
 
Can Berri Vell: chic and refined
Located in the charming village of Sant Agusti, the restaurant plunges you into a very family-like setting. The service is excellent and the food is particularly refined. There is also a romantic and charming atmosphere that couples will appreciate. Situated not far from a small church, the restaurant invites you to taste traditional revisited dishes such as confit pork ribs accompanied with barbecue sauce or Vegetable Tempura. You will also find Spanish flavours as well as Mediterranean. Open from Sunday to Monday, the restaurant is decorated with a nice terrace and is suitable for families!
Cotton Beach Club with spectacular views
During your summer vacation in Ibiza, you can also try the modern kitchen at the Cotton Beach Club restaurant. Located in Cala Tarida, the restaurant offers dishes with a wide variety of tastes. The fish will of course be honoured, cooked in the traditional or modern way. Other dishes, more Western, are also to be tried, such as meat dishes or pasta. But what characterises the Cotton Beach Club is its breathtaking view overlooking a sea of azure. Built on a cliff, the restaurant overlooks a beautiful white sandy bay and unveils a splendid landscape bathed in light.
La Bodega: friendly atmosphere
If you are staying in a villa in Ibiza town, you can without hesitation book a table at La Bodega restaurant. This bar-restaurant exudes a friendly and family atmosphere. Located within the walls of the old town, the restaurant will please many families and children who will be delighted to sample some tapas, the specialty of the restaurant. The La Bodega restaurant, although less refined than its predecessors, also serves delicious traditional dishes, such as grilled duck, which is deliciously enjoyed with a good glass of wine.
Es Torrent: charming restaurant for the evening
At the same time chic and casual, the restaurant Es Torrent is perfect for those looking for a peaceful place. Indeed, if during the day, this one approaches the appearance of a beach restaurant, at nightfall, the restaurant plunges into a more romantic and pleasant atmosphere. The restaurant is located on a secluded beach of the same name with airs of postcard decor with its small strip of sand trying to distinguish itself from the small pebbles. Es Torrent is more appreciated by the lovers of calm who wish to taste its famous fish in all tranquillity.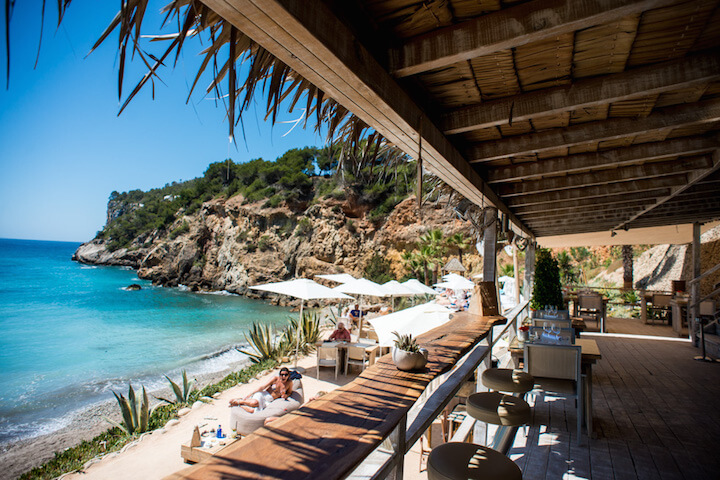 Amante Ibiza: elegance, with you feet in the sand
What makes the difference with this restaurant is not only the quality of the cuisine, which is extraordinary, but especially the exceptional setting. Indeed, you can enjoy an unrestricted view of the azure water from a charming wooden terrace. The icing on the cake is most definitely the impeccable quality of service. You will have the chance to taste traditional dishes in one of the most chic and trendy restaurants in Ibiza. The little plus of this address: if you come in the morning, you can enjoy yoga classes accompanied by breakfast in the water...a perfect moment of relaxation!

>>> Discover our villas in Ibiza near the beach