Welcome to the south of this beautiful land that is South Africa! Cape Town, the mother city and parliamentary capital of the country, is also the southernmost city on the African continent. Nestled on the shores of Table Bay, topped by superb mountains, a few kilometres north of the famous Cape of Good Hope, Cape Town is a fascinating city thanks to the sheer beauty of its landscape. Let's discover some of his must-see walks immediately! There will be something for everyone, from mountain marathon climbers to non-athletes who love sunsets!
>>> Our luxury villas in Cape Town
The Three Peaks Challenge
We begin by addressing the most athletic of you. 

The Three Peaks Challenge was an idea that developed in 1927, and aimed to climb Devil's Peak, Table Mountain and Lion's head in record time, all three of which overlook Cape Town. In 1897, a 25-year-old Carl Wilhelm Schneeberger had completed this route in 10 h 50 min. 30 years later, he awarded a medal to the young Sandy Trimble for having achieved the feat in 7 h 17 min. The tradition continues to this day. In 1977, Geoffrey Pitter took the opportunity to set a new record: 6 h 51 min. And here we go again in 1997 to get a new generation of young people back on track! Today, this famous physical and mental test challenges hundreds of young athletes who lend themselves to the game. 
But if you don't care about all this competition, consider it an opportunity to climb beautiful mountains until you reach wonderful 360° views of the Cape Town landscape. There is no need to run, choose the summit of your choice and take your time by savouring every step you take on this magical land! Make sure you have good walking shoes and a good amount of water.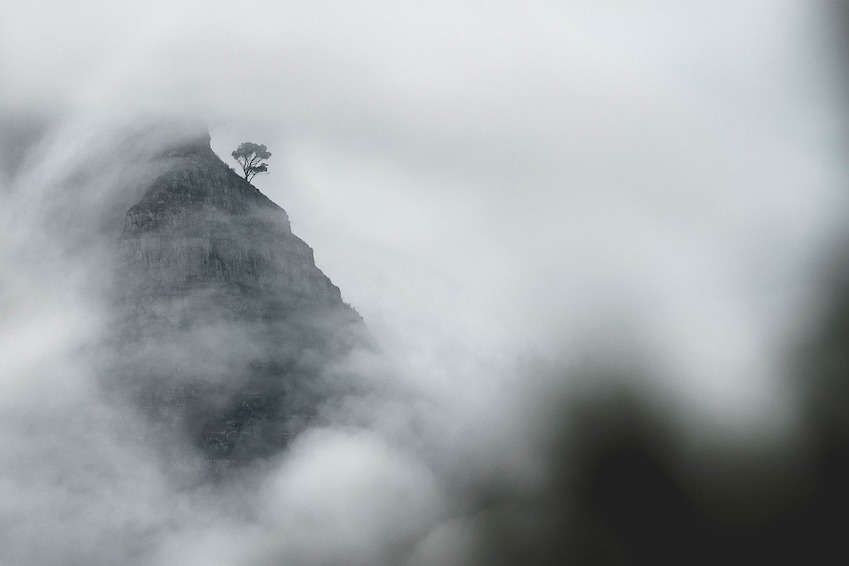 Lion's Head
The 669m high rocky peak of Lion's Head remains a major and emblematic landmark of Cape Town. It was named in the 17th century by the first Dutch settlers who saw it as a lion's head. From the top of this peak, the view is exceptional overlooking Cape Bay and the city in general, Camps Bay, Clifton, Sea Point and other surrounding wonders. Be aware that there are also night walks that take place on Full Moon evenings and are very popular with tourists and Cape Town residents alike. 
>>> Our luxury villas in Clifton
>>> Our beautiful villas in Camps Bay
Devil's Peak
At 1,000m, Devil's Peak is also an ideal place for a splendid hike. Be careful though, as the summit is very exposed to wind and mist and some of the descents are particularly steep and wet. For your safety, stick to known and properly marked paths. We advise you to avoid playing the adventurer on Second Waterfall Ravine, Dark Gorge and Els Ravine, very dangerous routes that have seen many hikers lose their lives. The place is sublime but also of sad notoriety, for several reasons... In 1971, 3 Hawker-Siddelley HS125 South African Air Force aircraft, flying in close formation through the clouds in full parade training, crashed into Devil's Peak. The 11 people on board died in a terrible crash that left scars in the ground still visible today.
Table Mountain
Between these 2 peaks: Table Mountain, at 1,086m, probably the most iconic and photographed landmark in South Africa. She is one of the 7 new wonders of nature! As flat as a table, this splendid 3km2 rock formation is also the place where 2,200 species of plants and 1,470 species of flowers flourish, many of which are endemic to the mountains. When the clouds cling to it, they say the tablecloth is set!
The place is also frequented by the Cape Daman (rodent) and the Oreotrague, magnificent alpine animals. You can quietly stroll along the marked trails of this corner of paradise. You can still use the cable car to get there easily, but we recommend that you start your hike a little further down the mountain, on the eastern side of the mountain, at the splendid Kirstenbosch Botanical Garden.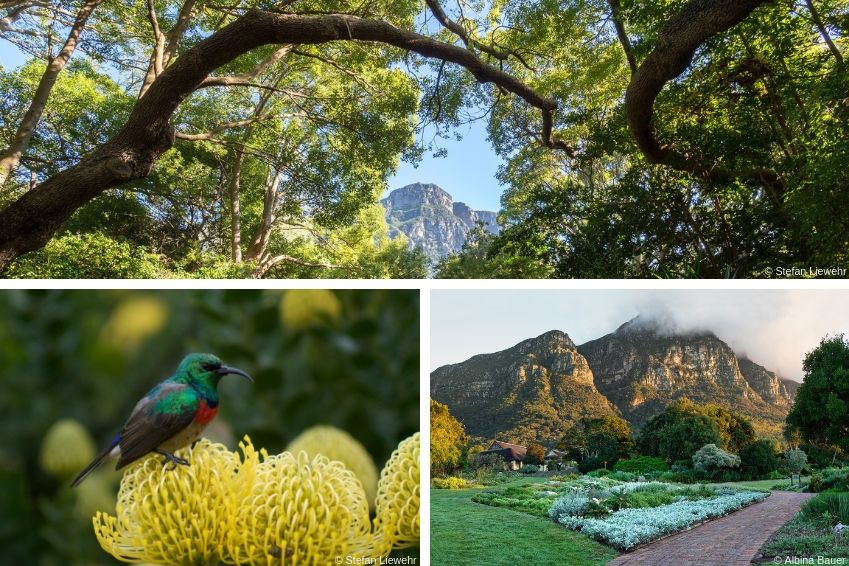 Kirstenbosch Botanical Garden
Founded in 1913 and currently occupying an area of 528 hectares, it is one of the most famous botanical gardens in the world. It contains almost exclusively plants from southern Africa, both in its cultivated and natural areas. In the first, 8,500 plant species are revealed to you, while in the second, there are 900. There are also a number of trees in the garden of European or exotic origin, planted by the former owners of the area. Thus, oaks and camphor trees rub shoulders in a superb setting conducive to a family walk along the well-designed trails. Walk between the cycas and yellowwoods of the Cape's primary forest and recharge your batteries in this prodigious nature!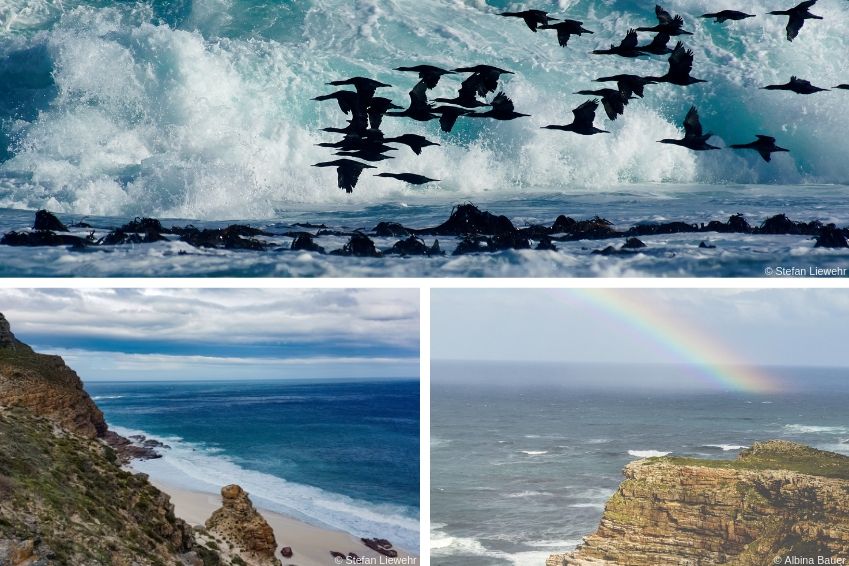 The end of the world at hand: the Cape of Good Hope
It's quite nice to think that from Cape Town, you can easily organize a short trip to this passage so coveted by navigators and explorers of yesteryear, in the hope of reaching Asia by sea! Hence its name "Good Hope", attributed by John II King of Portugal (15th century) who had "good hope" to reach India by this new route. 
>>> Our superb villas on the Atlantic Coast of Cape Town
Rent a car and drive south along the peninsula to discover this mythical place. A short detour to Boulders Beach can be interesting if you want to get to know the penguins of Cape Town. After entering The Cape of Good Hope Nature Reserve, all you have to do is to reach its end on the magnificent Chapman's Peak Drive, a scenic cornice road that majestically caresses the Atlantic coast. Without doubt one of the most beautiful roads in the world! The Cape of Good Hope is a magnificent place where antelopes, zebras, ostriches and baboons live together. The nearby Cape Point also offers a very beautiful promontory with a lighthouse. The winds are as strong as your feelings!
>>> Our luxury villas in the south of the peninsula
We wish you a very happy holiday in Cape Town!