Journey to the heart of Mauritian flavours
Mauritius is a real paradise for the palate and the senses! The Mauritian gastronomy is as diversified as the inhabitants of this small tropical island: Creole, Indian, Chinese, European... Prepare your taste buds for a cuisine full of colours and flavours!

Like white sand beaches and turquoise lagoons, Mauritian cuisine is also a real postcard of this beautiful island of the Indian Ocean, a combination of flavours inherited from the multiple influences of the people who settled there over the years. With a European, Asian or Creole inspiration, one thing is certain: spices are at the heart of every recipe! Turmeric, cumin, saffron, spicy chilli... Your taste buds will not be disappointed. Expect to discover a different cuisine on your plate every day!
To give you an idea, here is a small overview of the dishes you can enjoy during your next stay
As an aperitif, the famous "gadjaks": cake-chili, doughnut of brède, samosas with fish or vegetables... A kind of Mauritian style tapas!

Creole side, meats and fish are usually cooked in the form of "rougail", that is to say, cooked with tomatoes, onions, garlic, ginger, herbs and peppers.

Asian side, enjoy the "fried mine", a dish made from Chinese noodles with flavours of meat and vegetables.

Indian side, impossible to miss the "dal poori", THE popular Mauritian dish: a cake of yeast-free bread stuffed with yellow lentils.

For dessert, hard to resist fruit (carambola, mango, lychee...), cassava pudding, coconut cake and many more!

You have to try these wonderful dishes once there! Enjoy your meal!

>>> Discover our best addresses of restaurants in Mauritius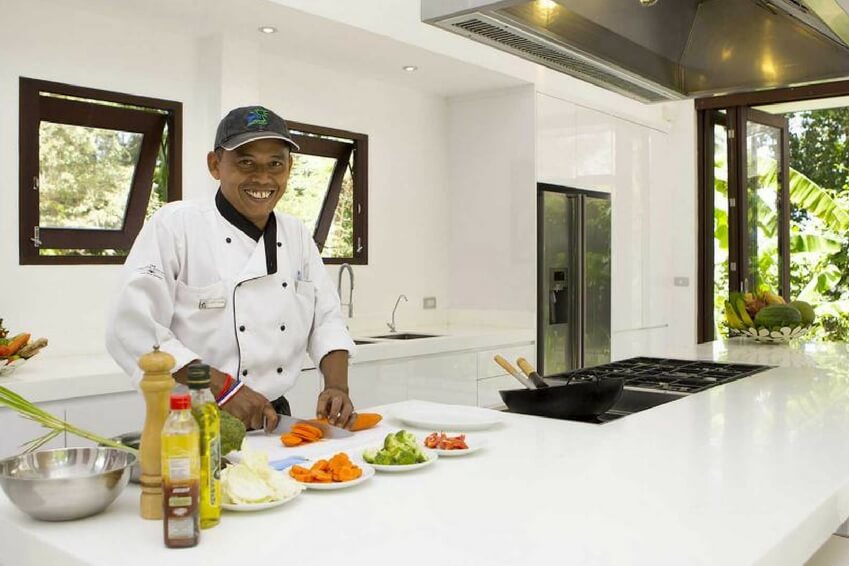 Villanovo service
Enjoy a culinary adventure in Mauritius, restaurants abound on the island, from the most luxurious to the most authentic (but no less delicious) tables. But be aware that most of our villa rentals in Mauritius also offer optional services of a local chef: the ideal option for a stay! Check with Évane, our advisor dedicated to Mauritius, via our website or call her on 01 70 80 97 53.