Riads in Marrakech: the best for your holidays in Morocco
Written on : 25 May 2018
The Pearl of the South, like its nickname among many others, is a destination in its own right that has always been a dream. This haven of Moroccan peace amazes with its architectures that dates back to the past decades, but especially by the change of scenery that is provided to travellers from around the world.

And, there are architectural nuggets, which can not be seen at first behind the high walls of the city in the narrow streets. The riads, properties that once inhabited noble families are authentic oases of serenity away from the frenzy of the city. In the heart of a soothing atmosphere, rejuvenate yourself in a charming and elegant setting, to enjoy memorable experiences in this incredible city of Morocco.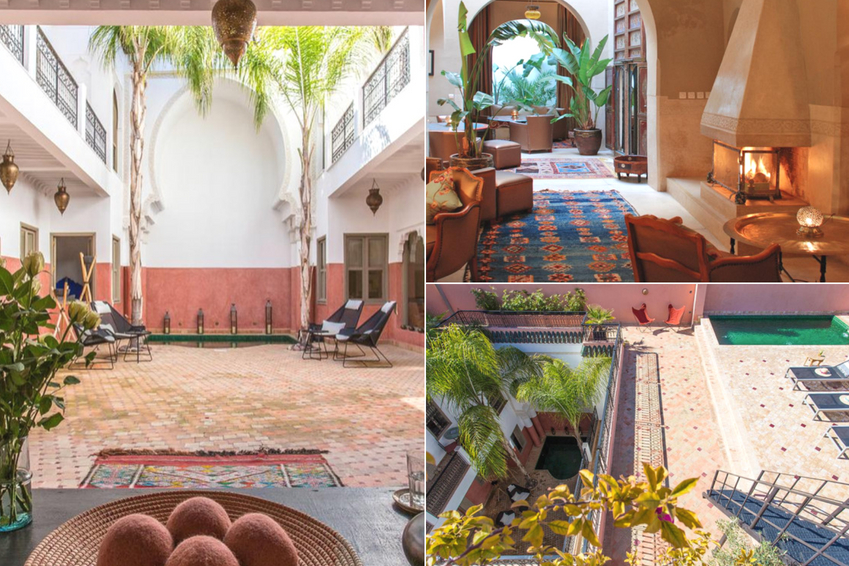 What is a riad?

Typical architecture and decoration
Of Moorish inspiration, the riads, defined as true "
gardens
" are a typical architecture of the houses of the medinas. These old buildings of square or rectangular form display the most traditional styles, like the luxury of the
palaces of yesteryear
. But nowadays, some of these exceptional mansions have been renovated in a contemporary and modern style, with a harmonious blend of local touches and contemporary works of art. Inside, there are frequently objects found by the owners
during their travels
with antique carpets, unique pieces, ceramic lamps or even carved mirrors. The smallest details are designed to create
a luxurious atmosphere
with precious materials such as marble, wood and fabrics. And, the whole interior creates a colourful decor with notes of the earth and terracotta,
typical of the Arab world
.  
The patios: major pieces of riads
The riads are characterised mainly by a central and indispensable room, in the centre of all attentions:
the patios
. These open spaces, in which the light comes naturally, are
real havens of freshness
, especially on hot summer days in Marrakech.
In all intimacy
, these beautiful spots with immaculate white walls serve the other rooms of the house: a fully equipped kitchen, a lounge with a cozy fireplace on winter evenings, a dining room and ensuite bedrooms on the upper floors, generally accessible by a spiral staircase. In addition, the rooms are all equipped with spacious ensuite bathrooms made of marble, zelliges, tadelakt and mosaics. Air-conditioned with king-size beds and a walk-in closet, you can benefit from balconies with pleasant views. Thus, this central courtyard, which is the patio, is the ideal place to enjoy the shade and freshness provided by the garden adjoining lush plants and the fountain or swimming pool.
After a hectic day discovering the Red City
, to be able to rest in
a traditional bhou
, a small living room opened in an alcove, is an indisputable pleasure.
Terraces for extraordinary views
Faced with the
grandiose Atlas Mountains
, rooftop terraces are also part of the riads and are living spaces appreciated by all. On the roof, these shady spaces are furnished with Berber tents, deck chairs, benches and cushions, tables and other elements to create
a warm and relaxing atmosphere
. Under a starry sky or facing a beautiful sunset, you can enjoy a good meal, prepared by
a personal chef
who will make you discover a typical gastronomy. And, in the middle of the sunny day, under the rays of the shimmering sun on your skin, enjoy a dip in the swimming pool or a cold shower to bring down your body temperature. Thus, these
solariums
allow you to enjoy extraordinary and breathtaking views before relaxing in the
spas and hammams
, the centrepieces of a riad.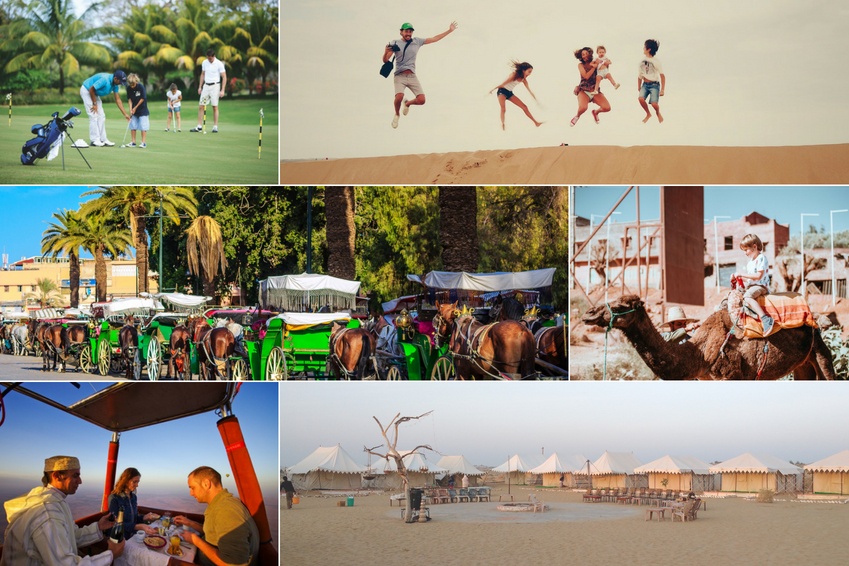 Marrakech, the city of 1,001 possibilities

Marrakech family: activities for children and adults
The ocher city is ideal for
family holidays
thanks to a range of
excursions and activities to share
. From the
Jemaa el-Fna square
with its musicians, monkey trainers and snake charmers, souks through to parks and
adventure
, your family will not be disappointed. A whole set of museums and gardens are available to discover and explore the Moroccan culture and allow your children to discover a culture different from theirs with very traditional values. Notably,
the Majorelle Garden, the El Badi Palace, the Ben Youssef Madrasa
or even the
Marrakech Museum
are all essential for your trip.
Outside the city, go for a ride on
camels
,
buggy
or
4x4
for beautiful thrills to discover the waterfalls of Ouzoud and the Sahara desert. Also, Marrakech has many
leisure parks
for maximum pleasure and fun.
Here is a small list:
Aquafun: you can have fun with you and your children on about forty breathtaking slides facing the Atlas Mountains.
Terres d'Amanar: just 30 minutes from Marrakech, enjoy an immense aerial journey and wide open spaces for beautiful hikes.
Animal Park of the Valley of the Birds in Agadir: animal park in which you can observe different species of birds.
Waky Beach: Have fun at this water ski park on an artificial lake and jet ski and wakeboard.
Palooza Land: In this amusement park, spend a fun and exciting day with your family in an entertaining setting.

Marrakech as a couple for a romantic stay
The romantic charm
of Marrakech is the dream of all lovers and invites them to escape to this city on
a getaway for two
. Naturally attractive, the Red City has a particular and singular character with
a haunting atmosphere
. At the rhythm of Gnaoua music, on the rooftops of the riads facing the starry sky or in the desert in the middle of nowhere, you will have the impression of feeling alone in the world for a few moments, lit by lanterns that create an
intimate atmosphere
. Ideal for a
honeymoon
, the city can create extraordinary memories during a carriage ride, a hot air balloon ride, a sidecar ride or even a helicopter ride. Similarly, you will discover the
flavours of oriental spices
in the souks, where you will find souvenirs for your loved ones. And, you can not come to
Marrakech as a couple
without strolling in the
Jardin de la Menara
with its legendary history or without having
a well-being break in a spa or steam room
.
Marrakech for large groups: events, seminars and weddings
The Pearl of the South attracts curious travellers each year, eager for discoveries and
unusual experiences
. In particular, it is more and more coveted for the organisation of
events
,
birthdays
,
weddings
or even
business seminars
.
Thanks to a colourful and rich culture, Marrakech offers a range of impressive possibilities for colourful birthdays and festivities. Indeed, fire-eaters, camels, DJ, oriental dancers or local groups of Gnaoui... don't miss the wonders of Morocco to create
an atmosphere worthy of the most beautiful birthday parties
. In the desert or
in the heart of a large villa
, unforgettable evenings are organised by professionals to highlight the star of the evening and impress guests.
Similarly, with
extraordinary natural sites and exclusive places
, Marrakech is also a city for weddings. In enchanting reception rooms, in the heart of lush gardens of century-old olive trees and orange trees, this is
the promise of a perfect day
that offers you the incredible Marrakech. In an exotic and memorable place,
the large riads
can accommodate the bride and groom and guests while hosting this great world for the reception and
an idyllic evening
with reflections of the city that surrounds it. Thanks to quality equipment and services of high standing,
staff will be at your care
and will do everything possible to make this day so special and beyond your expectations.
Then,
seminars
are becoming more common in the corporate world. Indeed, companies organise trips to countries abroad and Marrakech turns out to be an
easy-to-access destination
. It draws its wide catalogue of activities, sought by businessmen to alternate meetings and conferences as well as sports,
cultural
and taste excursions. Thus, companies invite their best customers to maintain loyalty, their employees to stimulate and challenge them, or even more, to strengthen team cohesion. These stays help to maintain
a good understanding within the company
through safaris, organised races and other activities in Marrakech and its surroundings.
>>> Discover our travel guides in Marrakech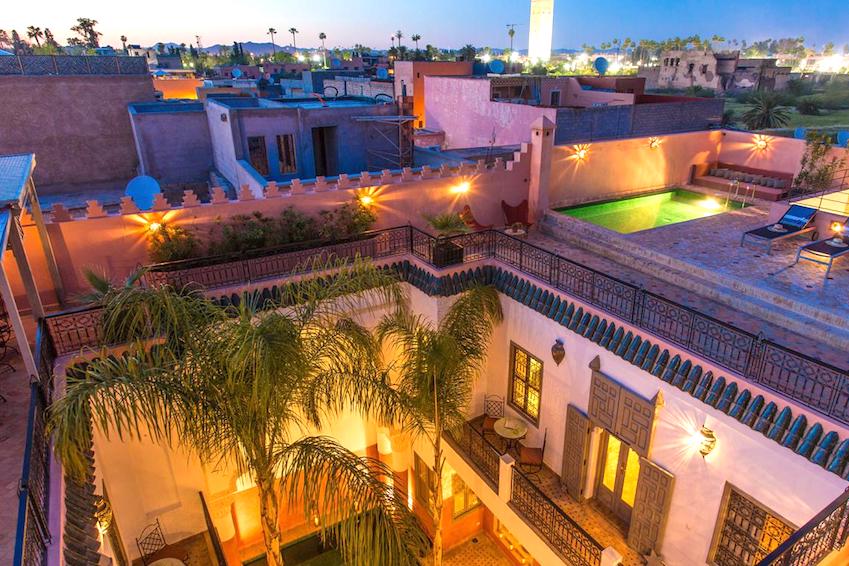 Which riad to choose according to the number of travellers and in which district of Marrakech?

Riads for everyone
For your stay, you can choose a riad
adapted to your needs and the number of travellers
. If you want to travel in love for a romantic getaway, the
1 bedroom
riads are ideal for enjoying
an intimate setting
. To share a stay between couples or with
family
, we can offer you to rent a riad from
2 to 4 bedrooms
, to accommodate everyone. If you are travelling with several, you can also opt for
a riad with 5 rooms
and more to share the cost and enjoy luxury services at affordable prices. This is particularly
ideal for stag or hen parties
to enjoy exclusively a property with dedicated house staff. Discover
Riad Darmina
and the
opinions of our customers:
"Riad Darmina is absolutely beautiful, nothing is left to chance, especially the decoration! It enjoys a perfect location, and a high quality service. The 2 employees are very caring, the meals as delicious as rich, from breakfast to dinner. I recommend this Riad to anyone looking for a destination for a magic interlude in Morocco!" - Louise B.
 
And finally, for special occasions, special stays or to celebrate moments of life, we offer you
large riads
, ready to welcome the greatest number.
Our selection of riads at all prices:
Top-of-the-range riads: To enjoy your stay in an unparalleled and incomparable luxury, it is the promise that we make you with our high-end riads. Enjoy the services of high standard that we offer to make you enjoy a perfect holiday. Discover Riad Isla!
Luxury riads: Villanovo offers riads to rent for a luxurious and unforgettable stay. With their traditional charm, luxury riads have everything you need: steam room, pool, house staff and much more. Discover Riad 37!
Riads of charm: In comfort in the middle of a traditional decoration, share a stay between friends or family in one of our charming riads by sharing the costs for a cheap stay. Enjoy luxury services and services of excellence for your holiday in the sun. Discover Riad Hizad!
Neighbourhoods for every atmosphere
Riads in the heart of Marrakech
 
In Marrakech, each district has a very different and dissimilar atmosphere. If you choose
a riad in the Medina
, you will be
in the heart of Moroccan frenzy and places of interest
. But in narrow streets, riads are often inaccessible by car or taxi to the door. In this labyrinth of alleys of the millenary old city, you will have the chance to find yourself a few steps from the Jemaa El-Fna Square, the souks, the Koutoubia, the Ben Youssef Medersa, the Marrakech Museum among others. Thus, enjoy our riads located near the neighbourhoods of Sidi Ben Slimane, Bab Laksour, Riad Laarouss, Dar El Bacha and even Mouassine. Everything else, the district of
Hivernage and Gueliz
, the "New City" wants to be attractive by its
luxury shops
, its large hotels and clubs. Indeed, it is a
modern face of Marrakech
that you can discover with
charming parks and gardens
.
Villas in the Palmeraie
 
For those wishing to
escape a bit of the city
and its frantic atmosphere, we offer rentals in
the heart of the Palmeraie
which extends over more than 15,000 hectares. True natural and tourist heritage of
Morocco
, it is appreciated for its large spaces,
a real breath of fresh air
. You can take the opportunity to visit the Museum of the Palm Grove or let yourself be tempted by a ride on camels or in a carriage.
Villanovo also offers villas in the outskirts of Marrakech, near
Ourika
and Toubkal National Park and
Amelkis
.
>>> Discover all the incredible experiences in Marrakech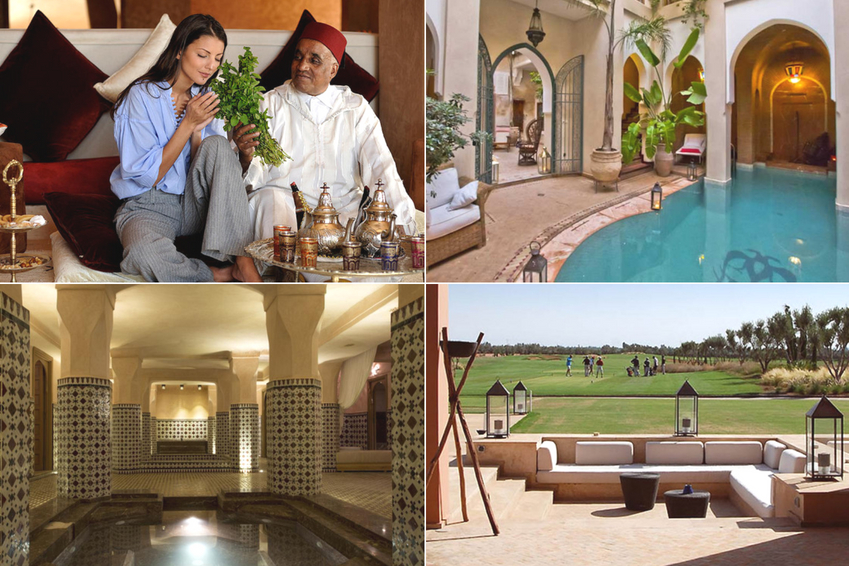 Services to be absolutely tested in a charming riad in Marrakech

A riad with house staff
In the concern to offer you
an exceptional holiday
and to make you enjoy unforgettable experiences, the
house staff
are a team in its own right and essential to your stay. During your holidays in Marrakech,
you will feel at home
thanks to the
benefits of high-standard
offered by a discreet and attentive team at your disposal and ready to answer your requests in the best possible way. Thanks to
a chef at your disposal
who knows how to adapt to your tastes and desires, you can discover exquisite flavours previously unknown and typical of
Moroccan gastronomy
to travel your taste buds and
explore the secrets of local specialties
. Then, to fully enjoy your vacation, a
housekeeper
can take care of the house, and sometimes even participate in the
preparation of meals
, to
ensure your comfort
. Parents,
do you want to escape for a few moments
? A
nanny
can be put at your disposal to take care of children and offer them activities. These are the little touches that make your holiday
a quality stay
and make you want to come back to this
land of Arabian Nights
.
>>> Discover Riad Lydinnes with house staff
A riad in Marrakech with swimming pool
In the patios
or on the roofs, to be able to bathe at any time of the day and night in
exclusivity and intimacy
is a pleasant privilege. Indeed, most riads have
a swimming pool
.
Overflowing
, mirror effect, heated or with a system of swimming against the current, you will be certainly satisfied by this
service of excellence
. You just have to perfect your tan during a relaxing time on a deckchair with a cocktail in hand.
>>> Discover Riad Monika with a swimming pool

An upscale riad with a hammam and spa
There are pleasant moments that
plunge us into another world
for a few moments, away from everyday life to let our thoughts escape to new horizons. And, the
hammams
are the key to these
moments of happiness!
These Moorish or Turkish baths, similar to the Roman baths, allow you to relax and simply enjoy the benefits of these ancient rites. Get back from your day out and all the
excursions
, and release your muscular tensions in these multisecular refuges. And, add to that
spas
, these other spaces dedicated to well-being. In the expert hands of an esthetician or a masseuse, abandon yourself to
the
pleasure of being pampered
with essential oils, a tea or a champagne flute at your side. Thanks to their therapeutic properties, Jacuzzis, relaxing baths, water jets and hot water help to detoxify your body from all the tensions and aches and pains. All in all, all these beauty rituals are of
a sweet pleasure
.
>>> Discover Riad A with its hammam and spa
A luxury villa near a golf course
Golf enthusiast?
Going on vacation does not have to force you to stop your activity during your stay! With
luxury riads near golf courses
, or even on the field itself, you can continue your favourite sport and
perfect your swing on the green
. Facing exceptional spots at the foot of the Atlas, in prestigious 18-hole courses, we offer you the opportunity to practice in heavenly settings. Surrounded by olive, orange and bougainvillea gardens, the Al Maaden Golf Resort is suitable for all levels and offers villas directly on the 18-hole course. This area resembles a fortified village with high ramparts with a sculpture park in Africa, which will delight lovers of art. So, do not waste time to go on the green a few steps from your riad in the Royal Palm Golf which hosts international competitions on the old road of Ouarzazate, near our villas where you can play in the heart of a majestic flora and on a turf of quality. Likewise, enjoy incredible scenery at
Amelkis Golf
designed by
Cabell B. Robinson
.
>>> Discover Riad Shems on a golf course
When to go to Marrakech for a dream holiday?

Option 1: The low season in winter to avoid tourists
To avoid the crowds of tourists, the long queues to access the sites of interests and the impression to feel oppressed, it is advisable to visit Marrakech and its surroundings
during the low season
. Indeed, during the winter months, even if the mornings and evenings are somewhat cool, it is nice to be able to go on excursion because of the
low attendance of the city
. Namely, the month of January is the coldest month. During the summer, the streets and souks of Marrakech are filled with visitors from around the world and it is not pleasant to move there, in addition to a scorching heat. However, during
Ramadan
, tourists have somewhat deserted the streets, and it is the original Moroccans who have returned to the country. This period can be conducive to visiting the city and you can
enjoy affordable air tickets.
However, during holiday periods such as the New Year and Easter holidays, it is inadvisable to plan a Moroccan holiday because of high tourist numbers and rising airline ticket prices,
unless bought in advance
.
>>> Also discover the events not to be missed in Marrakech
Option 2: Spring and autumn not to suffer from heat
In Morocco
, we define the climate of Marrakech. Indeed, this desert climate is defined by hot days, even hot and cold nights. We can say that the best seasons to leave are
Spring and Autumn
(March to June and September to November). Surely, in spring the days are sunny and the temperatures are bearable and pleasant oscillating between 22 and 27°C. In Autumn, the climate is quite similar with temperatures starting to fall. In July-August, hordes of tourists are present and the climate is very dry with temperatures up to 45°C. Another period of high attendance is the month of
April
. Indeed, at this time of year many European countries are on school holidays, which justifies the presence of many travellers on holiday.
>>> Discover our Guide to Weather and Climate in Marrakech
How to rent a riad in Marrakech?
At Villanovo we offer you to book online by making a reservation request through a form that will be proposed to you. In addition, in order to offer you an appropriate service, we suggest you contact our villa experts. Our team strives to provide a personalised service to each client with effective advice. Through our contact page on our website where you will find all the contact details for Villanovo, or directly on the pages of the villas, you can make a reservation request. Thanks to the general information that you have provided on the online form, you will be put in touch with the expert in charge of Marrakech. During your exchange, the latter will ask you for more information about your trip and will make a selection of villas tailored to your needs, your requirements and your criteria. It will take into account your budget, the number of travellers as well as the requested services (swimming pool, house staff, hammam, location...). Following this, you will be free to choose the villa you want, subject to availability. An "option" will be deposited on the villa (this implies that you will have the exclusivity of the villa for a given period) and a reservation request will be sent to the owners for the dates requested.

After booking your stay, you will be put in contact with our concierge service for personalised assistance in the preparation before your stay and also during your stay for a follow-up. Thus, we wish to offer you a complete service so that you can fully enjoy your holidays.
 
To make the most of your stay
Do not miss the chance to enjoy an unforgettable stay in Marrakech. Villanovo will do its utmost to organise a perfect holiday without unpleasant surprises with the assurance of memorable moments. On the spot, we have advisors and a professional team ready and motivated to give you the keys in hand for a successful stay.
The best riad of Marrakech?
We can not bring ourselves to mention a riad, since we have in our catalogue a whole range of
extraordinary properties in Morocco
. And if they have not satisfied you, discover this list of some riads among the best in Marrakech:
Riad Derb Sraghna
: In a luxurious and refined atmosphere, this riad is self-sufficient with a
refined decoration
and thought in every detail.
Riad Mena
: In the medina of Marrakech a few minutes from the Jemaa el Fna square, 6 bedrooms with bathroom, large patio with trees, heated pool, steam room, staff and cook. From €1,400 / night.
"The space, the clarity and the decoration is very beautiful and refined. This riad is magical. The staff are great and Fatima deserves a star!" - Nathalie L.
Riad Stanley
: Beautiful riad of 4 rooms next to the Dar El Bacha palace. Lots of greenery and a large pool of 9 metres in the patio. House staff and cook. From €600 / night
Riad Laurence Olivier
: Beautiful, authentic and traditional riad luxuriously decorated
near the golf courses
, hammam, large private garden, heated pool. From €600 / night.
"The very good staff on the spot: Amina the housekeeper, Raduan the night watchman, Neza the cook, Fatira the masseuse, Ali and Simon, our super taxi driver Abdu Passepartout, and without forgetting our dear Khadija!!! The delicious and hearty breakfast. Very good organisation from Villanovo who made the connection between the riad and us before leaving and answered all our questions." - Celina A.
Riad Idoine
: full of charm and ideally located in the medina, hammam, swimming pool, beautiful terrace and house staff. From €329 / night.
"This Riad is just sumptuous, everything is thought of, nothing is missing and if you want something, just ask. This place is refined, the decor is beautiful, non-ostentatious and breathtaking elegance. The service is impeccable, the cuisine outstanding, the efficient and totally adequate stewardship. And what kindness! What smiles! Well-being in a pure state! The hostess is just like her Riad: cheerful, friendly, warm and generous. Thank you for this beautiful stay. We feel really good in this riad and for sure we will come back." - Catherine M.
Riad Vania
: contemporary style, beautiful decoration, 5 bedrooms, steam room, heated pool on the terrace, staff. From €300 / night.
"Riad layout perfectly thought, pool and size of rooms, luxury materials. Exceptional comfort. Luxury in the heart of the medina!!! Villanovo is a simple, effective agent, available, kind and really listens." - Yoann C.
Riad Kerkeden
: Superb private riad with a heated pool and sun terrace with magnificent views of the medina of Marrakech, staff. From €250 / night.
"Nice decoration it feels like home. Lots of charm, caring staff, everything was perfect. Lydia had everything managed upstream, she came to see us the first day, good responsiveness... Villanovo plans are perfect, everything is on, thank you for this stay!" - Candice D.
Riad Mazagao
: Perfect location in the medina of Marrakech for this very charming contemporary riad of 6 bedrooms, pool. From €280 / night.
"Riad very nice, modern decoration, harmonious colours, warm place, patio and terrace more than pleasant. The house staff, dedicated and attentive, excellent quality of service, discreet staff. Good service from Villanovo." - Celine H.
Riad Talaa 12
: A sumptuous and authentic riad in an elegant decor, excellent service, ideal location in the medina of Marrakech, hammam.
"We celebrated our 29 years of marriage in this riad which is a marvel, both in terms of decoration, comfort and hospitality. We only want one thing: to return during a stay in Southern Morocco. This was the first time we used the site Villanovo which was very reliable. I will recommend it." - Diane F.

 
Make your dreams a reality and embark on an improbable adventure in Marrakech in our riads!
 
Villanovo wishes you a happy holiday!