South Africa
is nicknamed the "rainbow nation" and for good reason! This mythical destination attracts millions of travellers every year in search of a change of scenery and discovery. Huge expanses of wilderness, unique fauna and flora, deserted beaches with turquoise waters, vineyards at the foot of breathtaking mountains, small Zulu villages and cosmopolitan cities that are bursting with life, this country has a number of attractions that are just waiting for you! Formerly an apartheid territory, the country has now become a democratic and multiracial nation living in total harmony with exceptional biodiversity. So if you are planning to discover the mysterious and contrasting lands of South Africa, here are six must-see places to visit for an unforgettable adventure.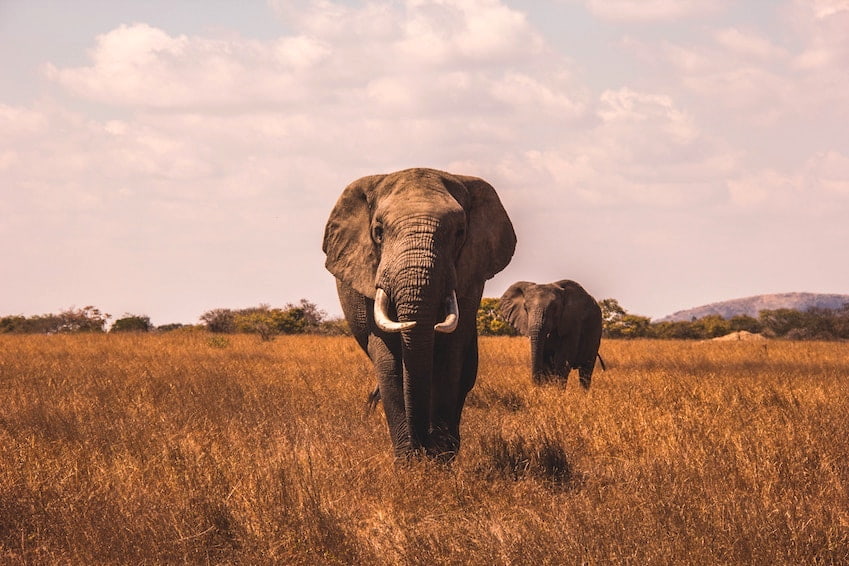 Kruger National Park
This small corner of paradise is located in the northeast of the country, near the Mozambique border. Kruger National Park is one of the most famous, ancient and extensive parks in the world, covering a total area of 20,000 km2. It is difficult to miss this nature reserve, as it is one of the most visited in South Africa. So you can't visit this beautiful country without a visit to the Kruger National Park. Discover hundreds of mammals and bird species, each more breathtaking than the next. Don't forget your binoculars and
camera
as it will be an opportunity to admire the famous "big five", the five most famous African animals including the lion, elephant, rhinoceros, leopard and buffalo.
At Kruger National Park, you can enjoy a
safari
with your own vehicle or with an experienced guide. We recommend that you take a guide because it will allow you to learn more about the behaviour and habits of the various animals that live in this huge reserve. An adventure that will amaze young and old alike!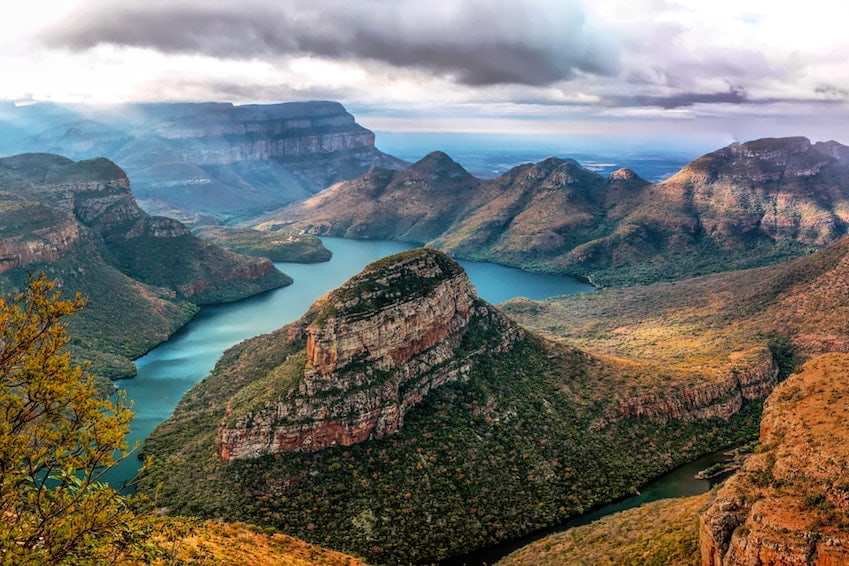 Blyde River Canyon
Located west of Kruger National Park, in the heart of the Mpumalanga region, Blyde River Canyon is about 26 kilometres long, making it the third largest canyon in the world. This site is a real gem, where vast forests, breathtaking cliffs, magical waterfalls and many other natural attractions coexist. Blyde River Canyon has several interesting points with a unique charm. So go and look for Lisbon Falls and Berlin Falls, two splendid waterfalls where you can enjoy a little freshness. Take a break in front of Bourke's Luck Potholes, giant pots carved into the limestone rock where the Blyde and Treur rivers meet. Not to mention the Three Rondavels, these three cliffs whose shape strangely resembles traditional African huts. Finally, embark on an ascent of God's Window to enjoy breathtaking views of Blyde River Canyon and Kruger National Park.

If you like outdoor activities and thrills, you'll love Blyde River Canyon! The site is ideal for hiking as it has several trails, but also for horseback riding, rafting, climbing or bungee jumping for the more adventurous.
Cape Town
A true symbol of South Africa's unity and harmony, the majestic city of
Cape Town
is located in the far south of the country. A territory surrounded by mountains and the Atlantic and Indian oceans that offers unique and breathtaking landscapes. In the midst of unrivalled nature, Cape Town is defined by its effervescence, its colourful neighbourhoods and its modern and cultural character. A dream destination that has all the assets to captivate you.  
Whether you are with
your family
, on your honeymoon or with your friends, you will certainly enjoy the lively and festive atmosphere of Cape Town and the
many possible activities
in and around the city. Head to the top of Table Mountain to enjoy a breathtaking view of Cape Town, surf the turquoise waters of Muizenberg, stroll through the narrow streets of the Malaysian Bo-Kaap district and its colourful houses, enjoy a moment of freshness in the beautiful botanical garden of Kirstenbosch or visit Robben Island, the former prison island where Nelson Mandela lived for nearly 19 years. You will be amazed by such cultural and natural heritage!
Cape of Good Hope and Cape Point
If you are travelling through South Africa, be sure to visit Cape Esperanza and Cape Point. The two sites are within an hour's walk of each other and are considered to be the edge of the world from which two opposing currents meet, the Indian Ocean and the Atlantic Ocean. A true highlight that fascinates travellers who dare to venture there.

The Cape of Good Hope was named as such because it was part of the route of the explorers who had "good hope" that they would reach Asia. The site was also known as the "Cape of Storms" due to the strong turbulence caused by the encounter of opposing currents. A fabulous and unique spectacle that you will only be able to observe in this corner of paradise. Many consider the Cape of Good Hope to be the southernmost point. Well, that's not true! If you want to go to the southernmost end, go to Cape Agulhas, a few hours drive to the southeast of the country.
Many activities await you in this peninsula, now a nature reserve and a UNESCO World Heritage Site. Let yourself be tempted by a hike to meet the antelopes, walk along the wild coast while trying to observe penguins and dolphins, climb up one of the site's lighthouses to get a breathtaking view of the surroundings, or take a break in front of the famous Cape Point sign. For lovers of pirate legends, try to see the famous Flying Dutchman.
Cederberg Region
This beautiful semi-desert region located a few hundred kilometres north of Cape Town is home to many treasures. However, it is often not well known by travellers because it is forgotten on most tourist tours. A haven of tranquility in the middle of a desert environment composed of impressively shaped red mountains, large expanses of sand, waterfalls and wild rivers. Cederberg is also famous for its rock paintings and magical nights in the starry sky. A spectacular site where nature is king and where it is pleasant to be able to feel solitude and total freedom.

The Cederberg region is a real paradise for lovers of nature and wide open spaces, but also for hikers and climbers. Cycling, canoeing, hiking through the mountains to discover rock art, visiting farms and rooibos tea factories (tea adored by South Africans), there is something for everyone! Whatever you choose, spending a day in Cederberg in the middle of timeless landscapes will allow you to get away from the worries of everyday life while breathing in the fresh air. In spring, Cederberg covers himself with thousands of flowers to create an absolutely fabulous natural spectacle. Don't forget your camera!
Garden Route
Here are 700 kilometres of fabulous roads with unique landscapes waiting for you. Located in southern South Africa between Cape Town and Port Elizabeth, the famous Garden Route runs along the wild coast offering spectacular views of unspoilt beaches, sumptuous lagoons, mysterious forests, vineyards, mountains and green hills. A region that shelters the most beautiful cultural and natural sites in the country and where the temperatures are the most pleasant. What more could you ask for?
Every year, the Garden Route attracts many travellers, especially for family trips or
honeymoons
. Breathtakingly beautiful landscapes that offer a wide variety of activities. Let yourself be tempted by a surf session in Victoria Bay, go whale watching in the deep waters of the village of Hermanus, visit the Karoo ostrich farms, go meet the sharks in Gansbaai or stroll through the seaside resort of Knysna. All these activities will delight young and old alike and make your stay in South Africa unforgettable.