Restaurants not to be missed around Begur
Written on : 09 September 2021
By : Claudia Miquel
A holiday on the Costa Brava wouldn't be the same without tasting some of its traditional dishes and its finest cuisine. Seafront restaurants, typical local restaurants, idyllic settings or out of the box places to eat, no matter what you fancy there is an option for you! 
Here is our selection of some of the best restaurants not far away from Begur for you to savour delicious food with your friends and family.
>>> Discover our luxury villas on the Costa Brava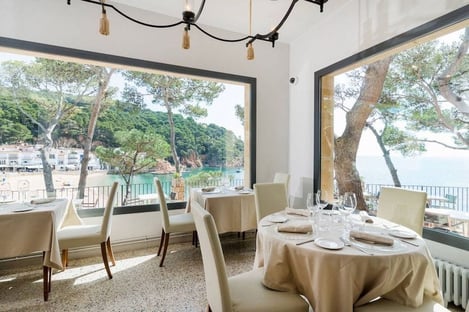 Traditional restaurants to enjoy lunch
Es Portió, Hostalillo Restaurant: the best proximity product
Serving traditional cuisine using products collected directly from the field or from the sea, this restaurant has a good quality-price lunch menu which you will be able to enjoy alongside its wonderful view of Tamariu's promenade.
Address: Bellavista 22, Tamariu 
Phone number: +34 972 620 228
Reservation recommended
Restaurant Llafranc "Cal Gitano de Llafranc": traditional tasty black rice
This restaurant offers the atmosphere and character of a truly "ampurdanés" establishment, and therefore is one of the best spots to taste authentic Catalan cuisine while enjoying a beautiful sea-view. Their menu includes a wide variety of succulent dishes amongst which we advise you to try "Black Rice", which is made with a base of onion and tomatoes and is the star dish. 

Address: Passeig Cypsela 16, Llafranc
Phone number:+34 972 300 208
Reservation recommended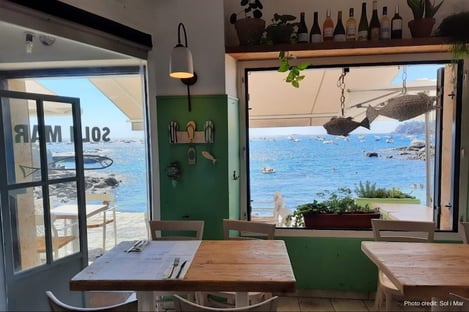 Sol i Mar: family restaurant in one of Calella's best corners
This restaurant is located in an intimate space open to the sea where you can enjoy a simple and honest cuisine with fresh produce from the area, treated with all the attentiveness and caring in the world.

Address: ​​Carrer Miramar 19, Calella de Palafrugell
Phone number: +34 972 617 096
Reservation recommended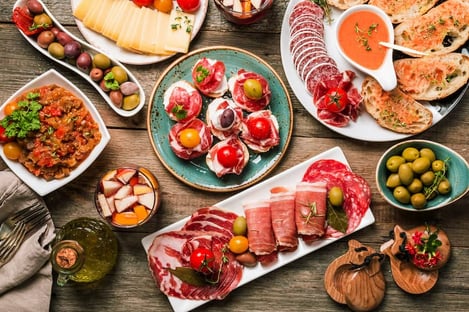 Bistrot el Patio: high-quality tapas
If you fancy some high-quality Spanish and Catalan tapas, from "croquetas", potato omelets to plenty of fish and meat dishes-- topping it off with beautiful views of the seafront promenade, this is your place. They also have many vegetarian options.

Address: Passeig del Mar 15, L'Escala
Phone number: +34 972 059 865
Reservation recommended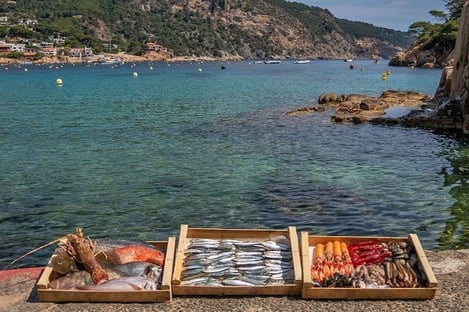 Toc al mar: wild fish right from the fishermen's boats
In the sand of turquoise cove Aiguablava, you will be able to indulge in authentic Mediterranean cuisine, being oak's grilled fish the restaurant's speciality. 
It is a great place to enjoy a lively lunch, however, if you prefer a relaxed environment we advise you to go at night (around 9:00 p.m. so you can watch the sunset) since the cove is empty and therefore much calmer than during the day. 

Address: Platja d'Aiguablava, Begur
Phone number: +34 972 113 232
Reservation recommended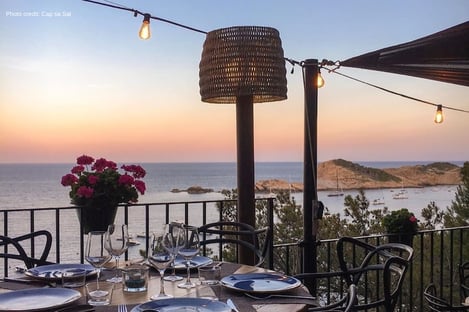 Exclusive restaurants to have a special dinner
Cap sa Sal: magical sea-view 
This restaurant not only has one of the most stunning views of the Costa Brava but also offers a gastronomic proposal which includes season rice, local fish, and seafood.
Be it indoors or in its gardens, shadowed by centenary pine trees, you will fall in love again dining under its dim lights.

Address: Carrer Cap sa Sal 24, Begur 
Phone number: +34 972 624 375  (9-12H)
Reservation recommended
El Teatre: sophistication
For those who enjoy haute cuisine, El Teatre brings you exquisite tastes and scents in very sophisticated dishes. The chef, with the help of professional botanists, choses fresh and natural ingredients for all of his plates in order to delight customer's taste buds. 

Address: Carrer Nou 2, Regencós
Phone number:+34 972 30 38 59
Reservation recommended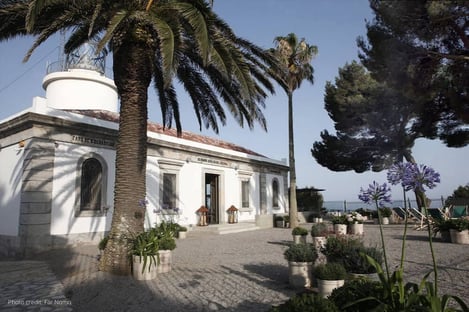 Far Nomo: magnificent lighthouse for sushi lovers
Located in the emblematic Sant Sebastià lighthouse, this restaurant presents a mixture of Mediterranean and Japanese gastronomy with dream views of Llafranc's coastline. You cannot leave without trying their delicious truffled egg nigiri. 

Address: Passeig de Pau Casals 64, Llafranc
Phone number: +34 972 301 521
Reservation recommended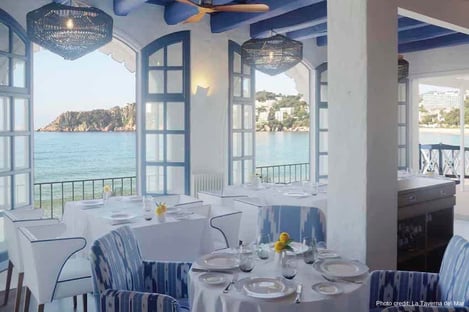 La Taverna del Mar: elegance at an idyllic setting 
Located in the picturesque coastal village of S'Agaró, this luminous restaurant offers exquisite Mediterranean dishes and some of the best seafront views to enjoy an unforgettable meal.
If you want to relish a refreshing cocktail at an enviable location, head over to their chill-out area and ask for a drink!

Address: Passeig de Sant Pol, S'Agaró
Phone number: +34 972 821 669
Reservation recommended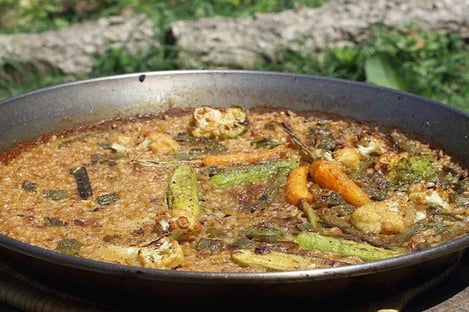 Out of the box restaurants to live a memorable experience
Sol Blanc: exquisite cuisine amongst Pals rice fields 
Live a gastronomic experience at this farmhouse surrounded by the rice fields of Pals.
Jordi Ribas, the restaurant's chef, offers an original cuisine proposal based on the flavours of the traditional Catalan cuisine, being rice his star ingredient. Therefore, we advise you to try any of their rice dishes.

Address: Barri Molinet 14, Pals
Phone number: +34 972 667 365 
Reservation recommended
 

L'Eixida:gastronomy in medieval surroundings
L'Eixida is a gastronomic family restaurant located in the cultural heritage Peratallada, an emblematic town home to an important medieval architectural complex. 
Enjoy it's signature cuisine based on the flavor of local products and nuances from other parts of the world at it's shaded terrace.

Address: Carrer del Forn 4, Peratallada
Phone number: +34 972 634 806
Reservation recommended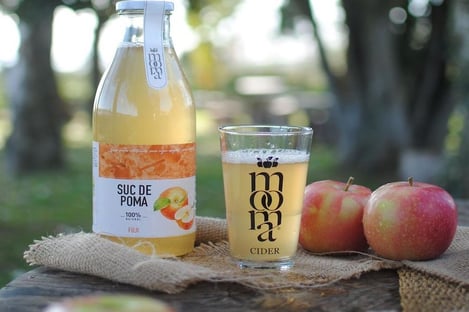 Mooma: peaceful cider house hidden amongst apple trees
This farmhouse surrounded by apple trees offers a wide variety of options in its menu such as salads, tapas, grilled meats and many vegetarian, vegan and celiac options. It uses top quality local raw materials and seeks to offer the best taste and aroma. 
Furthermore, Mooma is not only a restaurant, but also an establishment where you can go and have a cider or, in summer, a cocktail in its Garden.

Address: Mas Saulot S/N, Palau-sator
Phone number: +34 872 026 088
Reservation recommended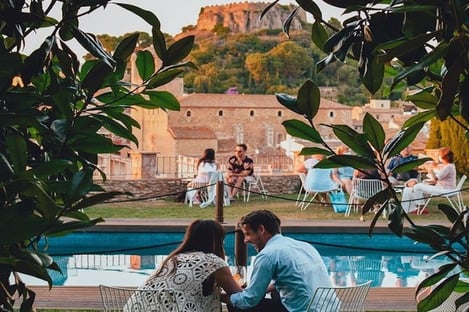 El Jardí de Can Marc: a gastro-cocktail chillout
This restaurant, located in an idyllic garden, has one of the most beautiful views of the remains of the medieval castle that crowns the town of Begur, from where you can enjoy an exquisite selection of cocktails and tapas.
Discover Villanovo's selection of luxury villas for Costa Brava