Discover the most beautiful beaches of Phuket
Phuket is a fantastic family destination, with lots of thrilling activities that your kids will love! But what makes Phuket so beautiful is its sublime beaches all more beautiful than each other.

There are so many beaches that the choice can sometimes be difficult: which beach is best for children? Which beach is the wildest? Which beach is the most suitable for enjoying the sun with a drink in hand? To help you, Villanovo have designed for you a guide of the most beautiful beaches so that you find the beach that you need, during your luxury stay in Phuket.
 
Freedom Beach
Freedom Beach is the hidden pearl of Phuket, which exudes charm and tranquillity. As elements of the landscape: lush vegetation, fine sand and clear blue water... a decor worthy of the most beautiful postcards, and all just minutes from Patong boat. Indeed, go to this corner of paradise at a price because Freedom Beach is only accessible by boat and only during the period from December to June.
Cape Yamu Beach
It is a charming little peninsula North of Phuket. Calm and beauty meet to form a sublime beach where white sand, lush vegetation and transparent water blend. Far from the daily tourist turmoil that is often associated with Phuket, Yamu seems to have been spared and is an ideal destination for those seeking privacy and tranquillity while on holiday in Thailand.

>>> Contemplate our homes directly on Cape Yamu
 
Nai Harn Beach
Increasingly popular in Phuket, this beach is still less crowded than other beaches in Phuket, providing a calm and soothing atmosphere. What charms are its boats anchoring on the shores of the bay. A sublime landscape and a peaceful atmosphere... what more can you ask for a beautiful day at the beach, with family or friends?
Kamala Beach
It is the ultimate family destination in Phuket. Even when hordes of tourists swoop over Phuket, Kamala is always calm and tranquil, ideal for families with children. Not far from a charming fishing village, this beach lined with coconut trees offers shaded areas for you to enjoy a little cool during your swim. As this is a bay, the water is very calm, making it a suitable place for young children.

>>> Discover our villas directly overlooking Kamala Beach
 
Patong Beach
No need to present the liveliest beach in Phuket; Patong Beach. It is historically the first seaside resort in Phuket, making it a popular destination for years. It is very popular with party goers who like its high-energy atmosphere, with its colourful neon bars. If you are with your family, you can go there during the day to enjoy the entertainment, restaurants and shops that hem the beach. But at night, this place turns into a giant club, perfect for groups of friends who want to get a glimpse of the Thai nightlife.
Banana Beach
Sometimes called "Banana Rock Beach" it is an almost secret beach, an address that is exchanged on the sly to avoid ruining the splendid landscape of this place. Quiet and secluded, this stretch of sand and clear water is the perfect place to relax for an afternoon or a day.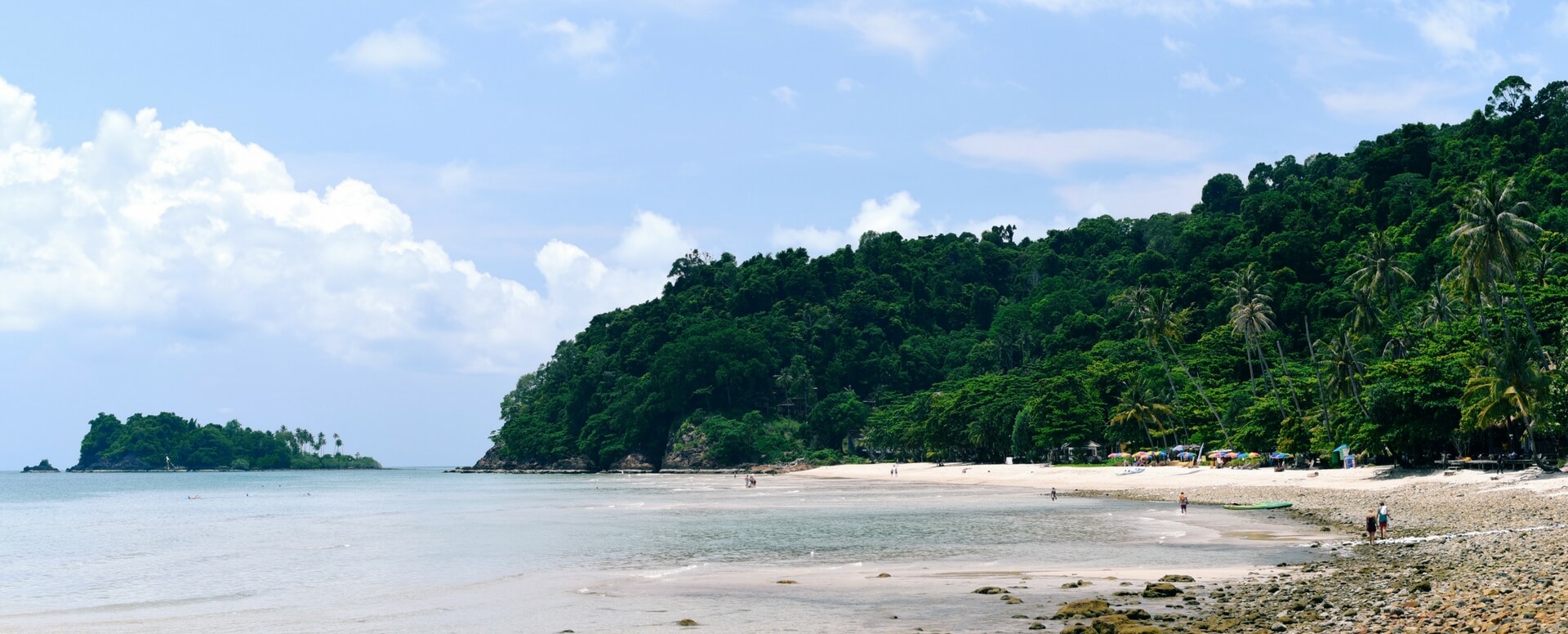 Bang Tao
North of Surin, this beach is ideal for a quiet swim in the crystal clear waters. You can enjoy water sports all year round. This is one of the most chic and luxurious beaches. There is always entertainment in the chic bars that line the beach, so you can perfect your tan and enjoy a refreshing cocktail, all to the rhythm of the lively music that animate this sublime stretch of sand. This place is ideal for groups of friends.
Natai Beach
This beach stretches for 10km and is one of the quietest beaches. A tropical setting ideal for a relaxing day on the beach. The locals call this beach, the Pilai beach, of the same name as the village in which it is located. A law protects the beach from the construction of large resorts, so the landscape is not changed and you can enjoy the beauty of the surroundings.

>>> Check out our prestigious properties on the edge of Natai beach
Mai Khao
This beach is located North of the island and is 10km long. It is impossible not to find a place on this stretch of white sand paradise. Sea turtles come to lay their eggs from December to February, which is a real attraction on this beach. Nature lovers will find their happiness because this beach is protected by the National Park of Sirinat.