There are many reasons to fall in love with Morocco's stunning city of Marrakech: from its spellbindingly beautiful gardens to its fascinating architecture, bustling souks and UNESCO-recognised medina, warm and hospitable locals, spectacular golf courses, world-class cuisine and breathtaking landscapes, it is a city that enraptures and beguiles all who visit it.
One of the most enchanting elements of this fabulous city is, of course, its unique architecture, which ensures that even when close to the most bustling parts of the city you can find a little oasis of peace, in the courtyards, gardens and patios that are found in and among the traditional riads of Marrakech. 
>>> Discover all our prestigious properties in Marrakech
The best way to get away from it all in Marrakech
When staying in a luxury property in Marrakech, you want to both feel present in a city and yet still have space for calm and contemplation. These delightful patios offer just that. Their stylish designs, and the Moroccan taste for blending nature and elegance has helped to create some of the most paradisical patios for you to enjoy on your next holiday in Marrakech.
Often located on a riad's ground floor, the Moroccan patio is the heart of the property, often doubling or tripling as an open air dining room, swimming pool and garden area, replete with arches, ponds, leafy plants and places to stretch out and relax in complete luxury.
We take a look at 8 of the best. 
Riad Kolos
This exceptional riad in the heart of Marrakech's historic medina is a true oasis of calm and serenity. Delightfully designed and decorated, the relatively simple style lends the central patio courtyard an understated charm, in which the pond, the scattering of greenery and the light itself are the stars. The perfect place to enjoy a tagine or a mint tea with friends or family, or even just to catch up on your reading.
Riad Laurence Olivier
The central courtyard allows in plenty of light, which is best captured on its white marble, and filtered through its surrounding vegetation. Around the patio there are trees, a large pool, a lounge, a dining room, and a reading room. The materials chosen for the decoration of this riad are noble, marble floors, wooden doors, and stucco roof, all of which leads to a luxurious final result, effortlessly combining both the traditional and the modern. Next door, the adjacent building has been renovated into a small exotic garden with a large heated pool... the Moroccan property with the patio of your dreams!
Villa Kamara
Another excellent property a mere stone's throw from the medina, this wonderful riad is home to an impeccably designed courtyard, bordered by a series of gorgeous Moorish arches, and well-placed potted plants. It is best utilised as an open-air dining room, in which you can enjoy delicious Moroccan cuisine prepared by the house staff. Meanwhile, the roof terrace is home to the more attention-grabbing jacuzzi and pagoda and 17th century Moulay Ismail ramparts. Taken together, this is a property not to be missed.
Villa Deutzia
A sumptuous property built at the beginning of the last century, the traditional charm of Villa Deutzia has been artfully preserved over the years, with a careful eye kept on its alluring comfort and leafy serenity. Never is this more evident than in the splendid design of its central courtyard, where the gently trickling fountain takes centre stage, flanked by a number of quaint alcoves and seating areas hidden among the luxuriant vegetation. With the chef-cooked meals, hammam and tile-bottomed pool to indulge in, Villa Deutzia is the perfect Moroccan retreat.
Riad Derb Sraghna
With its 2 patios, the riad Derb Sraghna offers many verdant spaces where you can fully relax and recharge your batteries. One of the courtyards has a lovely swimming pool in which you can refresh yourself. The second has a small central pond near which its comfortable seating invites you to pause and soak up the sun in the privacy of your riad. Its many arches and balconies let in natural light in most of the rooms of the house, providing the perfect balance between open-aired freshness and luxurious seclusion.
Riad Mena
This spectacular riad is a true treasure in the heart of Marrakech. Its luxuriant courtyard possesses a lovely alcove, perfect for leafing your way through a book while sipping a mint tea, accompanied by the sound of the fountain gently whispering to itself. Offering plenty of light and shade, this privileged corner of paradise also offers tastefully decorated bedrooms with traditional wooden shutters and well distributed rooms. Another stunning property in the centre of Morocco's fabulous tourist capital.
Dar 118
This Moroccan patio fits perfectly into the decoration of this recently redesigned traditional Moroccan house. Although a little more modern than other riads in the medina, it has retained its charm and authenticity. Its skylight feeds the surrounding rooms perfectly and more light pours through the large bay windows. Its armchairs invite you to relax, and make the most of a small haven of peace in the heart of this typical Moroccan house.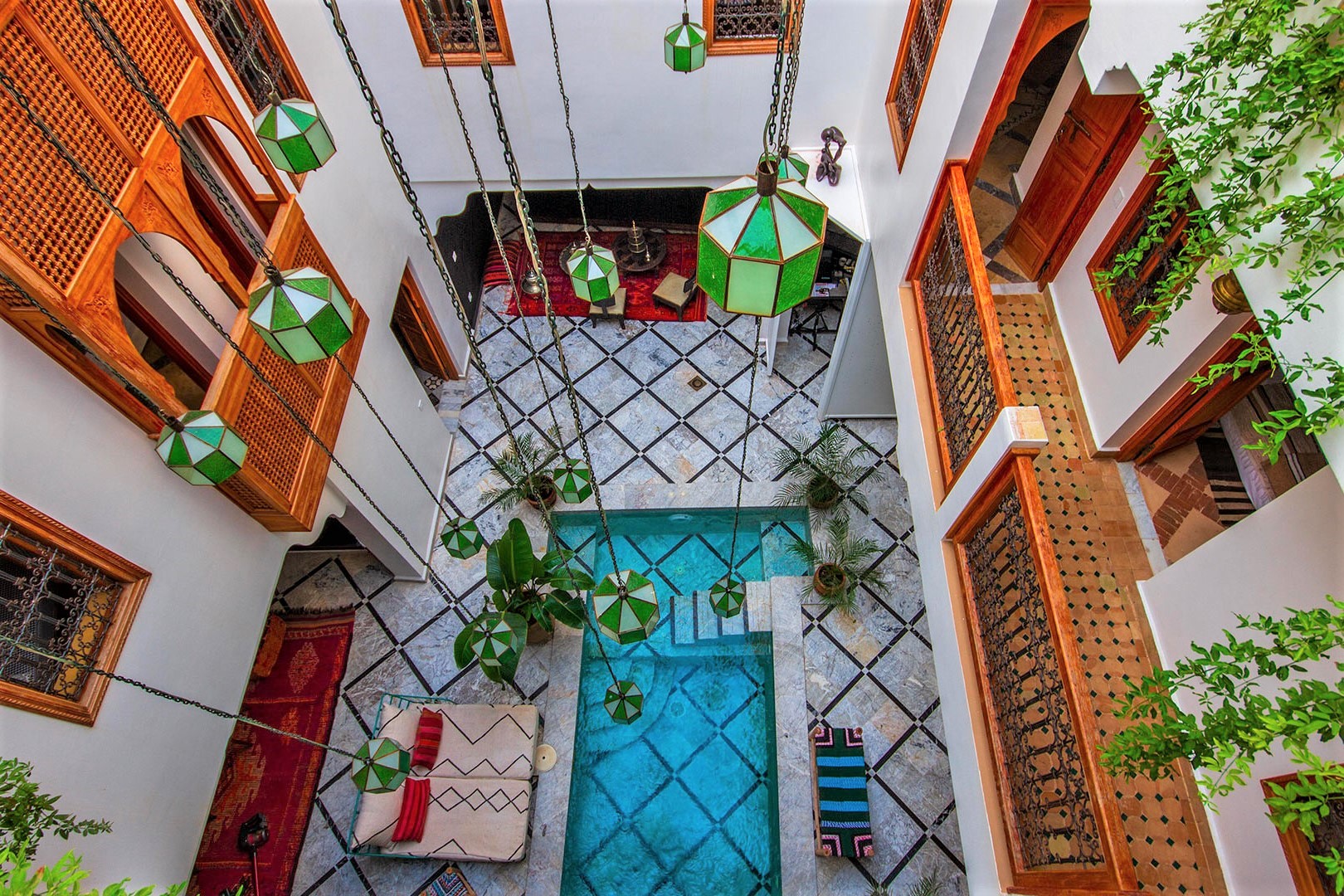 Riad Yano
This fabulous riad possesses one of Marrakech's most strikingly beautiful interior patios. The courtyard of this elegant property provides a delightful inner sanctum marked by the almost vine-like lights hanging from above and the plants cascading from the balconies, while the tastefully lit pool and stylish furnishings tie the whole picture together perfectly. This stunning luxury riad in the heart of Marrakech also boasts a rooftop bar, with plenty of seating and a well-placed pagoda to over a little shade from the midday sun. then there's the small matter of the sauna and hammam... an exquisite luxury property.
You've finally found the accommodation of your dreams, but you still don't know what to do in Marrakech? Don't hesitate to check out all our exclusive experiences to do there! Moreover, our specialists will accompany you throughout your booking, and our concierge service can organize unique activities for you.
>>> Stay in Morocco
>>> Our most beautiful luxury villas in Marrakech