Comporta with your family
Oftenly compared to the Cap Ferret of the 70's because of the escape its calm promises, the villages has several outdoor activities, including on the beach. Located in the south of Troia's Peninsula, comporta's beach seduces by its protected natural vegetation. Its vastness, cleanliness and its easy access made of this beach a unique natural space rarely seen. If you or your children like animals, why not let yourself tempted by a horse ride on the seaside? The owner of the stable, José Areia, well-known of its inhabitants, will make you discover sumptuous landscapes and gallop along the beach at sunset time… Your children will love it.

A must-do of Comporta: Porto Palifico. Main tourist attraction of Carrasqueira village, Palifico port reunites Portuguese traditions. Built in the 50's to allow fishermen to moor at low tide, the boats still here today testify of the current activity of the port and will transport you in the bygone Portugal. Its fragile stilts in wood give to this port the charm of an architectural work of art unique in Europe.

Also, if you're keen to learn more about the historical heritage of Comporta while still tasting new flavors, have lunch in Museu Du Arroz (rice museum). In the heart of a reformed rice warehouse and with a terrace view on the paddy fields, this museum with original concept and refined design is idolized by Portuguese celebrities. More than a simple restaurant, the place offers you to taste Portuguese traditional meals of which the most popular combine a delicious rice with clam, codfish or cuttlefish. But it does not stop here! Through an exhibition of former rice machine, the museum gives you an opportunity to find out the secrets of traditional rice preparation in the region, to give some spice to your lunch.

At last, declared a national monument since 1910, the Roman ruins of Cetobriga in Setubal reopened their doors to public a few years ago. Vestiges of an important Roman city destructed by the sea in the 5th century, the center now reunites tombs, baths and ruins of a decorated temple. There is however something new: Visitors can now follow a guided visit and a route marked with arrows on 450 meters which will please the younger ones and their elders.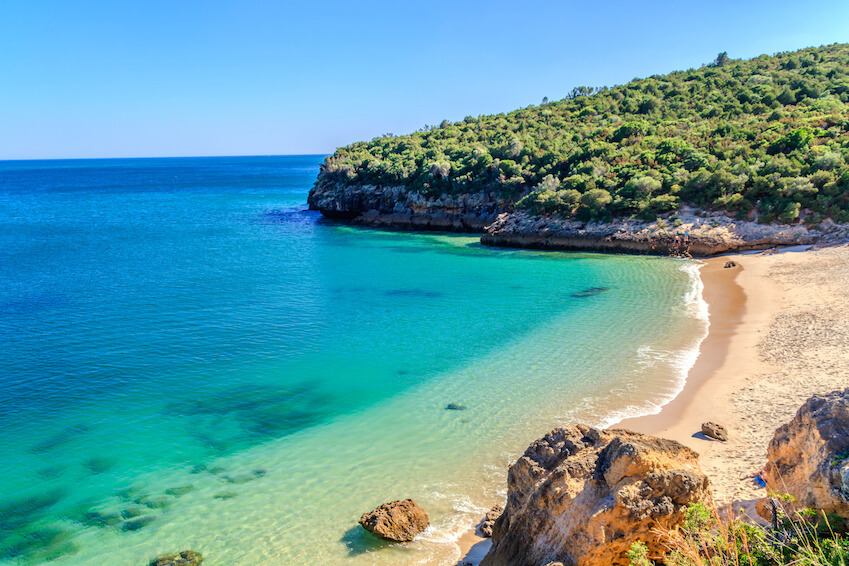 Must-see activities
Being in Comporta, and even if the beauty of the site is self-sufficient, it would be a pity to miss the natural reserves around.

If you decided to visit Setubal, take this opportunity to have a walk in Estuário do Sado, a protected zone to admire the local flora and fauna. Don't forget to have a boat tour to observe the dolphins! The transparency of the water and its incredible maritime fauna will offer you an unforgettable outing for the whole family.

Also, if you'd rather enjoy nautical activities in the sea, go to one of the various free beaches in Setubal, perfect for windsurfing enthusiasts! However, if you prefer to golf, don't miss Troia's court! It is listed as one of the best golf court of europe and is even used for some international competitions.  
Finally, for a little bit more of authenticity, explore the area of Arrábida park, a biogenetic reserve which extends over 10 000 hectares. With its hills covered with intense vegetation, the national park of Serra de l'Arrábida is rich of an extraordinary flora and gives a green charm to the region. Little known to the general public, you will get the chance to enjoy the park and beaches in an intimate setting for a unique family vacation.
And, if you're willing to discover more about the best destinations in Portugal, it's
here
!