Where to rent a villa in Costa Brava?
Written on : 23 November 2021
By : Claudia Miquel
The Costa Brava is located in the northeast of the Iberian Peninsula, along the border with France, and stretches for more than 160 km offering spectacular landscapes, from Portbou to Blanes. It is made-up of the regions of Alt Empordà, Baix Empordà, Gironès, Pla de l'Estany and Selva.

When considering where of Costa Brava to stay when spending your holiday's in the area, it is important to take into consideration several factors such as: cultural and historical attractions, leisure activities, natural parks, nightlife, etc to decide which place suits you best according to your personal preferences.

>>> Discover our luxury villas on the Costa Brava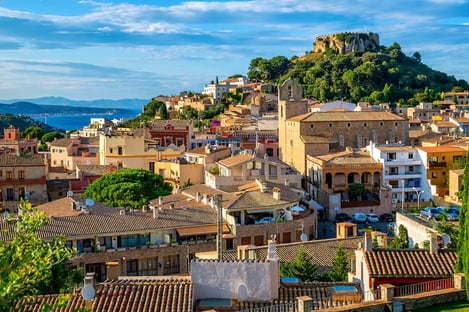 Begur, explore its medieval architecture
The town dates back to prehistoric times, and remains from different eras have been found that confirm its longevity as a human settlement. Protected by the medieval castle that overlooks the town, it has a profound sense of history reflected on every street, house and corner.
In addition to its historical heritage, Begur has many natural attractions in its coastal areas, including the Massís de Begur cliffs and several paradisical beaches and coves such as Aiguablava and Illa Roja, that all together make up a setting of unrivalled landscape.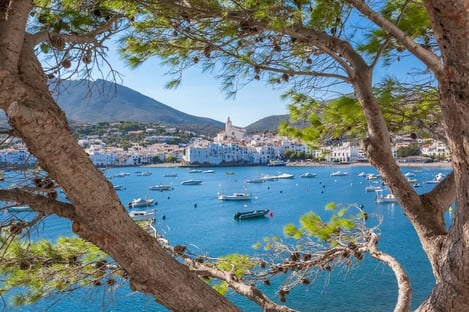 Cadaqués, for those interested in art and nature
Cadaqués or "the most beautiful village in the world" according to Dalí, preserves the charm of an old fishing village thanks to the good conservation of its narrow streets and white houses. 
Once you have visited the village and walked along its beautiful promenade, you should follow the path from Cadaqués to Port Lligat and visit the Salvador Dalí House-Museum. This will allow you to understand his work and see the eccentricities amongst which the genius lived.
 
Moreover, if you are interested in nature, the nearby Cap de Creus Natural Park, where the Pyrenees meet the Mediterranean Sea, offers a unique geological configuration, as well as rich vegetation, in which Mediterranean and continental elements coexist. 
Many diverse activities can be practised within the perimeter of the park, however the most popular are scuba diving and hiking. 
There are various possible hiking itineraries, although we recommend the one that goes from Cadaqués to the Cap de Creus lighthouse.
>>> Explore our idyllic villas in Cadaqués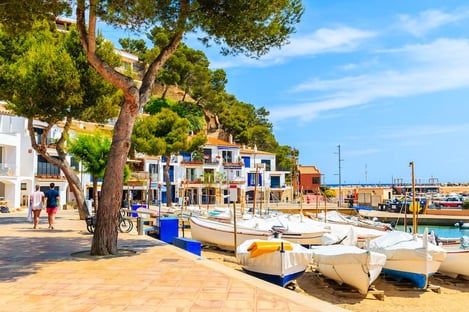 Calella de Palafrugell or Llafranc, typical coastal village
Calella de Palafrugell is an old fishing village characterised by its white houses with tile roofs, which stand out on the rocky coastline. 
It preserves the magic of the typical Catalan coastal town, with its narrow cobbled streets, marine atmosphere and excellent food scene.
Furthermore, Calella has both urban beaches like Port Bo or En Calau, which are perfect to enjoy the sea and see the traditional colourful boats tied in the sand, as well as secluded coves, such as Cala de Sant Roc or el Golfet Beach, where you can enjoy a peaceful bathe. 

To the north of the town lies the village of Llafranc, which can be accessed through the Camí de Ronda, a hiking route offering impressive views of the sea and the coastal towns.

Llafranc is a typical coastal village too, although quite smaller than Calella, and offers a charming landscape and a marvellous lively beach. It has a vibrant atmosphere and plenty of activities to do, so it is the perfect setting for your holidays. From relaxing and sunbathing at the beach, enjoying an ice cream in its sea-front promenade, dining at its wide variety of traditional restaurants, to trying any of the summer sports offered at the marina, you have plenty of options to never get bored!
Lloret de Mar, for thrill seekers
Lloret de Mar, in spite of being quite crowded and not as traditional as other coastal villages in the area, offers a wide range of thrilling water activities, water parks and other kinds of day-time leisure such as: go-karting, mini and traditional golf, horseback riding and much more. It also offers a fun nightlife and has a wide variety of nightclubs, casinos and bars.

If you want to try exciting water activities such as parasailing, water ski, flyfish or others, we advise you to do so on Fenals beach, which has a "Blue Flag" rating for the quality of its waters and services, making it an ideal place to practice water sports. Furthermore, if you like water parks you must visit Water World, one of the largest water parks in Europe.

Finally, being one of Costa Brava's major party destinations, Lloret de Mar is well-know for its nightlife. Amongst its bars, nightclubs and pubs we highly recommend Cala Banys, situated in the cove with the same name. This historic bar (which has existed since the 1960s) has a terrace overlooking the cove, with sofas and a chill-out area, where you will be able to refresh yourself drinking delicious cocktails, while enjoying a spectacular sea-view.

>>> Best water activities in Costa Brava with kids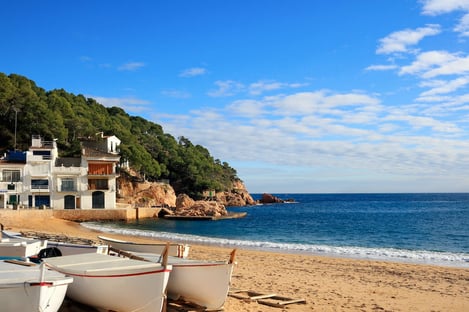 Tamariu, an oasis of peace and tranquility
Tamariu is a small and intimate coastal village, being a perfect destination for families or couples. The town's life revolves around its tiny but alluring beach, set in the middle of an unexploited natural environment away from cars and city noise. The main leisure activities offered are diving, sailing and kayaking. However, travellers with a preference for staying dry need not look beyond Tamariu's shore. This place is full of nice local restaurants with comfortable beach-side terraces inviting you to enjoy tapas, a fresh fish-of-the-day dish or an evening drink.
In a nutshell, Costa Brava is a great place to spend your holiday's no matter what you fancy: exploring medieval and cultural heritage, sunbathing at a paradisiacal cove, savouring traditional foods, trying exciting water sports... there are plenty of options for you and your loved ones to have a blast!
Discover Villanovo's selection of luxury villas for Costa Brava