Croatia's national parks: a paradise of green and blue
Written on : 12 February 2019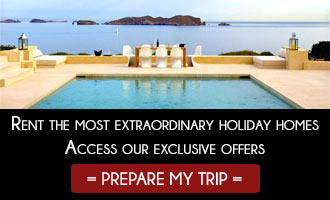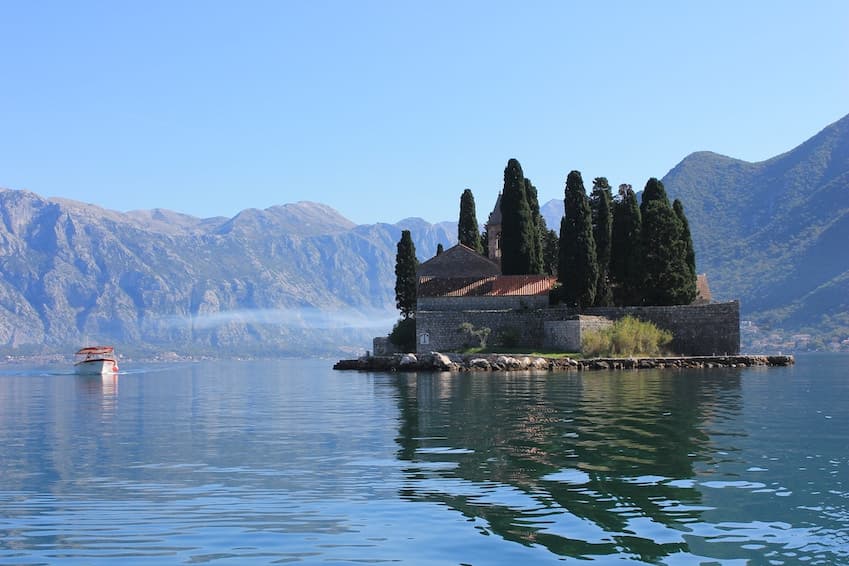 Croatia is host to eight incredible national parks, ranging from coastal wonders that appear to consist of hundreds of green islands dotting the blue, to tiered waterfalls spilling over limestone plateaus. If you are at your happiest when exploring nature, you'll find it here. Following trails along mountain ridges and through pine forests, kayaking around saltwater lakes, swimming under turquoise waterfalls, or finding spots where you can see no one else; Croatia's national parks hold delights for all lovers of the outdoors. Here we highlight the unique characteristics and beauty of each one, and we're sure you'll add a visit to Croatia to your itinerary soon.
Brijuni
Consisting of 2 large islands and 12 smaller islets, Brijuni is a truly spectacular sight. The islands are very flat, the light and dark green of the grass and trees fringed by a thin belt of sand, making bold irregular shapes in the deep blue. To the joy of wild swimmers, you can swim along the entire coastline, Saluga Bay and Sveti Jerolim beaches being particularly popular. There are also 24 km of asphalt trails for cycling enthusiasts, as well as more adventurous unpaved trails and extreme downhill runs. Brijuni is perfect for those that want to enjoy natural beauty, however with conveniences and comfortable facilities in abundance; for example, there is a tourist train that will take you around the popular sites of the main islands. To let your imagination run wild and visualise the islands many millions of years ago, seek out the 200 or so dinosaur footprints!
Mljet
In the far south of Croatia you'll find Mljet, formed around two deep saltwater lakes that connect to the open sea. In contrast to Brijuni, here the vegetation of the islands is dense and less tamed, and the islands themselves are much more hilly. The most picturesque site of Mljet is probably the 12th century Benedictine monastery that perches on the tiny island of Melita, surrounded by blue. You can take a boat ride over to this to observe it more closely, and also have the option of kayaking to explore the other nooks and crannies from the water. In fact, Mljet is even fantastic to explore under the water, with divers being able to enjoy such marine fauna as anemones, red coral, sponges, barracuda, schools of damselfish and octopus. Saplunara beach is a gorgeous curved bay that is great for a relaxed swim. Walking and cycling around Mljet is also a great way to discover the beauty of the islands, and you are certain to find isolated spots and moments of silence for yourself.
Paklenica
A park of dramatic mountainous forests, Paklenica is very popular amongst hikers and climbers (indeed, the park hosts a 700m climbing face, Anica Kuk, for the very brave!). Its highest peak, called Sveto Brdo, dominates at 1753m, which offers breathtaking panoramic views of the rocky hills and lakes. The rich scent of the beech, black pine and mountain pine forests is a delight for the body, soothing you as you take in the fresh mountain air. The geological formations jutting up around these forests are very impressive, the canyons of Velika and Mala Paklenica being two of the most dramatic. You'll feel tiny as you gaze up at their towering walls! As well as the stunning karstic formations of limestone ravines there are also caves, Manita Cave being the only one that is open to the public. It has expansive chambers and intricate formations of stalagmites, stalactites, columns and dripping flowstone; an underground wonderland. You can even swim in parts of this national park, the pebble beaches around Stari Grad Paklenica making a lovely spot. If you're very lucky, quiet and observant, you may spot one of the species of deer, wild boar, brown bear, wolf or lynx that make this park their home!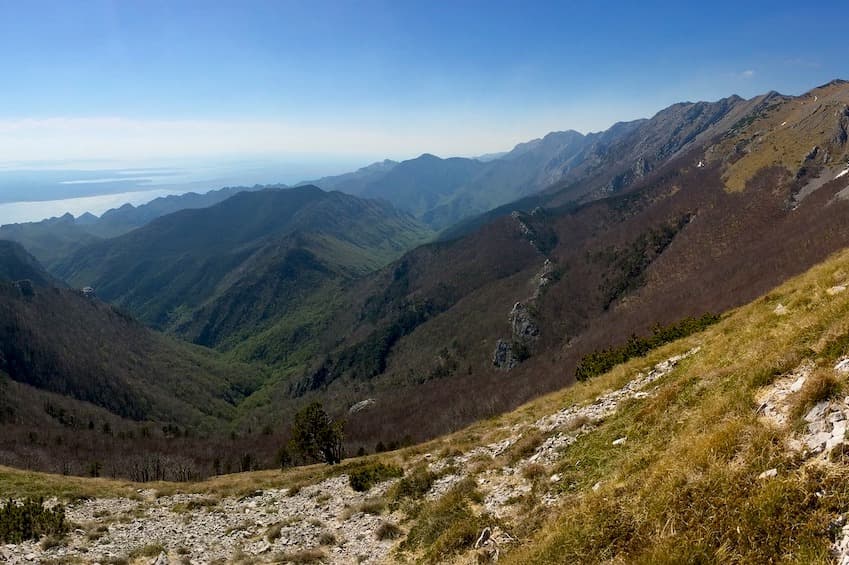 Northern Velebit
The most famous natural feature of Northern Velebit is probably the area within the Hajducki & Rožanski Ledges Strict Reserve, which contains more than 150 deep pit caves, including the well known Lukina Jama at a depth of 1431 metres. This geomorphological phenomena is the result of a lot of forceful tectonic activity, and the sharp vertical karst formations are a very dramatic (if not daunting!) sight. Highland ridges run parallel to the coast in a wilderness that is completely preserved from mass tourism, providing spectacular walks looking over mountain and sea.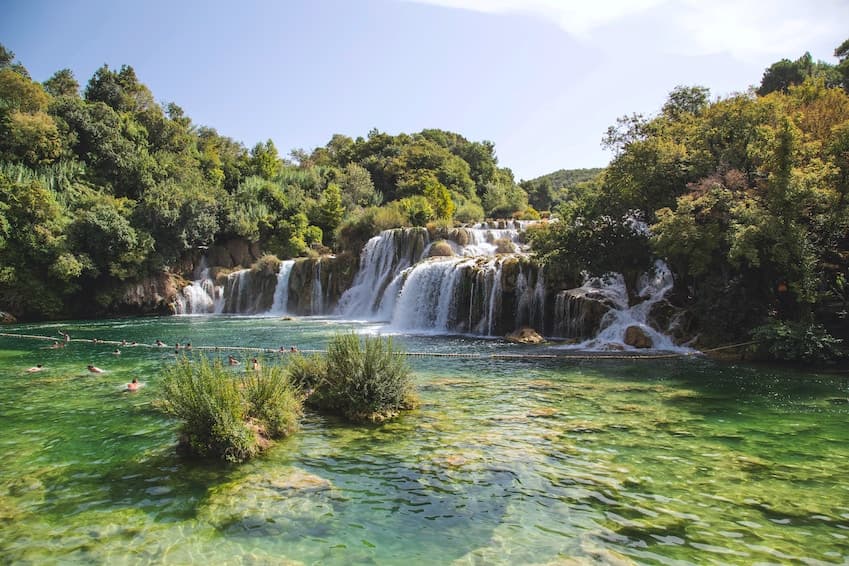 Krka
Krka is an immensely popular park in Dalmatia, located just 10 km inland from Sibenik. What delights so many people is that, unlike some other parks, you can swim in some of the waterfalls! There are 17 of these in total, and they are a truly heavenly sight. Skradinski Buk falls are the ones that host the swimming area, which is a magnificent sapphire blue pool with several layers of showering white water as a backdrop. It's a little bit of a game navigating your way from the shore over the limestone plateaus and irregular rocks to the deeper water, but it's part of the fun! They form lovely private rock pools along the way for you to bask in. Roški slap falls are another mesmerising sight, with 12 sloping limestone waterfalls over a length of 450 m. Boat trips are possible throughout the park, and give plenty of opportunities to stop and wander along the waterside paths, as well as a chance to see the exquisite Franciscan Monastery on the tiny Visovac island up close.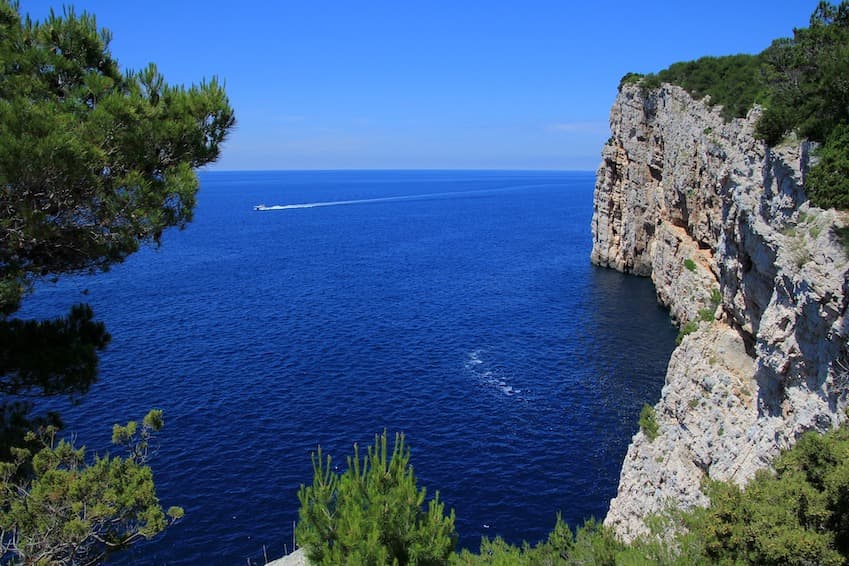 Kornati
The 89 uninhabited islands, reefs and islets of Kornati are a playground for anyone with a boat; it's a weaving ocean maze. The cliffs are especially stunning, with very long stretches of rock faces and many interesting pockmarked shapes. There are an abundance of untouched natural bays, but also strange natural phenomenons such as that of Vela Ploča (Great Plate), a 9100 m2 sloping bare limestone surface that really stands out from the surrounding scenery. There is also a lot of history encircling the area, and remains of buildings from the 1st century A.D. can still be found in places such as Mala Proversa, which was dug through in the time of Romans as a sailing passage.
Risnjak

Located in the most mountainous and densely forested area of the country, Risnjak is part of a region that is nicknamed "The Lungs of Croatia". Risnjak also derives its name from the word lynx, or ris. These two facts together already introduce this national park as one of incredible natural merit, and one you could easily explore over several days. Hike or bike, some of the bike trails are some 40 km long if you're feeling energetic! You will be rewarded with views of mountain crags as far as the eye can see. Head up to Veliki Risnjak (Big Risnjak) to reach the highest point of the park, 1528 m above sea level, the source of the Kupa walk, or the easy and shaded 4.2 km long Leska educational trail. The panels on this path will tell you many facts about the history of the park, as well as details of its flora and fauna and topography. The river Kupa walk is also particularly visually rewarding, passing through lovely forests until you come to the magical blue-green pool.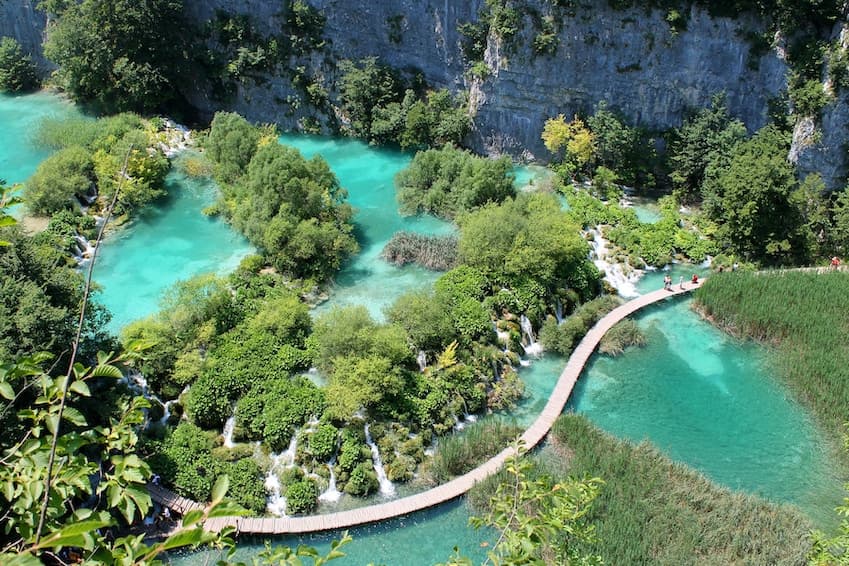 Plitvice Lakes
Undoubtedly the most popular tourist attraction in Croatia, Plitvice Lakes is very deserving of all the attention it receives. It has sixteen spectacular lakes, which unfortunately you cannot swim in, however this only preserves the natural beauty of them further. Tumbling teal waterfalls (over 90!) connect these lakes, and thick woodland stretches off around them, providing shelter for deer, wolves, bears and boars amongst many other species. In fact, the lakes only stretch together over a distance of 8 km within the park's colossal 300 sqm, so the forest really dominates here. Hiking trails are abundant to explore the land, and row boats are available to hire to explore the waters. The magical landscape of the snaking wooden walkways over emerald green and turquoise waters are certain to capture your imagination.