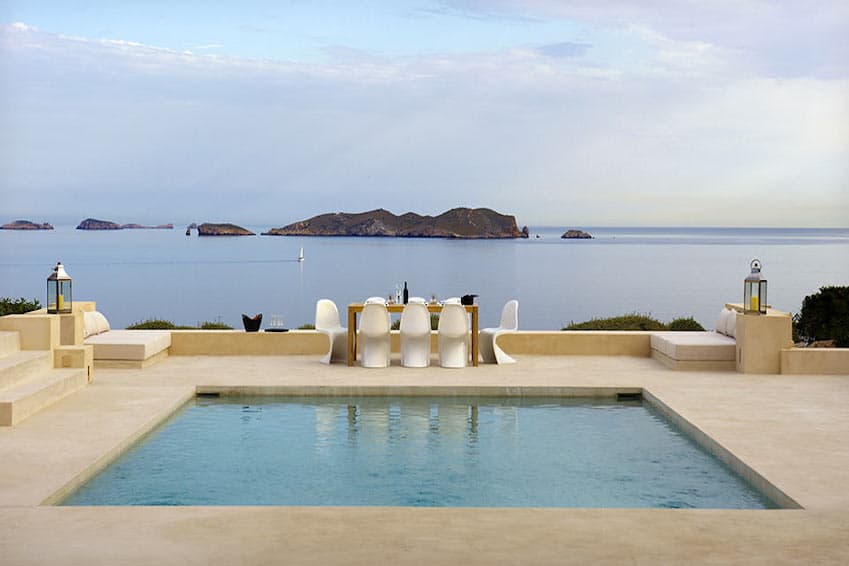 The beauty of escaping to a villa is the transition into a world of pure tranquillity. Interestingly, many forget how the design and functionality of a villa can heavily influence how well you can recuperate. Many homes can be filled with exciting art and furniture. However, if you are looking to retreat into a meditative environment, or you want to simply escape the busyness of everyday life. Ensuring the interior (and exterior) design of your villa matches your desired state of mind is imperative for the relaxing vacation you desire.

We have selected our top minimalistic villas from across Europe, guaranteeing the greatest escapes in lands far away.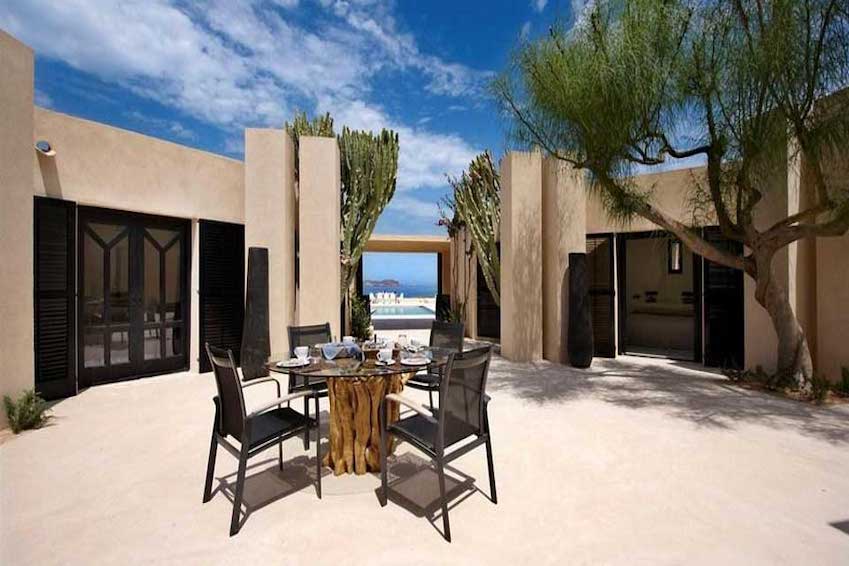 1. Ibiza's minimal fortress
While this stunning villa in west Ibiza offers some art to enjoy, it isn't necessarily needed as this destination is a masterpiece in itself.
Villa 803
carries beauty throughout with the continuity of materials used to build this spectacular home. A foundation of ecru-coloured stone floors and walls to match compliment the panoramic view of the
west coast
and the neighbouring islands of S'Esparta and Bledas.
This villa harmonises with its exterior design as the same styles are carried indoors - bringing the outside in. Only neutral tones are used, which reflects the natural environment around.
This home in Ibiza is designed to protect a tranquil atmosphere as it boasts a central courtyard protected by the cream fortress which surrounds it. A break in this courtyard gives way to that expansive scenery of the coast allowing you to dine in comfort and serenity - all thanks to this minimal and clean design.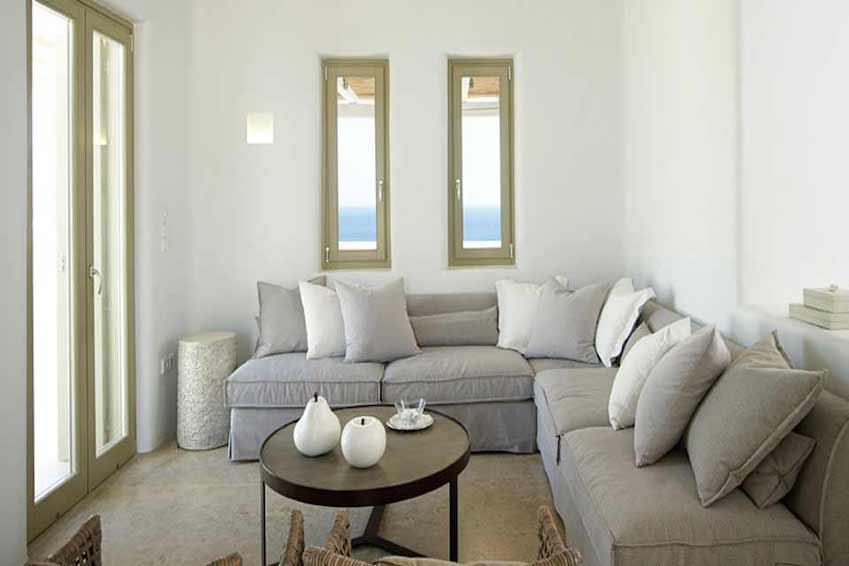 2. A clifftop kingdom in Mykonos
Another incredible home on our search for the best minimalistic villas across Europe is
Villa Sherlock
. This clifftop sanctuary has an ultra simplistic interior but respects its Greek history by furnishings complete in the cool colours of the
Cyclades
. It avoids an artificial look of some villas with its infinity pool which blends into the oceanic turquoise horizon.
Minimalism is all about a reduction of clutter and replaced with clean, elegant lines. Villa Sherlock achieves this look by its tall yet thin olive coloured windows which act as a visual portal to the stunning natural vista. While this design may be beautiful, the purpose is to serve the view outside.
To extend the spa-like environment, ultra-soft furnishings from lounges to beds complete this minimally decorated home. You will find almost identical light-toned grey fabrics used everywhere to keep a simplistic yet uniformed look. Perfect for afternoon shut-eye or cosy evenings with family and friends.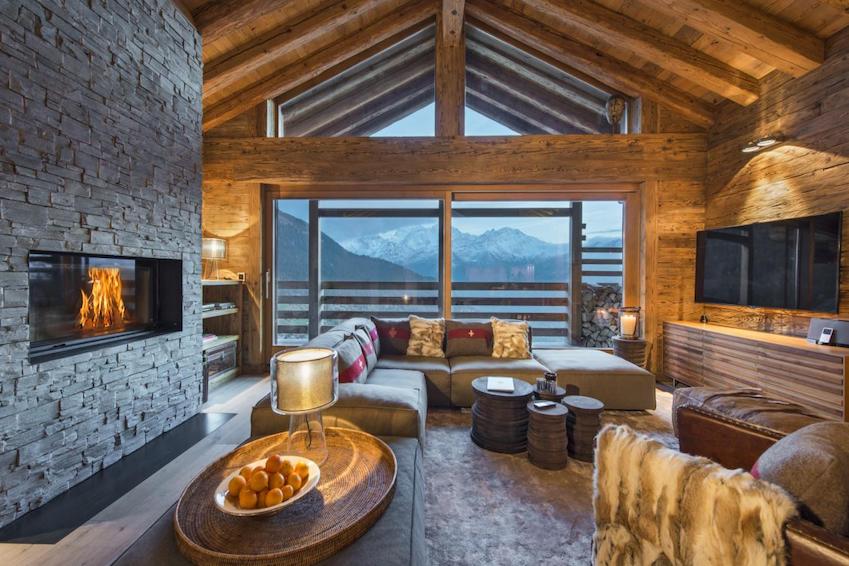 3. The ultimate minimal chalet
Who says that cosy chalets can't carry the essentialist style of minimalism?
Chalet des Fées
manages to encapsulate the warm essence of traditional Chalets with the airy feel of minimalist design. This villa is nestled in the heights of Verbier in the
Swiss Alps
and its destination goes hand in hand with a minimally designed home as the peaks transport residents into a clean, white paradise.
In this minimalist chalet, holiday-goers have the opportunity to enjoy the grand fireplace, where the ice blue light from the mountains outside bounces on its stoned structure. And if you wish to bathe in the heat just a little bit longer, jump into the shower room which doubles as a
Hammam
.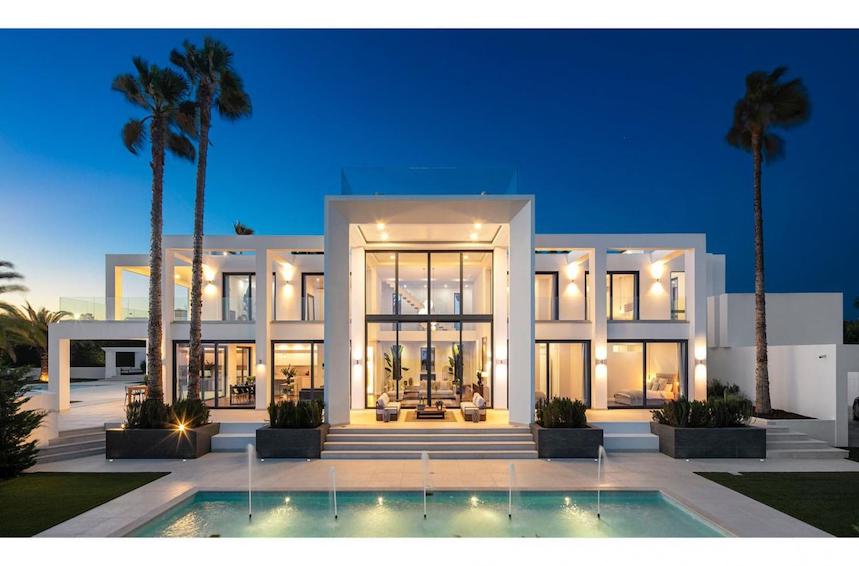 4. The grand minimalist
While the perfect minimalist villas often come with some level of humbleness,
Villa Paraiso
challenges this as it tells the story of how minimalism doesn't have to be small scale. This home is packed full of rooms and spaces for quality time with loved ones or for falling comfortably into time with yourself. The villa may have plenty going on, but its simplistic designs shower everyone with calmness - achieving exactly what minimalist design is intended to achieve.
A thoughtful aspect of this villa is the consideration for outdoor space uses throughout the day. Villa Paraiso has numerous outdoor lounging areas from poolside to rooftop
sea-view
terraces to suit every moment from morning to night. While at face value, the plethora of elegant furniture seems to defy the rules of minimalism. As the design creates a zone for each space, it seems perfectly balanced with its environment. 
Moreover, the colour palette used to cover Villa Paraiso is popular among minimalist interior design. However, the whites, greys and subtle browns only serve to not distract from the stunning scenery around it - its simplicity provokes occupants to take a step outside.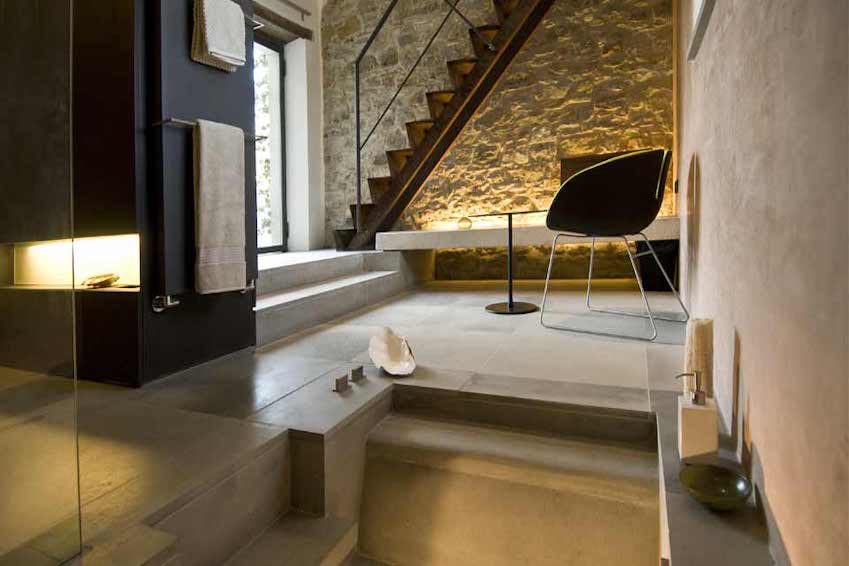 5. Discover Italian minimalism
When considering the concept of escaping to an Italian villa, maybe in
Sicily
or
Tuscany
, there is sometimes a preconceived notion that the interior will be decorated with traditional furniture and soft furnishings covered in flowers or embroidery. However, our final villa on our search for ultra minimalistic homes is
Villa Montone
. This villa in north
Umbria
is the equilibrium of the value in traditional Italian architecture and modern minimalism.
Throughout Villa Montone, only concrete coloured furnishings are used apart from the occasional burst of colour. Taking minimalist design to the next level, features are embedded into the building itself, with the example of a stone bath integrated into the floor which is nestled within a medieval arc.
The expansive 360-degree views highlight the unspoilt beauty of Umbria, which can be viewed from various spaces around this incredible Italian tower. To explore further, learn more from our guide on this
"green heart of Italy"
.