Wondering where to go this summer with your family? We propose two ideal destinations to discover with your children: the Ile de Ré and Algarve. Located in the Bay of Biscay, the Ile de Ré is a French treasure just minutes from La Rochelle. This island has a wide variety of landscapes, from small beaches with fine sands, lush forests and salt marshes.

If you want to discover another region of spectacular natural beauty during your family holidays, head to the Algarve. Here, the climate is warm and enjoys some of the longest hours of sunshine in all of Europe, perfect for exploring and admiring the vibrant colours of the landscape! Its many dramatic beaches make a beautiful setting for family outings, and its wide array of activities both on the sea and on the land ensure the entertainment of the whole family.

>>> Our villas on the Ile de Ré
>>> Our villas in Algarve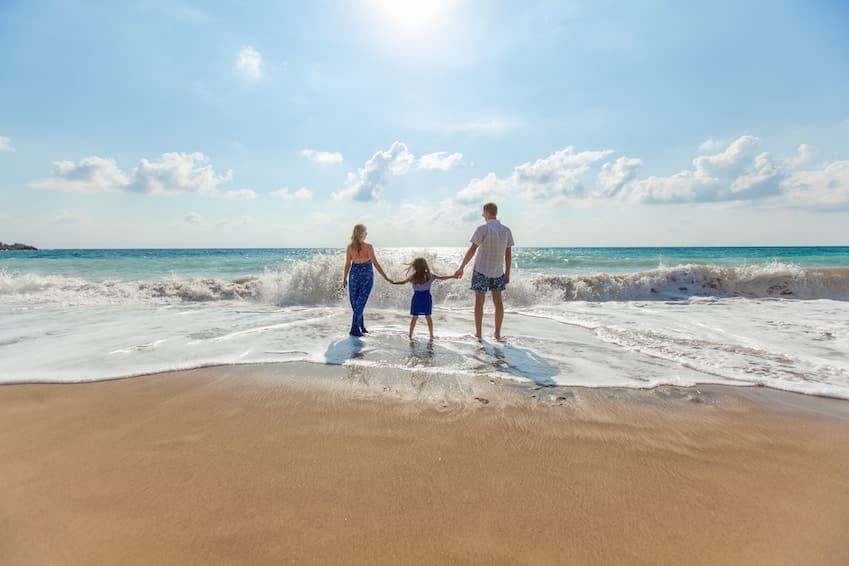 Ile de Ré and Algarve: a wide range of activities to do with family
What to do in Ile de Ré?
With its white houses, beaches as far as the eye can see and its delicious
gastronomy
of the sea, the Ile de Ré is the ideal destination to rest. However, if you decide to visit this beautiful island
with your children
, the island offers plenty of opportunities for
family fun
. To keep fit during your holidays, we offer fabulous hiking trails that are accessible for all ages. Through a beautiful walk, you can discover the
lush nature
of the Ile de Ré. In the same way, the many
nature reserves
of the island will be a good pretext for a magnificent ride on bicycle or horseback. If you like
watersports
,
you'll love the Ile de Ré
! The region offers a wide range of activities in the water for all ages: sailing,
kayaking
,
jet-skiing
,
stand-up paddle boarding
,
surfing
...There is something for everyone! While your children are having fun under the supervision of professional instructors, enjoy these moments just for yourself and treat yourself to a massage in one of the
spas
of the island. Relaxation guaranteed! Another
essential activity
on the Ile de Ré:
shore fishing
. This type of fishing is practiced at low tide and is ideal to make marine wildlife known to your children! Finally, for more fun activities, we advise taking a tour to the famed Lighthouse of the Whales.
Where to go in Algarve?
In Algarve, you have endless activities that the entire family will love, from
dolphin safaris
by
boat
or
kayak
to the world-famous
golf
courses to marvelling at the incredible coastal caves. The sunny region lends itself to
outdoor pursuits
, whether this means picturesque hikes or daring paragliding and skydiving, or perhaps heading to Karting Almancil for a competitive go-kart race. The coast is what pulls many holiday-goers here, and there are many stretches that are perfect for a
family beach day
. Praia de Odeceixe is one such example, with shallow and calm waters on the rivermouth side of the beach, and the waves on the other side which lend themselves to
impeccable surfing
. A half hour walk will then take you to the lovely village of Odeceixe where you can stop for lunch whilst admiring the postcard-perfect buildings along cobbled streets. Ingrina beach also makes a tranquil alternative to the neighbouring Praia do Zavial, a small stretch of sand between tall ochre cliffs with shallow and calm waters. The sheltered setting is wonderful for young children to paddle and splash around. However, it is the famed Praia da Marinha that is
absolutely unmissable
on your family getaway, which showcases the quintessential stacks of amber rock of the Algarve landscape. It's also a fantastic place to explore the underwater landscape through snorkelling. For something different to a beach day, have a day of thrills at Aqualand or Slide and Splash
water parks
! Or, for something truly unique, check out the Fiesa Sand Sculptures Festival that runs between April and October; it's certain to capture the imagination of both you and your children.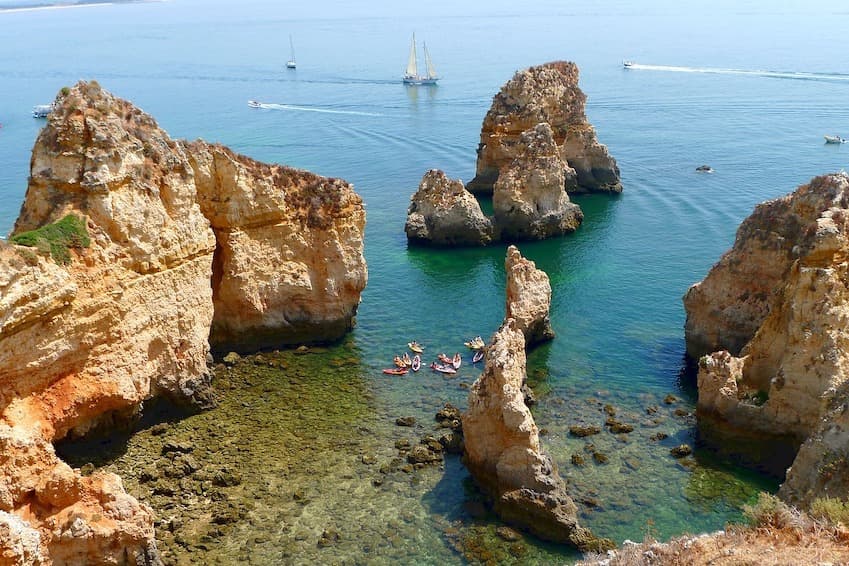 The best villas for your family getaway
Sumptuous villas on the Ile de Ré
Véronique, our expert on the Ile de Ré, has selected 3 of our flagship homes for you on your family holidays:
Villa Shems en Ré
,
Villa Victoire
, and
Villa Siloé
. All three are embellished with a tailor-made service that will accompany your stay. Villa Victoire has daily hotel services dealing with breakfast and daily maintenance of the house, so that you can devote 100% to your loved ones. Moreover, Véronique will know how to put together your holiday planning on the Ile de Ré, by proposing activities and the best sites adapted to your tastes, expectations, limits, and especially to each individual member of your family. We feel so much more at ease when we are guided!
No doubt, the outdoor areas of the 3 villas will delight your children (as well as yourself), for moments of family complicity. Villa Shems en Re is home to a
large sunny garden
just outside the common areas of the house where you can indulge in ball games for hours. It's the same for Villa Siloé, which has a lush outdoor area where you can enjoy meals and aperitifs on the terrace surrounded by nature. Villa Victoire has
its own pool
, which is lined with sun loungers and dining areas.
The 3 villas have large indoor spaces, conducive to pure moments of conviviality. In a country and modern style, Villa Victoire welcomes 5 comfortable bedrooms and bathrooms, as well as a TV room where you can gather around a movie in your evenings or on rainy days. It is the same for the Villa Siloé, which offers wooden interiors with an indisputable and more traditional charm. The Shems en Ré villa opens out to the outside and provides pleasant and bright spaces overlooking the garden, where you will love to gather, especially around its fireplace.
Finally, we thought of everything, even the location of our charming houses. The villa Shems en Ré is
perfect for families
who wish to stay in the heart of the village of
Les Portes en Ré
, with its restaurants and small shops. It is the same for the Villa Victoire which is in the heart of the charming village of
Ars en Ré
. Silo Villa is also just 50 metres from the beach and is ideal for water activities.
As you can see, there is something for everyone!
Exceptional villas in Algarve
On the southern side of Portugal, in the Algarve, our specialist Neuza based on the spot, has also selected just for you 3 of our villas ideal for your family holidays. She will also accompany you and advise you on the best activities in the region that
cater to children
and adults alike.
Just like in the Ile de Ré, the villas in Algarve have been selected to allow you to enjoy outdoor spaces, this time under the Portuguese sun!
Villa Sahara
, in Vilamoura, has large gardens where you can get together as a family under a large patio with magnificent sea and mountain views. If you are rather fond of relaxation, you can always relax in the jacuzzi sheltered under the pergola. The
Villa Citrine
and the
Villa Princesse
also have large green gardens, that are very pleasant for your barbecue days! The three villas all have their own
private swimming pools
, ideal for cooling off and entertaining, in exclusivity, far from the nuisance of the crowd. For parents looking for relaxation, the Villa Princesse offers a complete spa with
jacuzzi
, sauna and steam room. A delight for the whole family!
On the outside, Villa Sahara will undoubtedly fascinate
the whole family
! In a Moorish and original style, it offers large warm and colourful spaces with refined decorations. Among its rooms, you will find 7 bedrooms and bathrooms where everyone will find their space. For evenings or rainy days, you can enjoy the game room and compete in a game of billiards, or hold a private screening in your home theatre. Villa Citrine, meanwhile, provides open spaces where your children can walk without any worries. Beautifully decorated, it offers pleasant views of the
nearby golf course
. The Villa Princesse also enjoys bright, lush and spacious rooms, with welcoming rooms that are decorated in the image of its name. Its 5 private bathrooms offer its guests unparalleled comfort. As for the Villa Citrine, you can have fun around its games room and table tennis.