If you might think of religious monuments when one talks about the fascinating topic of the
Indonesian culture
, Balinese cultural centers will give you a new perspective on it. True treasure of Indonesian art,
Bali
is not just temples and offers wonderful galeries to discover without delay.
>>> Book your sumptuous villa in Bali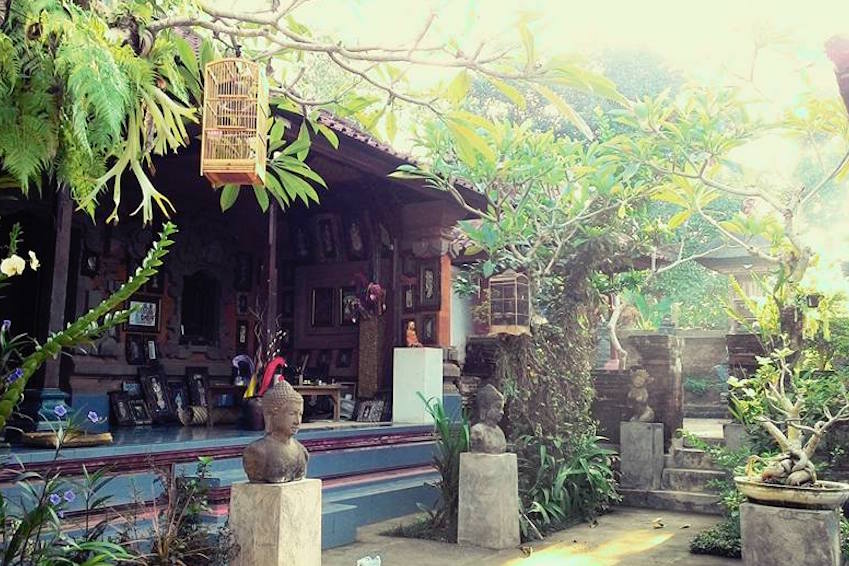 Five art studio - Ubud
To give space to your creativity, Five art Studio in Bali, located in
Ubud
, offers Balinese art classes for all visitors of this splendid and colorful gallery. Do not simply admire, create! Among the classes, you will find an initiation to Kelinki painting, Balinese dance, sculpture and much more. Without having to be an expert, you just need to want to give it a try! Thanks to technics and traditional materials, you will go out of the studio with having discovered a piece of the
country's culture
, your masterpiece under the arm. Intriguing, isn't it?
Where? Jl. Raya Keliki, Ubud 80571, Indonesia
How much? :  IDR 450 000 / 3 hours (26€)
Traveler review from TripAdvisor :
"
My husband and I and our five-year-old twins came to Five Art Studio for a morning batik class, and it was wonderful. The staff were kind and patient with both the adults and kids, and we were amazed with our results! We enjoyed it so much that I returned for a solo keliki painting class, which was a great morning: a private tutorial in their second floor open air studio, with a gentle breeze, friendly tutelage, and, yes, my very own keliki painting!! I hope to return
."
Christine B.
Average review : 5/5 on 192 reviews
Threads of life - Ubud
Between a shop and a museum, get into this incredible artisanal gallery. Here, you will find sumptuous ikats, sculptures and other types of interior decoration meticulously handmade by local artisans. Whether you're going to visit or for
shopping
, you will be amazed by the unbeatable Indonesian know-how. In luminous tones of wood and gold, Threads of life will charm you thanks to colorful textiles like one rarely gets to see. A unique experience which will please the ones who like interior decorations between tradition and modernity, or for a great present to offer to your loved ones!
Where? Jalan Kajeng 24, Ubud 80571, Indonesia
How much? It is hard to give an average price as each work has its own value. Keep however in mind that, if prices are justified, they remain high because of the high quality of the products.
Review of traveler TripAdvisor:
"
This Gallery and shop displays the most exquisite examples of the traditional crafts not only of Bali but many of the Indonesian Isalnds that still creat some of the most skilful, complex and beautiful textiles that you will see anywhere in the world. But here you can also spend hours looking at very informative videos of the processes and the people who make these works of art
."
Laine L
Average review: 5/5 on 122 reviews
Neka Art Museum - Ubud
In order to preserve Balinese art, Pande Wayan Suteja Neka, who used to sell artworks of quality in a small shop in Bali in the 60's, started to collect them rather than selling it to rich tourists. During his trip to Netherlands, he realized
the Indonesian culture
on-the-spot was almost more important than in its native country. There was made the decision of creating Neka Art Museum in 1982, a gallery of traditional architecture and with wide offers. Between classic Balinese paintings and contemporary Indonesian art, let yourself be guided in this authentic museum of stunning cultural wealth.  
Where? Raya Campuhan St. Kedewatan Village, Ubud, Gianyar 80571
How much? Free for children under 12 and IDR 75 000 for adults (5 €).
Review of traveler TripAdvisor :
"
We had not known what to expect before our visit but we were surprisingly pleased. A cross between a gallery and museum, you don't have to be an art lover to appreciate the varied collection of different styles of drawings and paintings: There will be something for everyone. A number of photos of dancers and ceremonies taken in 1939 before mass tourism are particularly interesting
."
Coastalchris
Average review: 4,5/5 on 923 reviews
Museum Pasifika - Nusa Dua
Recent in comparison with the others museums of the city, Pasifika opened its doors in 2006 and reunites today works of art from the entire world, faithful to the diversity of the population of the Pacific Asian region. With arts from the XXe century and more ancient works, you will find more than 60 paintings, notes, drawings or sculptures of different origins, thus creating a true melting-pot of undeniable artistic greatness. At last, in line with the Indonesian generosity, a drink will be offered to you in the end of your visit… A pleasant moment to share with
family
.
Where? BTDC area. Block P, Nusa Dua 80363, Indonesia
How much? Free for children under 10 and IDR 100 000 (6€) for adults.
Review of traveler TripAdvisor :
"
What a great museum. I really loved it. I consider this a must see and one of the best experiences I had in Bali. The collection is amazing and provides a beautiful look at of life, art and spirituality In Bali that brings so many wonderful feelings. I rate this among the best things to do in Bali. Also a delightful staff there. I loved every moment
."
Neal T.
Average review : 4,5/5 on 499 reviews
Agung Rai Museum of Art (ARMA) - Ubud
Opened in 1966, this museum of visual arts and Balinese artistic performances aims to preserve and develop the local culture as a whole by presenting both traditional and contemporary art. Focused on the
cultural heritage of the country
, the museum also gives a room for foreign artist's works who lived in Indonesia, as well as the famous German painter Walter Spies for its relevant contribution to Balinese art. Also offering diverse performances of dance and theater and inviting visitors to take a class, it is a real immersion in the heart of the
Balinese history
that this unique cultural center provides. You got it, ARMA isn't just a museum but is a real experience in itself which is without a doubt among the
activities
we recommend you to do.  
Where? Jl. Raya Pengosekan Ubud, MAS, Ubud, Kabupaten Gianyar, Bali 80571
How much? IDR 80 000 (around 4€50) with a tea or a coffee offered
Review of traveler TripAdvisor :
"
We have visited all the major well-known art museums in and around Ubud ... and this is our favourite.It is poetry the way all the architectural and landscaping elements of three restaurants, a luxury resort, cultural centre, educational facility and art museum are harmonically juxtaposed together as a delightful work of art.This particular art museum is actually more than just a museum. It is part of a much greater whole: a much broader encompassing vision by Agung Rai ... a surprisingly humble & gentle man whom we had the privilege to personally meet during our visit there.
"
Bydesignonly
Average grade: 4,5/5 on 1147 reviews
>>> For more activities in Bali, discover our guide!