Top 10 modern villas and chalets
Written on : 06 September 2017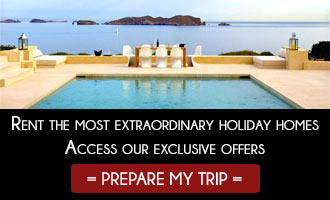 10 prestige properties with the most modern design
Our properties offer houses of different styles. Houses with typical charm but also houses in a much more modern style.

Choosing to rent a contemporary home is an incredible opportunity to stay in a house with a unique design. So for lovers of modern and original houses, we have listed for you our top 10 most beautiful properties with the most futuristic aspects.

Come admire the uncluttered decorations and the incredible aesthetics of these exceptional houses, which are often modern both in terms of their exteriors and their mode of construction.
1- Boucquillon House - Tuscany, Italy
Located on the heights of Tuscany, this architect's house is the promise of a stay in a unique villa. An innovative work of art in both curves and the style of the house.

Connoisseurs will appreciate that the owners of the house are none other than the designers and architects Michel Boucquillon and Donia Maaoui.

What makes the charm of this contemporary house is that it blends perfectly with the surrounding nature, so you can enjoy an incredible view of Tuscany during your stay. It is also innovative in its functioning in particular with the iron shutters which makes it possible to capture heat in winter and to provide shade during the summer. It is one of the greenest houses in Italy!

But what will mark your mind for sure is the roof of the house: this is a hydraulic roof. Indeed, the two wings of the roof of the villa open at an angle of 30° like the wings of a butterfly. The two wings totaling 110 square metres open with 6 hydraulic pistons. It is the first house in the world with a hydraulic roof. This allows natural ventilation to refresh the house and brings to the villa a totally unique magical feel so you can literally sleep under the stars.

Inside the house you will find of course the sublime sculptures of Donia Maaoui, but also a central staircase which represents a sublime evening dress that takes place from the third floor to the ground floor.

>>> Boucquillon House
2 - Villa Amanzi Kamala (Thailand)
3 - Villa Océane - Trou d'Eau Douce, Mauritius
Nestled in the heart of Trou d'Eau Douce, this house will not leave you indifferent. With its cubic aesthetic, you will enjoy your stay in this sublime house.

The best part? Its location! A few steps from the sea, you can enjoy the beach whenever you like. And if you want more privacy, there is also a swimming pool, ideal for children.

The interior will charm you as much as the exterior of Villa Océane, with its touches of colour that come to gleam the clean lines of the interior of the house. You will find the aquatic theme in the decoration, with paintings but also textile qualities in the villa.

>>> Villa Océane
4 - Villa Montone - Umbria, Italy
In the valley of Carpini, it is good to relax in this contemporary Italian house. The property is built on a medieval watchtower that has remained unchanged since then, so it blends in perfectly with the natural setting that surrounds it, and gives you the impression of being alone in the world: ideal if you are looking for a stay that combines peace and privacy.

You can enjoy the sublime infinity pool which allows you to refresh during the long afternoons under the Italian sun.

The best part of this villa: its 6 hectare plot which will allow you to stroll through the olive and fruit trees at the end of the day, to smell the summer smells and enjoy a sunset with an incredible view of the valley that stretches before your eyes.

Solar panels provide energy for heating and hot water in the house, rainwater is collected for garden irrigation. So you will have the pleasure of staying in an eco-friendly house.

>>> Villa Montone
5 - Villa Salema Alegria - Algarve, Portugal
Luxury and elegance are the two words that best describe Villa Salema Alegria. Located in one of the most lively regions of Portugal, in the Algarve, this house promises peaceful and sunny holidays in an incredible design house.

Many rooms offer direct views of the sea and Salema beach which extends to the bottom of the house, but also overlook the infinity pool. An infinite playground for children!

The blue and lilac tones blend perfectly with the purity of the white walls. Thus, you will enjoy an extraordinary stay in this modern villa with stunning views but also close to activities impossible to miss in the region of Algarve. The pictures speak for themselves!

>>> Villa Salema Alegria
6 - Villa June - Sporades Islands, Greece
Waxed concrete, wood and stone: here are the elements that make up Villa June in the heart of the Sporades Islands. With its sleek and elegant furnishings, you will stay inside a luxuriously designed villa.

What's better for the holidays than to discover these Greek islands in a house with contemporary and unique architecture? One of the most surprising aspects in this sublime house is the hole specially conceived in the roof that covers the terrace to let a magnificent tree grow through.

Thanks to the numerous bay windows, you will be able to arrange the living room as you wish to benefit from natural ventilation inside the house.

So come and enjoy the Greek sunshine and sublime views in this house nestled on a hill on the island of Skiathos. Intimacy and relaxation are guaranteed here!

>>> Villa June
7 - Villa 899 - Ibiza South
If you want to discover the beauty of Ibiza, stay in a modern house that is full of character. This is what Villa 899 offers in the South of Ibiza.

With its uncluttered curves, white walls and stone, and its breathtaking view of the surrounding nature, it is the promise of an excellent holiday on the famous Balearic Islands.

Ideally located not far from the beaches of Cala Moli, Cala Tarida and Cala Vadella, and only 5 minutes from the town of Sant Josep, you will always find an activity to occupy your time. If you would rather stay at home, you can also enjoy the private swimming pool at the house.

Each of the 6 bedrooms is decorated with a predominant colour that contrasts with the typical white walls. So each guest can choose their room according to their tastes!

>>> Villa 899
8 - Villa 945 - Ibiza South
Only 5 minutes drive from the beaches of Cala Vadella, Cala Carbó and Cala d'Hort, this villa in the South of Ibiza is ideally located. It will delight the aficionados of contemporary design!

Its huge terrace allows you to enjoy a 360° view of the typical nature of Ibiza, but also to enjoy a stunning sunset at the end of the day. With its apparent stone, it exudes a lot of character both in the exterior decoration and inside.

Inside this wonderful villa you will find a subtle blend of wooden furniture but also lots of white, for an ultra modern and luxurious ambience. The charm of this house is reinforced with exposed beams in some rooms. Villa 945 is without a doubt the most successful fusion of the Mediterranean style and the contemporary, which guarantees an exceptional stay with friends or family.

The best part of this villa: its garden which will allow you to benefit from fruits and vegetables of each season to cook excellent meals.

>>> Villa 945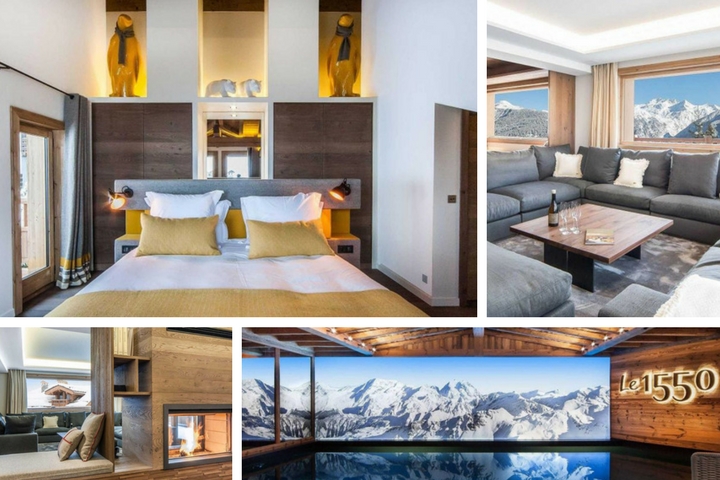 9 - Chalet Brigues - Courchevel, France
Modernism is not the exclusive prerogative of the villas of Villanovo, we also have chalets that will allow you to spend a winter holiday in a unique setting. Chalet Brigues in Courchevel with its own massage parlour and private gym will convince you to come and spend a holiday in one of the best ski resorts in the French Alps.

This is a very luminous chalet due to the numerous windows which allow you to enjoy the incredible view of the mountain range that stands in front of the house.

The interior design of the chalet is cozy, so you will feel right at home. The rooms are decorated to suit many tastes so that you will always be amazed when going to bed.

>>> Chalet Brigues
10 - Villa Palombaggia - Porto-Vecchio, Corsica
Dominating the valley of Palombaggia, this villa, in addition to its avant-garde aspect, offers sublime views of the surrounding nature.

The furniture is as modern as the house, with futuristic armchairs that you can easily move around the pool to enjoy an afternoon lazing around. The purists of the contemporary houses will thus be able to enjoy their stay in Corsica while admiring the villa in which they are staying.

>>> Villa Palombaggia