Rent a villa with swimming pool
When going on vacations, the moments spent in the swimming pool are privileged moments of relaxation that completely disconnect you from your everyday worries. In a prestigious villa, the happiness is even more enjoyable. Villanovo, agency specialized in luxury villas rentals, offers you to discover a unique selection of luxury houses with swimming pool.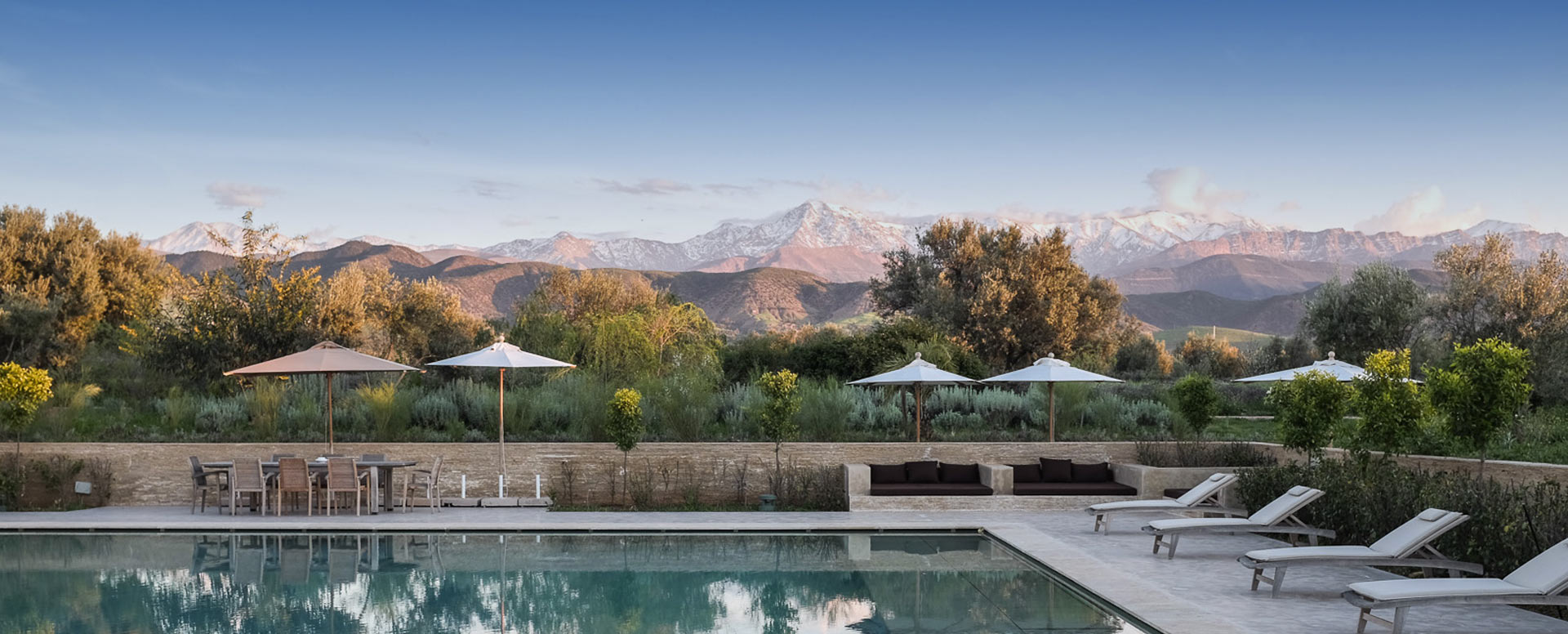 Thousands of reasons to rent a villa with swimming pool
For the holidays, renting a villa or a chalet with swimming pool is, before anything else, a privilege that allows you to enjoy the aquatic pleasures at any time of the day. In sunny destinations such as France, Spain, Greece, Morocco, Mauritius, and Yucatan… where the heat can rise in the middle of the day, a swimming pool is a refreshing corner where you will enjoy swimming.

It is also pleasant to succumb to the joys of sunbathing and idleness, peacefully lying on a lounger while savouring a delicious cocktail or local drink. A stay in a villa with swimming pool also offers the option to organise unforgettable parties with your family and friends around the pool.
Swimming pools of all styles
The unique charm of each villa of prestige or each high class chalet that we propose is reinforced by the arrangement and decoration of the swimming pool. Amongst the many villas available to rent, choose the style that seduces you. Some swimming pools blend into the setting and guarantee a total change of scenery. For a villa implanted on a rugged or mountainous terrain, to name only Bali, the Cyclades, Cape Town, Portugal or Corsica, the infinity pool allows you to enjoy an incredible view of the surrounding landscape.

The absence of a border on one or more sides of the swimming pool adds a little vertiginous part that makes every bathing session a sensational moment. Finally, the swimming pool constitutes an architectural extension of the villa. The choice of style is plethoric to please every vacationer.
Tailor-made pools for your comfort
What is more pleasant than being in all intimacy in your own pool? With a private pool, it is a private comfort and intimacy that is guaranteed. Enjoy your vacation to spend time with your loved ones without fearing the arrival of strangers, it is possible! Feel comfortable and have a peaceful stay in all serenity surrounded by the ones you love thanks to our sumptuous villas with private pools.

Also, because you deserve to bath whatever outdoor temperatures are, offer yourself the luxury of a heated pool! Forget about the weather restrictions on which you have no control for the benefit of a large pool with the ideal temperature. Feel free to have a bath at whatever time of the day, in the pool or in the jacuzzi and enjoy your tailor-made trip by booking a villa with a heated pool.

If the heated pool seduces you but that you are still reluctant to face the cold, no worries! Our luxury properties also own indoor pools with exceptional style, for an unbeatable comfort in intimacy in a villa with all services included. Indoor pool with spa, house staff or hammam, it is yours to decide!

At last, if your will of large pools are caught by your worries about your young children, do not worry, we've got what you need. Thanks to secured swimming pools adapted to kids, you will fully enjoy your bath with family, in the villa of your choice, without having to worry. Live your vacation without a single problem by choosing a villa with a secured pool.
Rent a villa with incredible views from the pool
A swimming pool is not only an opportunity to bathe and refresh oneself, but it is also in this moment of pleasure that you can enjoy magnificent views in all intimacy. These small havens of peace give you exceptional panoramas facing the blue expanse of the ocean in Ibiza, the magnificent mountains in Italy, the thick and luxuriant jungle of Indonesia or the sunsets in Thailand. In itself, an exquisite bliss for a perfect holiday.

Sit by the pool with your feet in the water and enjoy the moment in absolute calm to recharge your batteries and think of nothing but your well-being. And for yoga lovers, these views allow you to relax and disconnect from the world away from the stress of everyday life.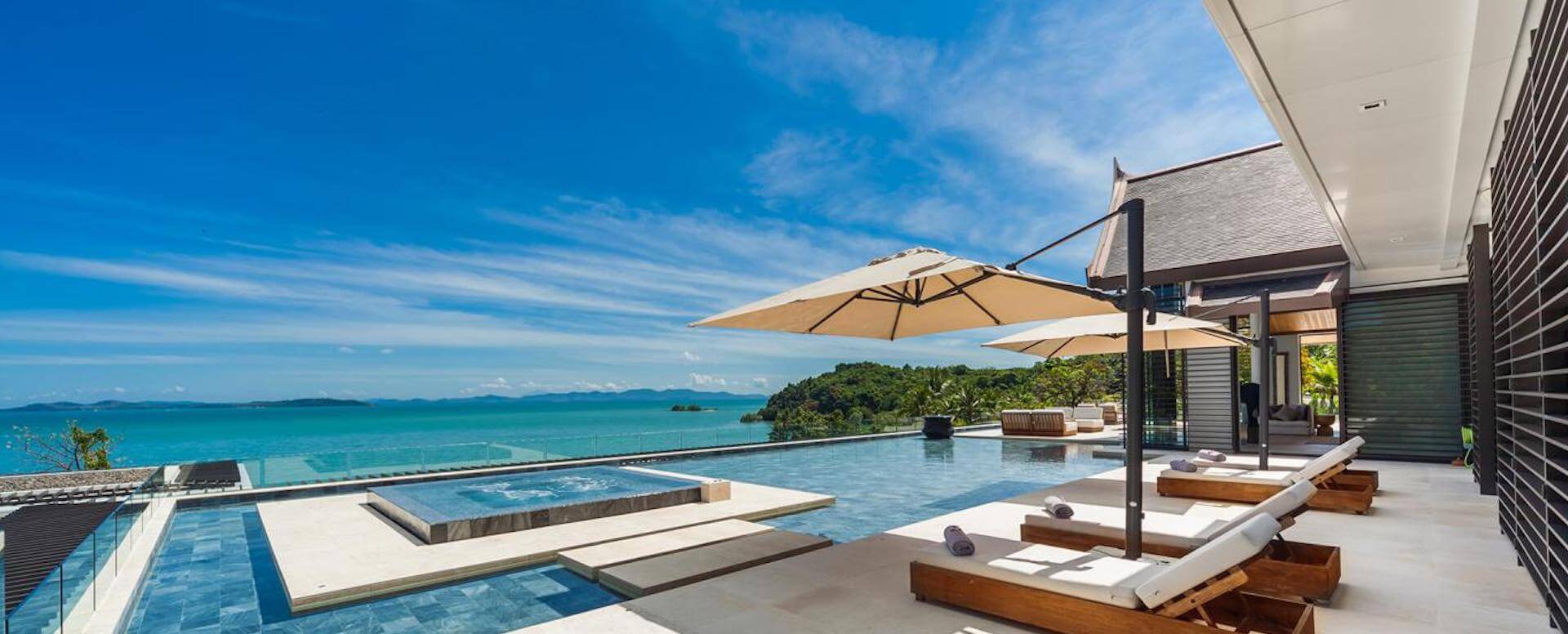 Our selection of villas with pools
In Africa
Because the continent is known for its intense heats, the pool will become your favourite space in the villa ! Have a delightful cocktail on a deckchair and refresh yourself in a water of perfect temperature, this is what promises a pool in one of our fabulous villas in Africa.

Morocco
Mauritius
South Africa
Seychelles
Tunisia
 
In Europe
With various temperatures depending on your destination, Europe is large and has all types of environments. To satisfy all your needs, our villas own indoor or outdoor pools, in the south as well as in the north. Fully enjoy your chalet in the Alps, your family vacation in Portugal or your architect's villa in Greece thanks to our sumptuous pools.

France
Spain
Greece
Switzerland
Portugal
Croatia
Austria
Italy
In Asia
If Asian landscapes are worth it, having to go to the beach everytime one feels like bathing can be tricky. To avoid the crowd and relax from your villa, choose a property with a pool and offer yourself the vacation you've always dreamt of.

Indonesia
Sri Lanka
Thailand
Maldives
Cambodia
In America
From the USA to the Caribbean Islands, what would your luxury vacation looks like without a pool available 24h/24? Because you deserve the best, take the freedom to bath anytime you want in one of our villas in America.

United States
Mexico
Costa Rica
Dominican Republic
Anguilla
Martinique