Things to do in Marrakech with children
Wondering what to do in Marrakech with children? Our activity guide has got you covered. We have found a selection of activities to keep them entertained for hours! Villanovo can help you organise these day trips so don't hesitate to contact us.
Adventure awaits in the trees
Climb to great heights in the trees and move swiftly from tree to tree on one of the several zip lines and bridges. Make memories to last a lifetime, get the heart racing, awaken your senses and most importantly, have so much fun, as this is an activity the children will most definitely enjoy. Villanovo can help you to organise this experience so just send us a message if this is of interest to you.
Marvel at El Badi Palace
Marvel at this stunning piece of architecture known as El Badi Palace and admire the impressive mosaics that decorate the wall. Children will gaze in awe at the one thousand and one colours that stand before them. Discover history and be transported through time as children learn about the city's past.
Satisfaction in the Souks
Experience what makes Marrakech so famous by taking a walk through the souks. These markets are filled with stalls and packed with just about every item you can possibly think of. This is the ideal place to pick up a souvenir to take home to friends and family or pick yourself up a bargain. Children will be amazed by the vast array of colours, flavours and smells that line the paths of the souks as they experience this unique culture firsthand.
Wet and wild at Oasiria Water Park
This water park, open every day of the year from 10am - 6pm, is an activity the children will love. With 20 attractions, and 8 pools there really is something for the whole family to enjoy here. Get an adrenaline rush as you accelerate down the slides and plunge into the pool below. There are several restaurants on site so you can make a full day with this experience. Prices are only 210MAD for adults and 130MAD for children.
Reach new heights in the Atlas Mountains
Trek to new heights in the Atlas Mountains and have a great family day out as you admire the stunning scenery that surrounds you. Feel at one with nature as you explore the paths that have been carved before you. Enjoy lunch with a local Berber family serving traditional Moroccan cuisine as you learn more about the local culture. There is also a muleteer for the children so they can enjoy this experience on the back of a mule. Villanovo can organise this activity for you so get in touch with us - we'd be delighted to help.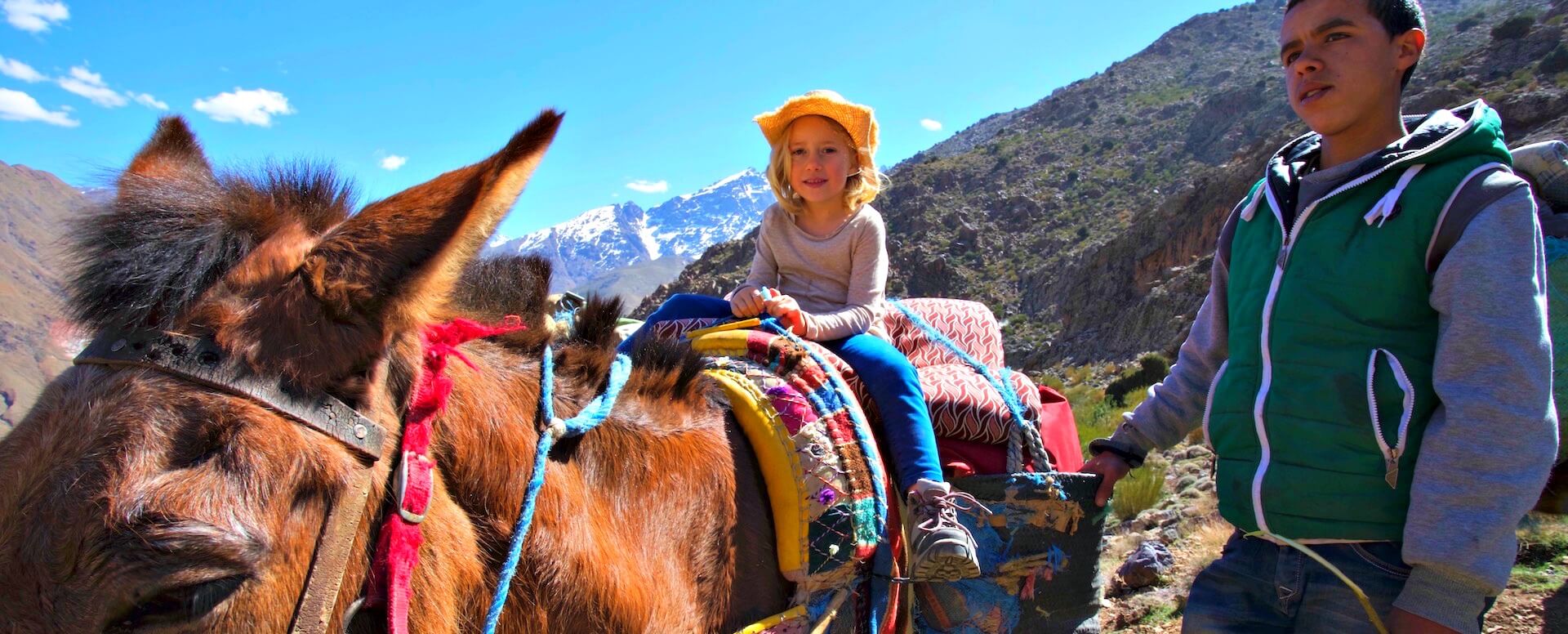 Stroll around Jardin Majorelle
Have a relaxing day out strolling around Jardin Majorelle, one of the most visited sights in the whole of Marrakech. Children will have fun trying to identify the various collections of exotic plants, cacti and trees in the two and a half acres of ground. There is also a Berber Museum within the garden and a café where the whole family can enjoy a bite to eat.
Get close to camels
Head to the Palmeraie district where children can have a great time on the back of a camel as this interesting creature strolls through the palm groves. Children are sure to have great fun during this experience and it will be one they will never forget. Villanovo can help you to organise this activity so do not hesitate to get in touch with us.
Admire Koutoubia Mosque
The beautiful Koutoubia Mosque, situated on the outskirts of the Medina is really intriguing with its impressive detailed architecture. Whilst walking in the rose gardens alongside the mosque, you may hear the call to prayer. Afterwards the children can have even more fun playing and letting their imagination run wild in Cyber Park which is next door and will have a great day out.
Cameras at the ready on a Calèche tour
Take a tour in a horse-drawn carriage around the city taking in all the sights. The children are sure to love being on an adventure and on the road to discovery. Visit the most popular sights in Marrakech such as the walls that surround the city, the various gates that lead into the old city and discover the history of Marrakech on your tour. If you really want to enjoy the ride and take in the wonderful scenery, there is no better time to go than at sunset.
Visit Jemaa el-Fna
The heart and soul of Marrakech, Jemaa el-Fna is a big square that will enchant the minds of children of all ages. This place will undoubtedly have you coming back for more as you will feel so involved. During the day, the square is just a big open space where a few snake charmers will excite children as they bewitch their cobras. It is in the late afternoon that the square comes alive as the crowds start to fill the space to see acrobats, musicians, storytellers, and entertainers. Jemaa el-Fna is filled with food stalls so you can try typical Moroccan cuisine in a fantastic, lively atmosphere.
Game, set and match
There are plenty of tennis courts in Marrakech to have fun with the children and show off your best skills. If tennis is not your sport, why not opt for a round of golf instead? Villanovo can help you to organise tennis and golf lessons with an English speaking coach so do not hesitate to get in touch with us.