The fresh mountain air, fondue evenings, discussions around the fire accompanied by a good mulled wine... Ah the joys of winter holidays in the snow! And what better way to enjoy idyllic views from the comfort of a superb and luxurious chalet? If you are looking for wide open spaces, fresh air and escape, renting a chalet in the mountains is a unique and unforgettable experience in the heart of a breathtaking and authentic environment. 
If you are still hesitating, we will show you three reasons why renting a
chalet in the mountains
is the best way to rediscover the pleasures of snow with family and friends.
1 - Enjoy the clean mountain air
Who has never dreamed of waking up peacefully in the morning and having breakfast while watching the sun rise over the glistening white mountains? There is nothing more pleasant than enjoying extraordinary landscapes from your holiday home. Renting a chalet in the mountains during your winter holidays is the promise of a totally exotic experience. Large natural spaces draped in a white coat, the calm and rustic charm of a luxurious chalet, ideal to disconnect from all the worries of everyday life and recharge your batteries. The fresh mountain air will fully replenish your energies!
 
Staying in a chalet is also the promise of being as close as possible to the tourist infrastructures and of course to the slopes. Skiing, snowboarding, sledging, snowshoeing, dog sledding, etc... So many activities within easy reach! There' s no need to drive hours from your off-centre hotel to and from the slopes. You are in the heart of the action, so enjoy an unforgettable stay.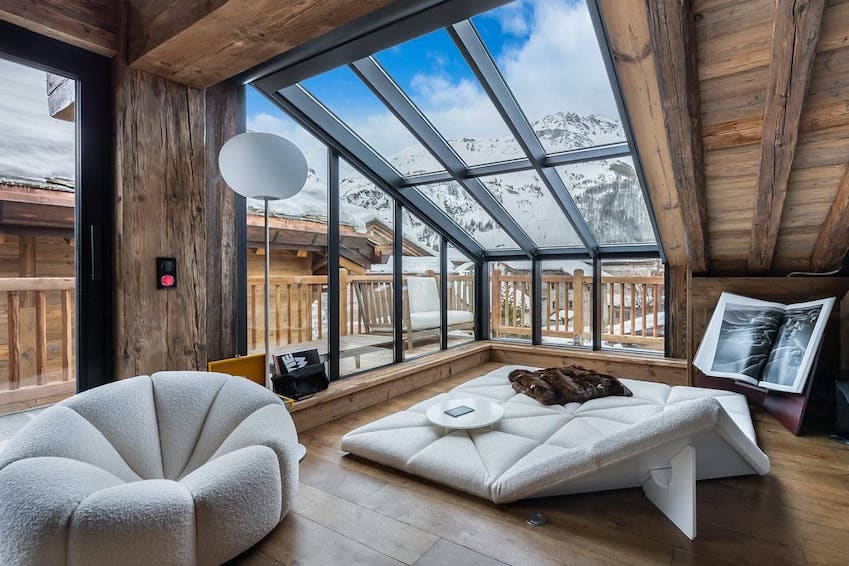 2 - Enjoy absolute comfort
We all know the cliché scenes when we think of snowy holidays. The cup of hot chocolate savoured by the fireplace, watching films with the family while wrapped in big soft blankets, the fondue after a day of skiing, etc... Special moments alongside your loved ones in a warm and comfortable environment, that's what makes a a winter holiday so special. 
 
The rustic and friendly chalet is the ideal holiday rental, much more pleasant and intimate than a hotel. Designed to offer total comfort in a warm and authentic alpine atmosphere, the chalets make you feel at home. Behind a rustic charm of wood and stone lies a refined and modern residence with state-of-the-art facilities. After a challenging day, there is nothing more pleasant than to return to the comfort of your chalet and enjoy moments of relaxation in a hammam, a heated indoor pool, a spa or an outdoor jacuzzi. Not to mention the private cinema room to enjoy simple pleasures with your family. The great sportsmen will also be able to enjoy and maintain their fitness thanks to a fully equipped fitness room, all while enjoying the enchanting views of the immense snow-covered mountains.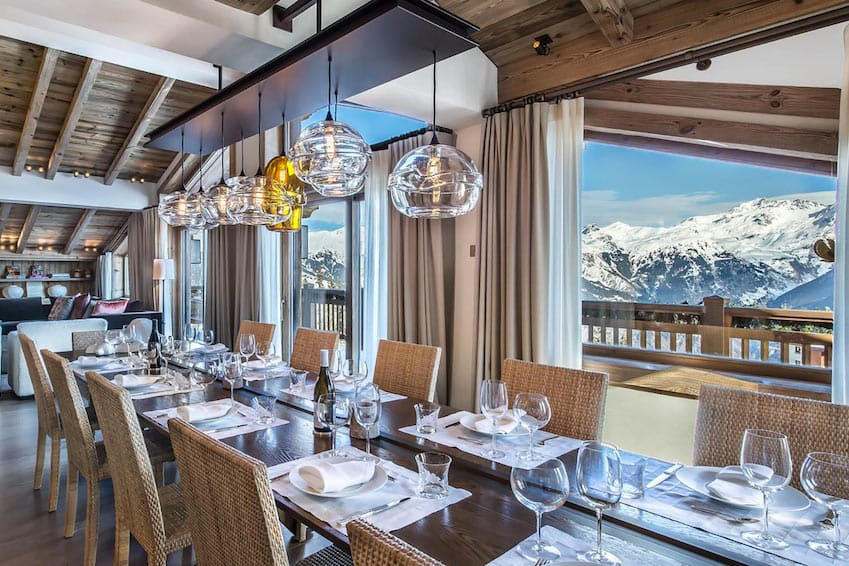 3 - Enjoy exclusive services
In addition to the comfort and security provided by your chalet, not to mention the calm and serenity that a stay in the mountains brings, holidays are also made to rest and disconnect completely from everyday life. So forget about all the household chores and obligations of daily life and relax!
House staff
members are there to take care of everything and ensure that your stay is as pleasant as possible. From cleaning, babysitting or driving, Villanovo takes matters into its own hands.   
For lovers of good food, it is even possible to enjoy the presence of a qualified chef who will prepare delicious traditional and gourmet dishes. A cuisine of excellence that will warm your heart after a busy day of skiing. 
The Alps, the ideal destination for a stay in the mountains
Renting a chalet in the mountains is great, but where to go? Over the years, Villanovo has built a selection of luxurious and uniquely charming chalets for rent for an unforgettable winter holiday in the most famous and
popular ski resorts
in the French Alps, the Swiss Alps and the Austrian Alps.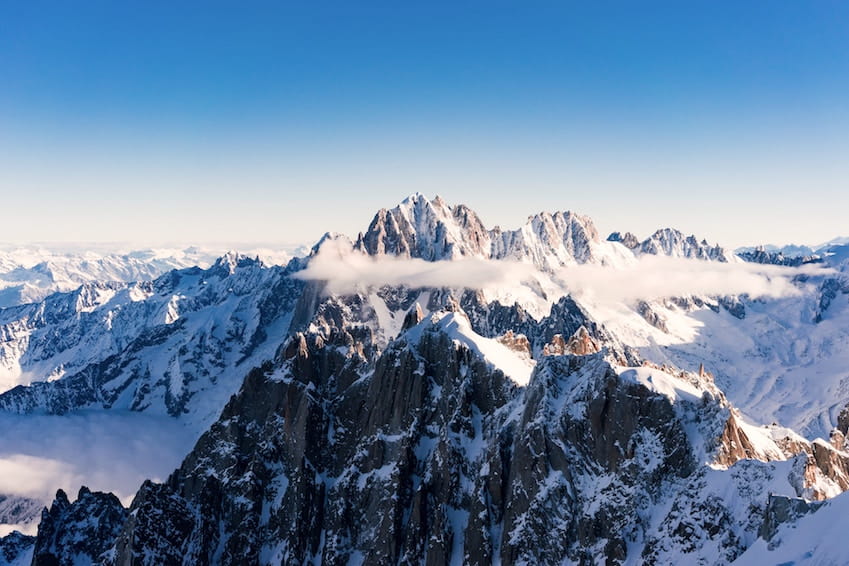 French Alps
A true favourite destination for outdoor leisure enthusiasts and mountain lovers, the French Alps are a real delight for any vacationer. Great sports enthusiasts will enjoy the incredible number of winter resorts in this region while travellers seeking relaxation and escape can enjoy the wonderful natural landscapes ranging from breathtaking peaks to fascinating alpine lakes, not to mention the splendid forests covered by a snowy white coat.   
This is an opportunity to discover
Chamonix
and its four ski areas. Located at the foot of Mont-Blanc, the resort is a real paradise for outdoor sports. Skiing, snowboarding, freeriding, speedriding, telemarking, etc... There is something for everyone! Higher up you will find
Val Thorens
, very popular for its 150 kilometres of downhill ski slopes, making it the largest ski resort in
France
. If you are looking for more privacy, you will love
Megève
and
Courchevel
. These are undoubtedly the most luxurious resorts in France and the most popular with the world's elite.
Méribel
is also worth a visit for its incredible panoramas and superb traditional chalets with wooden and stone facades.   
>>> Our chalets in the French Alps
Swiss Alps
A true skier's paradise, the Swiss Alps have around 150 ski resorts. A sport that is very popular in
Switzerland
as more than a third of the population ventures out every year to conquer the Swiss slopes. You will have a huge choice in terms of domain, there is something for everyone! The slopes are particularly renowned for their impeccable quality, offering excellent conditions for skiing and snowboarding. Not to mention the incredible hospitality of the locals, which makes this destination ideal for a holiday in the mountains.   
Among the most popular ski resorts in the Swiss Alps is
Zermatt
, a real establishment in Switzerland. Considered one of the best developed resorts in the world, Zermatt is also the highest domain in the Alps, making it possible to ski there all year round.
Verbier
also possesses an incredible charm. Built in the image of a village with more than 150 km of slopes and many winter facilities such as a snowpark or the toboggan run, not to mention its lively nightlife.   
>>> Our chalets in the Swiss Alps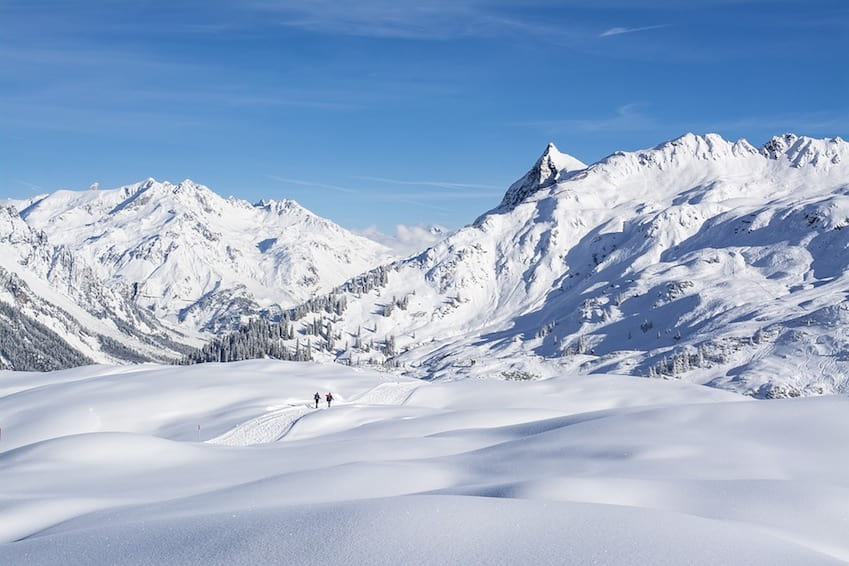 Austrian Alps 
The Austrian Alps are unique. From lush forests at the foot of breathtaking mountains reaching an altitude of more than 3,000 metres with multiple glaciers, the region offers an absolutely breathtaking natural setting. Skiing is a real tradition in Austria. The winter sports resorts are therefore relatively well developed, equipped and secure. And if you're not a keen skier, there are many other alternatives such as torchlight night walks, toboggan runs, snowshoe hikes or skating on frozen lakes. The Austrian Alps is also an opportunity to discover traditional villages with authentic charm and spared by the construction of concrete buildings. A real joy for the eyes!  
Tyrol
is Austria's largest ski area with its huge peaks and valleys forming a sublime landscape. A true skiers' paradise, the massif alone has 80 resorts, the 10 largest of which have a total of 1,900 kilometres of ski slopes. The infrastructures can be adapted to any level and any leisure activity to offer the best service to holidaymakers. Not to mention that some domains are open more than 200 days a year.   
>>> Our chalets in the Austrian Alps
Italian Alps
The Italian Alps form a natural barrier between Austria, Switzerland and France and stretch from the Mont Blanc massif to the
Dolomites
. The region offers some of the most breathtaking panoramas in Europe. Between immense frozen lakes, lush forests and breathtaking mountains draped in a white mantle, the Italian Alps are a real feast for the eyes. You will find the famous
Lake Como
surrounded by luxury villas, a real piece of paradise. This immense Italian natural park attracts many travellers from all over the world for mountaineering, hiking and, of course, skiing.   
Italy has excellent facilities for winter sports. It has also hosted the Olympic Winter Games on several occasions. The Dolomites massif alone offers hundreds of kilometres of ski slopes and has around 450 lifts. Whether you are with family or friends, skiing or relaxing, you will always find your happiness in this magnificent mountainous region.   
>>> Our chalets in the Italian Alps