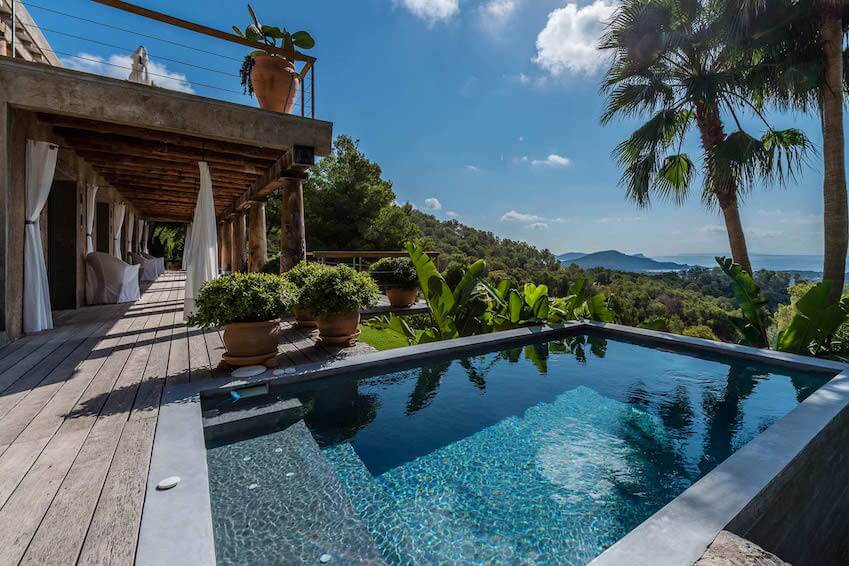 Rent your villa in Ibiza in the heart of a dream setting
Renowned for its lively nights, world-famous DJs and beautiful beaches, Ibiza is also a destination of choice for nature lovers. Behind its festive face hides large areas that have been well preserved. The island is also a haven of history and culture.

With a generous sun, a turquoise sea and a natural landscape typical of the Mediterranean regions, Ibiza is above all a relaxing destination, where one takes the time to savour the calm. Renting a villa in Ibiza is undoubtedly the best option to enjoy all the wealth of the island. Villanovo have found for you the most beautiful holiday homes on the island, offering a multitude of tailor-made services. Cook, babysitting, car with driver... We do everything for you to spend a dream vacation in a luxurious property. While enjoying the comfort of a home, you will enjoy the beauty of your natural environment. Do not hesitate to cook fresh products that you bought at the market to taste the authentic flavour of the Balearic Islands.
Ibiza culture: wonders to explore
Overlooking the sea, the old town of Eivissa is an essential detour for all culture lovers. Referred to as Dalt Vila, the historic centre is surrounded by historic walls and is home to centuries-old monuments, to name but a few. Walking through the many alleys of the old town, we make a real journey back in time. To go back further through the centuries, the visit of the Phoenician site of Sa Caleta is essential, as is the visit of the Punic necropolis of Puig des Molins. For art lovers, visit the Museum of Contemporary Art in Eivissa.

>>> Ibiza in a weekend
Ibiza: nature, a happiness for the soul and the body
Along the coast of Ibiza, the steep rocks follow the beautiful beaches of fine sand and in many places, coves accessible only by boat are real paradises. In the Southwest of the island, the Es Vedrà Nature Reserve is a place of choice for ornithology enthusiasts. Offshore, the crystal clear waters are particularly suitable for scuba diving. Want to explore the bowels of the Earth? Take the time to visit the many galleries of the cave Can Marçà. And to relax after these long visits, nothing beats a swim in the warm Mediterranean!

>>> The most beautiful beaches of Ibiza