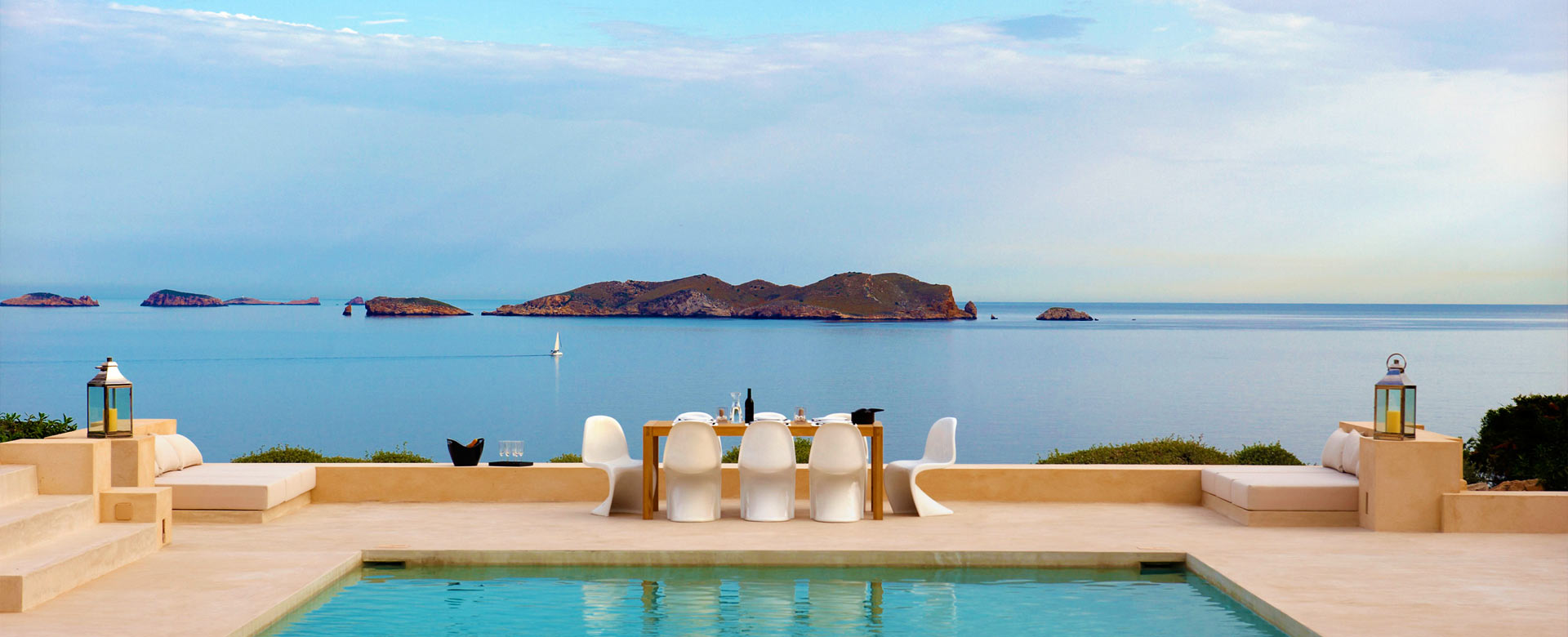 Luxury Villas
Personal Service
Welcome to ibiza
The beautiful island of Ibiza is in the heart of the Balearic Archipeligo, a destination that is both rich in history and festivity. Nature is one of the greatest attractions in Ibiza. The rugged coastline of the island shelters beautiful beaches and idyllic bays with turquoise water which equal the Caribbean! The beaches at Ses Salines with its crystal clear water and at Cala Mastella with its peaceful charm are well worth taking the time to visit. The countryside offers a typically Mediterranean rural landscape, rocky and topped with pine forests. Ibiza is also an amazingly trendy and cosmopolitan place, famous throughout the world for its unique and exciting nightlife. The best DJs will make you dance until the end of the night!

As you can see, Ibiza is a marvellous haven of peace and an island with a hectic nightlife. So, Villanovo have handcrafted a unique selection of holiday villa rentals in Ibiza to suit every taste and lifestyle. From the North to Es Cubells, in Cala Moli and Cala d'Hort areas and also in Cala Comte and other beach areas in Ibiza we handpicked several of the most desirable properties in quiet neighbourhoods with fantastic sea views and sunsets. Almost all of our homes have their own swimming pool, and some even have direct access to the beach for wonderful moments of idleness and relaxation!

Want a stay that suits you? Enquire with our team of specialists and book a luxury house in Ibiza with us. Villanovo is a team of seasoned villa specialists with more than 25 years of experience on the island that will be delighted to personalise your stay for you.
Our guest reviews and ratings
Our services
----SERVICES FOR OUR GUESTS IN IBIZA----

Our dedicated booking and concierge service starts from the very first moment you contact us to the last moment of your departure.
 
Planning your vacation
Our villa advisers are all experts at selecting the villa rental in Ibiza that will satisfy you. They will guide you to choose the right property and they will work with you to plan your vacation according to your needs and requests.

Arrival in Ibiza
We are there for you at arrival arranging taxi, limousine, helicopter transfer to your villa, overseeing all details including car rental arrangements if required.
After a quick check-in in our office in Cala Vadella, one of our staff members will escort you to the property for a smooth installation and will hand you the house keys.
 
During your stay - Our regional knowledge
Our local hosts Emily and Gerald will help you book the best or trendiest restaurants, share their secret places to eat, to shop or to go out or visit. The villas staff will also be able to assist you anytime and take care of all requests you may have during your stay.


----A LA CARTE SERVICES IN IBIZA----

Your villa includes a set of services included in the rental rate. Yet Villanovo and selected local partners will be pleased to arrange all additional services you may require such as:
- Airport / Train station pickup and drop off - Taxi service
- Extra villa staff: Housekeeper, butler, maid, cook
- Baby sitting, Child care
- Laundry or dry cleaning
- Chef or catering, grocery delivery
- Car rental / Boat rental / Motorbike rental / Chauffeur
- Scuba diving, horse riding tours, mountain bike tours, tennis
- Coach, massage
- Security services
- Business services
Holiday villa rentals in Ibiza