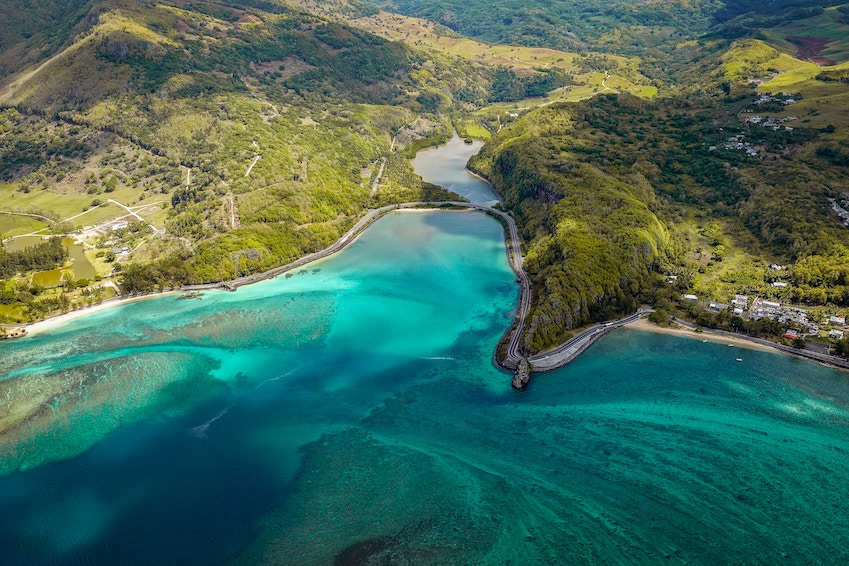 An island of volcanic landscapes of startling blues and greens, the Indian Ocean paradise of Mauritius is a must for all nature lovers. From dramatic waterfalls emerging from lush green forests and extremely rare birds previously thought to be extinct, to colossal marine optical illusions that led people to believe that the largest waterfall in the world is UNDERWATER, Mauritius is an island of truly unique biodiversity.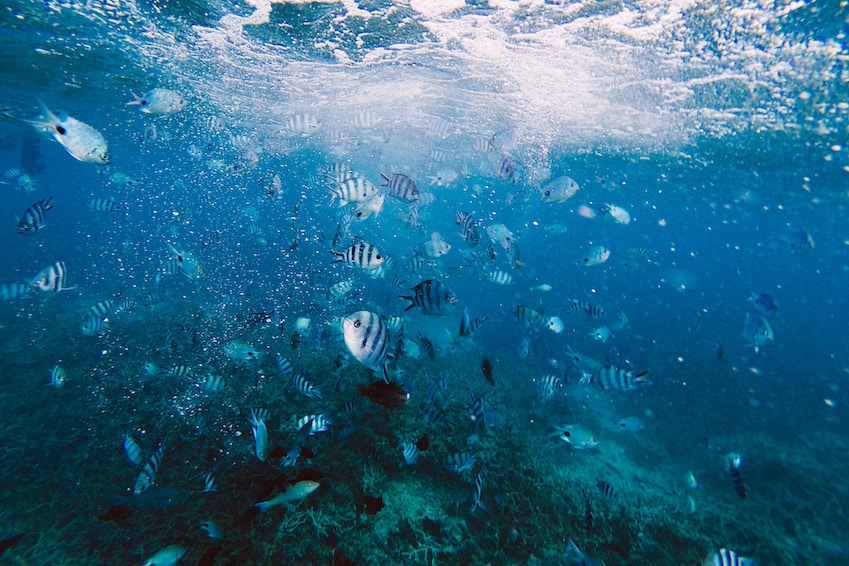 Dive into the turquoise waters of the Indian Ocean
For snorkeling and scuba diving enthusiasts Mauritius is a true haven. Above the water, those blues are already stunning, but once your goggles are beneath the surface a crystal-clear underwater metropolis opens up to you. With the island's year-round hot and humid climate, you're certain to be jumping into the ocean every day. Blue Bay Marine Park on the South East coast is absolutely unmissable, with over 50 different species of coral and fantastic visibility as well as a vast variety of different fish. The park is also home to mangroves and sections of seagrass, which are extremely important habitats that breathe life into the local ecosystems. If you don't want to get in the water, you can still witness the beautiful colourful marine sights through a glass bottom boat!

Ile aux Cerfs is a calm, shallow-watered lagoon that is also spectacular for snorkeling and very safe for children. Flic en Flac beach is a must for its stunning stretch of white sand that is the longest on the island, and the waters contain an abundance of marine life. For this reason, Flic en Flac is also the location of a popular dive site, "The Cathedral", which is a cavern and cave system! For beginner divers, Grand Bay contains over a dozen sites encompassing beautiful coral reefs, and for the more experienced, Le Morne is home to the incredible St Jacques drift dive where the current will take you from shallow lagoon, through to a channel in the reef, to open water.

However, what makes the UNESCO site of Le Morne a truly unique point of interest is its "underwater waterfall". This is actually an illusion when viewed from above, caused by the sands being swept by currents from the shallow island water into the depths offshore. Treat yourself to a helicopter tour to see this unbelievable phenomenon which appears to defy the laws of physics!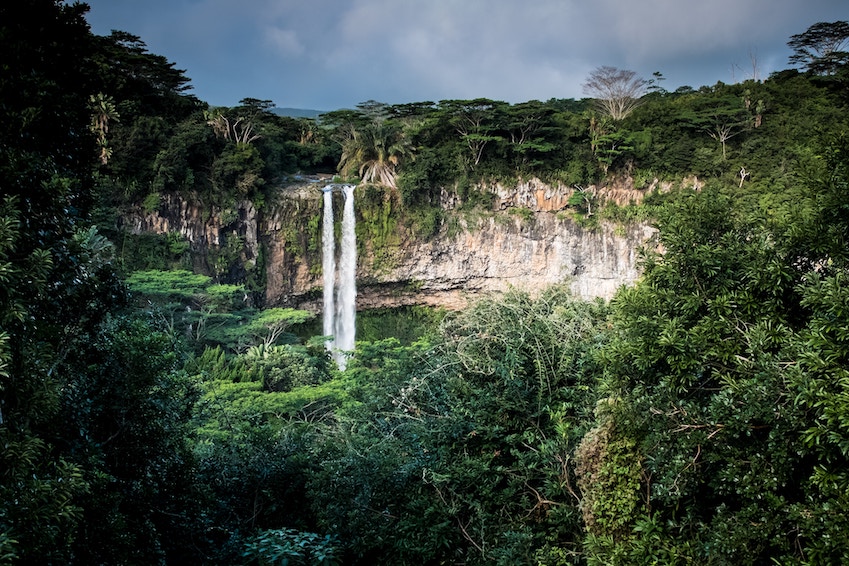 Cascading waters
The stunning watery landscapes are not just found at the coast, there are also many breathtaking inland waterfalls. Chamarel Waterfall is the most famous, at a height of 83m, in the heart of the lush greenery of Black River Gorges. You can admire these falls from above, or gaze up at the towering rock and water from below. The water here sometimes splits into two or three bands forming delicate tendrils of water which can be lovely. Chamarel is also the site of a colourful wonder where basaltic lava and clay minerals have converged to form  "seven-coloured" dunes of sandy earth, from deep purples and reddy browns to greens and yellows.
Rochester Falls are a wonderful site for bathing, as it still retains a feeling of intimacy due to its location deep within the wilderness (though it has featured in several Bollywood movies!). The geology of the falls is very interesting as the water has carved the rocks over hundreds of years into dozens of jagged block shapes. Additionally, there are many hiking options possible around Tamarind Falls, where you also have spectacular views of Le Morne Mountain. Tamarind is a series of seven falls that are perfect for bathing in or having a natural massage under the pressure of the water, and the walk alternates between lush forest and exposed areas with stunning views.
Explore a thriving green wilderness
The Black River Gorges National Park is undoubtedly the most prominent green beauty of the island, stretching over 16, 680 acres of land and a home to many endangered species. The hiking trails can sometimes be challenging, however you will be well rewarded for the effort through magnificent views of forests, rivers, waterfalls (the view of Alexandra Falls being particularly stunning) and island panoramas.
As Mauritius is a volcanic island, you must take a trip to see the beautiful lake within the crater of Trou aux Cerfs, which is a lush green dormant volcanic crater with a diameter of around 350m and a depth of 100m. Another crater lake is found at Grand Bassin, which is one of the most prominent Hindu pilgrimage sites outside of India. The lake is known as Ganga Talao (Ganges pool) as it contains sacred holy water from the River Ganges.
Don't limit yourself to the main island of Mauritius for there are many more breathtaking smaller islands surrounding it. Ile aux Aigrettes off Mahebourg is an island of coral limestone and is a true green jewel in the heart of the turquoise Mauritian waters. It is a nature reserve and a home to many unique species of wildlife. You can also enjoy cruises to the Northern islands of Mauritius such as Flat, Gabriel and Round islands, which also offer beautiful opportunities to swim and snorkel in pristine sea.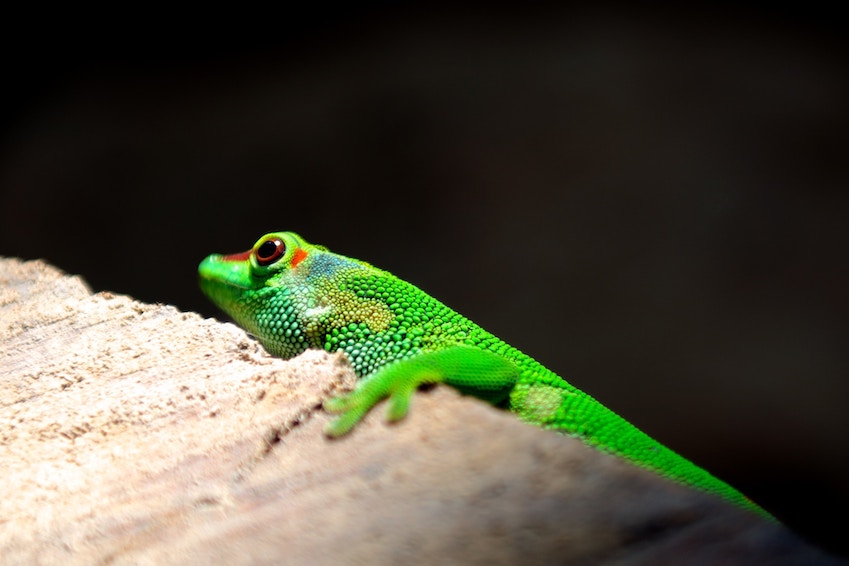 An ecosystem teeming with life
Mauritius is home to the extremely rare and endangered pink pigeon, previously thought to be extinct! For avid birdwatchers, there are also many other species to look out for. The Mauritian kestrel, for example, is a very interesting species, as in 1974 there were horrifyingly only four individuals in the wild. The impressive conservation efforts in the following decades have meant that there are now a vastly improved 800-1000 in the wild!
The unique environment of the Black River Gorges National Park also hosts over 300 species of flowering plant, as well as the Mauritian flying fox and the stunningly green echo parakeet. You must also be sure to keep your eyes peeled for the Mauritius gecko, an amazing vision of luminous green, blue and red! There are also giant tortoises which have been introduced from the Seychelles.
Beneath the waves if you dive or snorkel, you can expect to see giant moray eel, stingray, Indian lionfish and green and hawksbill turtles amongst many other colourful marine delights!