The most beautiful beaches in Indonesia
Are you planning to reach the Indonesian seashore? These small pieces of land are full of diverse and varied beaches, with their own charms. Dream beaches with miles of coastline waiting for you!
Canggu - Bali
In Northern Kuta, it offers vast expanses of black sand 25min from the famous Tanah Lot temple. The simple way of life of Balinese villagers, admire surreal sunsets on the beautiful waves in the small huts on the beach. Accessible from the village of Kerobokan, its amazing sand also makes us think of bright star dust.
Jimbaran - Bali
Surrounded by coconut palms, this peaceful cove promises great discoveries! There are excellent restaurants where you can enjoy succulent seafood and fresh fish as well as amazing grey sand. Known for windsurfing, small boat trips are a must. Do not wait any longer to enjoy a seafood dinner at sunset with your feet in the sand.
Gili Islands
Off Bali and Lombok, the Gili Islands offer different atmospheres. On the one hand, in Trawangan, the biggest island is a call to party on beaches worthy of the most beautiful postcards and at the top of the hills that give splendid views of the other islands. For more authenticity, Meno is your destination! It has a small freshwater lake with old-world charm and wild beaches. And finally, at Gili Air, live in oriental rhythm facing the magnificent sea and its incredible turtles.
Tanjung Aan - Lombok
This sublime beach has kept its authentic and wild side with an expanse of sand without infrastructure. In this heavenly setting, enjoy the tranquillity of the place to rest or let yourself be tempted by the many opportunities for water activities.
Pink Beach - Komodo Islands
A pink sand beach? Indeed, the colour comes from foraminifera, microscopic animals that produce a bright red pigment on coral reefs. Then, the red coral fragments mix with the white sand creating the pink colour. Moreover, the places are ideal for nautical activities of all kinds: kayaking, paddle, windsurfing...; but also for your photos with a naturally beautiful island. However, be sure to pay attention to the Komodo dragons, in their natural habitat.
Sanur - Bali
Breathtaking sunsets with Mount Agung in the background, does it seem idyllic? It is on the beach of Sanur that you can admire this view. This calm and peaceful lagoon also offers excellent conditions for water activities and swimming with the reef off of Sanur which is a popular surf spot. To the South-East of Bukit, this piece of land is often invaded by ceremonies during which the Balinese come to worship the gods and is not far from other beautiful black sand beaches such as Matahari Terbit or even Lebih to Jukung with its traditional boats and colourful fish.
Padang Padang - Bali
One of the best surf spots in the world, Padang Padang Beach in Bali is 10min from Jimbaran. It is accessed by a staircase dug into the cliff, which gives a special charm to the place. In addition, there is the international surf championship, the Rip Curl Cup Padang Padang.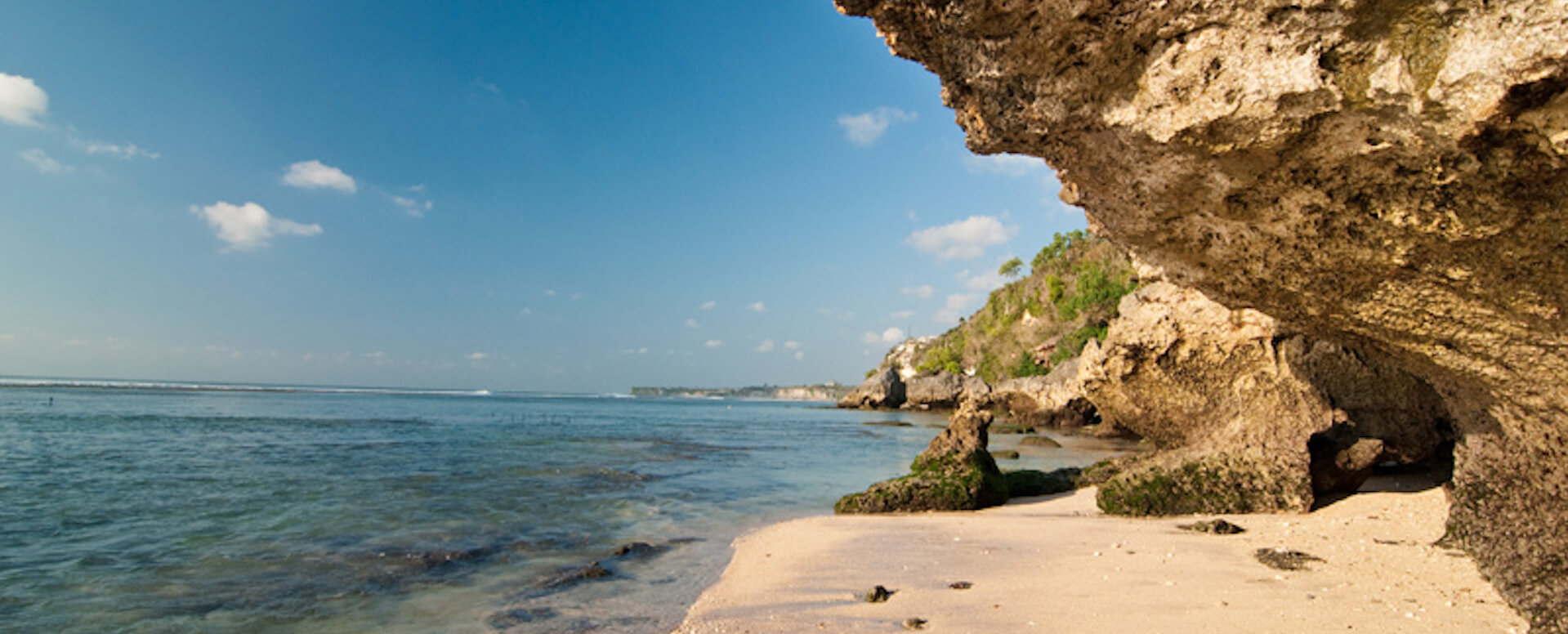 Crystal Bay - Nusa Penida
East of Bali is one of the best spots for diving and snorkelling. On Demon Island, Crystal Bay lets you see giant Mantas and Mola Mola, the giant moon fish. It is on the bay of Penida Sakti village that this site takes you.
Nusa Dua - Bali
South of the island, Nusa Dua offers lagoons similar to real pools. With its 5km of beaches, it allows many water activities with perfect surf spots. Along the coast, an artificial village takes shape with the large luxury hotels. In particular, some parts of the beach are private but most remain accessible for your comfort.
Pandawa - Bali
Surrounded by high limestone cliffs, Pandawa Beach is accessible from Jalan Raya Uluwatu Road. South of the peninsula, it contains the statues of the five brothers sculpted in the cliffs (Yudhista, Bima, Arjuna, Nakula and Sadewa). A show not to be missed! And, for your enjoyment, rent kayaks to navigate these beautiful waters.