Discover Sri Lanka's landmarks
Sri Lanka is an ideal country for a couple or family trip, as the country is full of sublime places steeped in culture and traditions. Between millennial temples and lush national parks, you will always find a sublime place to visit to marvel at the magic of Sri Lanka.

Villanovo have created for you a list of sites not to be missed under no circumstances!
 
Sigiriya
It is a major archaeological site in the country and is a UNESCO World Heritage Site. Do not hesitate to visit the magnificent lush gardens and climb all the way up to the top of the famous lion's rock which is one of the places to visit during your stay.

Visit also the splendid fortress palace of King Kasyapa. If the background seems familiar to you, it is because some scenes of Indiana Jones were shot in this corner.
Colombo
"Leaf of mango tree" in Sinhalese, Colombo is the capital of Sri Lanka. You will find there all the animation of the great Asian capitals. Thanks to its strategic position, it is at the heart of the commercial shipping routes with Europe and Asia. The city testifies to a rich history marked by Portuguese influence.

Discover the Buddhist and Hindu temples to soak up the local culture and lose yourself in the many colourful markets with a thousand flavours and a thousand odours, like the bazaar of Pettah.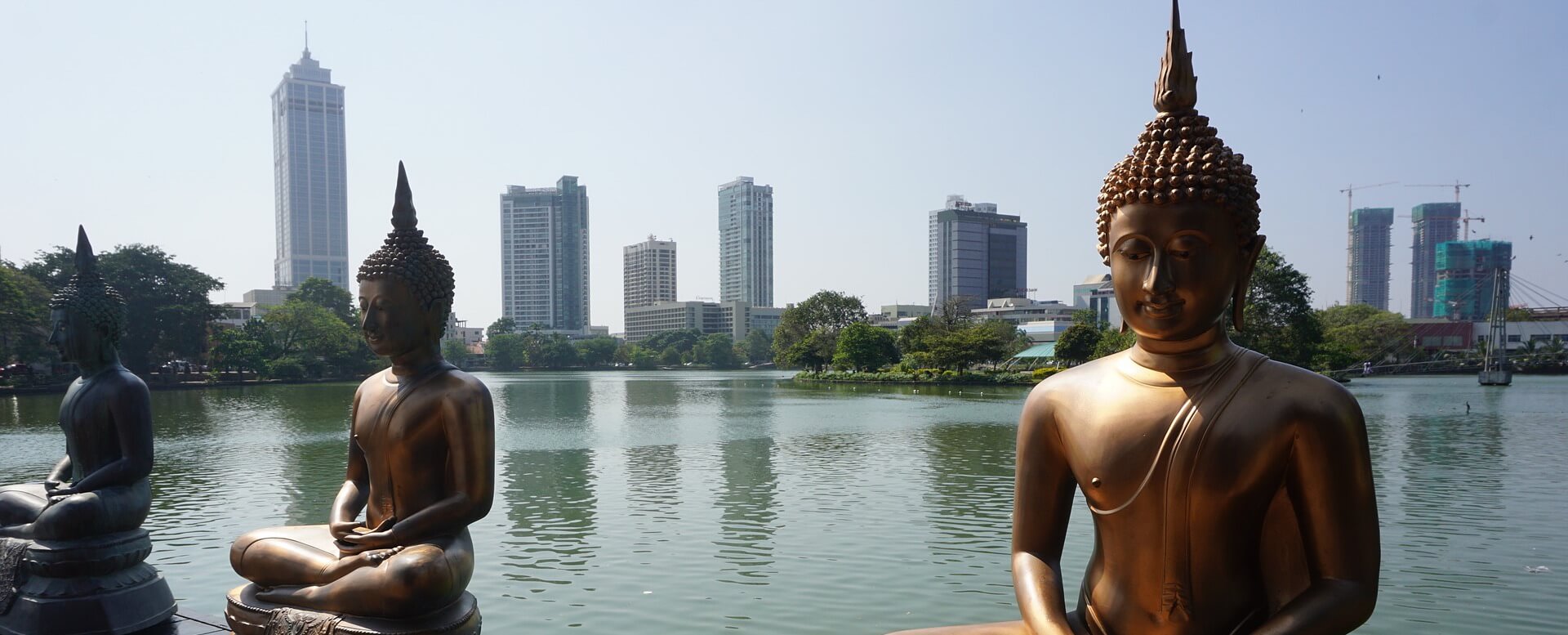 Adam's Peak
This 2,200 metre mountain is the site of many pilgrimages, and its number of visitors is increasing every year. The best time to climb this sublime mountain is during the sunset because the flamboyant reflections come to magnify the flank of Adam's Peak.

Legend has it that Adam, Buddha and Shiva have left their mark on this mountain, which gives it all its sacred character.
Udawalawe National Park
Animal lovers will be delighted to visit this sublime park built around the artificial Uda Walawe Reservoir. The must-see: the orphanage for elephants that protects and treats these sublime orphan animals. If you are lucky, you can watch buffalos, sambars, crocodiles or birds.

It is possible to organise a visit aboard a jeep of the whole natural park! This is an activity that will delight both young and old alike, as drivers can stop for a few moments so that you can capture pictures of unique life.
Yala National Park
This second nature park is called "Little Africa" because it is very similar to traditional African safaris. You can see crocodiles, mongeese, jackals, birds and especially many majestic elephants.

It is located in the province of Uva and covers about 980km². Close to this park you will find no less than 6 national parks and 3 sanctuaries of wildlife.
The caves of Dambulla
Refuge of a king driven out of Anuradhapura by the Tamil armies, Dambulla has an important role in the history and culture of Sri Lanka. When this king regained power, he transformed the caves into temples that can be seen today.

Richly decorated, with statues and gilding sublime, the caves have become a high place of Buddhism but also an unmissable place to visit during your trip to Sri Lanka.
Anuradhapura
This sublime holy Buddhist city is a wonder in the heart of Sri Lanka. Marked by history, many temples are in ruins but are no less sumptuous and rich in history.

It was the capital of Sri Lanka, where a large number of kings succeeded one another and was made up of three monastic ensembles, the Mahavira, the Abhaya Kiri Vihara and the Jeta Navi Hara. This city is so rich culturally speaking, that it is part of the World Heritage of UNESCO.
The Kandy Botanical Garden
Also called the Botanical Garden of Peradeniya or Royal Botanical Garden, this is a sublime garden with an almost magical atmosphere. It is famous for its impressive collection of orchids. You can also see local spices and medicinal plants housed among the many palm trees.

Anecdote: There is a colony of bats that have peacefully settled in the garden.
Trincomalee
Not far from the delightful town of Kandy, Trincomalee is located on a peninsula. Among the must-see in this city, the perched temple of Koneswaram on a hill that overlooks the entire city.

The place is also famous for its typical fishing beaches where you can see many fishermen set to work.
Fishing in Ahangama
This authentic village is the guarantee of a journey into the heart of the traditions of Sri Lanka. Here, on the water's edge you can see a very curious and picturesque practice: perched on stilts, men fish. You can observe them early in the morning and in the evening around 5pm.

This is part of the experiences to absolutely do on your trip, so do not forget your camera to capture this incredible moment.
Sri Dalada Maligawa
In Kandy, Sri Dalada Maligawa, or the Temple of the Tooth, is unmissable. Believed to house a relic of the Buddha's tooth, the Buddhist temple plays an important political role as it is said that whoever possesses this relic has power over the entire country.
Seema Malakaya
Seema Malakaya is another lovely temple located picturesquely by the water of Beira Lake, and is used mainly for rest and meditation rather than worship.
Gotami Viharaya
For a temple that's a little different, visit Gotami Viharaya, which is adorned with modern mural paintings by the well-known artist George Keyt. Keyt was inspired by artists such as Braque and Picasso, and his style caused somewhat of a sensation and scandal when first viewed by the locals who were accustomed to traditional depictions of characters from the Buddha's journey.
Asokaramaya and Bellanwila Raja Maha Viharaya
For beautiful mural paintings, Asokaramaya and Bellanwila Raja Maha Viharaya are highly recommended. Do not be discouraged by the relatively dull outside, the interior of Asokaramaya is a landscape of vibrant colour! In the main temple, the ceilings, walls and passageways are adorned with colourful paintings of the Buddha's life story, with repetitive motifs of animals, flowers, dragons and devas. You can admire the contrast between the yellows and browns of the old paintings and the stunning blues, greens and magentas of the newer paintings. Bellanwila Raja Maha Viharaya is an incredibly special site to visit as there are many long-cherished beliefs surrounding it, such as the one that details if a child walks beneath its sacred bodhi tree, they will never fail in life.