At the pinnacle of luxury: top 11 most expensive villas in the world
Written on : 05 December 2018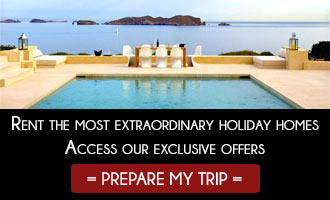 Who has ever looked at luxury properties, but inaccessibly expensive? Who has not imagined spending at least one night in an unusual villa?
This is not new, at Villanovo we like to make you dream, especially through our villas and our travel inspirations.
But this time, we want to take you even further, we transport you to the pinnacle of luxury! Manor houses, castles, exceptional villas, ultra-modern and high-tech penthouses ... We reveal you not the top 10, but the top 11 most expensive villas in the world.
2 - Villa Leopolda, France
Villa Leopolda, located in Villefranche-sur-mer, in the south of France, occupies the 2nd position. Located in the Mediterranean paradise of the French Riviera, it has an exceptional view of Cap Ferrat. Around this house, you will find a park of 8 hectares of 1200 various trees; from the olive tree to the cypress and the beautiful colors of the orange trees. More than fifty gardeners and house staff take care of the maintenance of this huge garden and exceptional property ..
As for its interior, expect no less than 200,000 m2 with house and private pool for guests.
In addition to a luxurious setting, this property is home to a strong historical dimension, since it is the former property of King Leopold II of Belgium.

Value: € 463 million


 
3- Ellison Estate, Woodside, USA
For the beginning of this top 3, we find a house on top of luxury but does not lose its unique charm. Made of wood, chalet style, you'll discover a huge traditional Japanese style property. At the edge of Lake Tahoe, this magnificent villa offers an enchanting setting and incomparable views. A warm and traditional interior, but also high-tech is offered to visitors. In addition, it is of course equipped with the best features such as swimming pool, jacuzzi, private pontoon, cinema room, as well as a chimney in almost all the rooms.

Value: € 180 million

 
 
4 - The Penthouse One Hyde Park, England
And just before our top 3, we go back to London to the Penthouse One Hyde Park. In this property you will find not 86 rooms, but luxury apartments. Imagine, a design frame, state-of-the-art equipment, floor-to-ceiling windows offering an exceptional and unobstructed view, all accompanied by warm furniture and noble materials.

Value: € 177 million


 
5 - Fairfield Pond, United States
We find in Southampton, one of the most expensive houses in the United States. It is one of the largest residences in the state, covering 10,000 m2 and 255,000 m2 outside. Gardens and breathtaking views await its visitors. And all this, just 2 hours from New York.

Value: € 175 million

 
6 - Hearst-Davies Mansion, USA
In the heart of Beverly Hills, this sublime property is close to celebrities such as Beckham's and Tom Cruise. But what you need to know is that the mansion is a star itself. Indeed, it may be familiar to you, since it appeared in the movie "The Godfather". The property offers a guaranteed luxury experience: 30 bedrooms, 40 bathrooms, tennis court, 3 huge pools, bar and disco, all housed under high ceilings and surrounded by exceptional gardens.

Value: € 172 million
7 - Elena Franchuk Villa, England
In the middle of London, Villa Elena Franchuk transcribes an authentic English Victorian style of the 19th century. Among its vast spaces, fitness room, swimming pool, sauna and theater. Regarding the rooms, you will find a dozen, all at the peak of luxury. Its intact decoration will transport you into an old Victorian era.

Value: € 142 million

  
8 - Aaron Spelling's Manor, USA
Direction Los Angeles, where we find the Aaron Spelling's Manor, like the greatness of the United States. Ideal for (very very) large families, this luxurious property has 123 rooms. High ceilings, ornaments in gold, marble and crystal in every corner, the property of the Americans is full of the view. The mansion is a real art gallery, we wander through the works, and find incredible collections of the past in many of its rooms.

Value: € 133 million


9 - Hala Ranch, United States
Located in Aspen, Hala Ranch offers an exclusive experience. Indeed, it has stables, private ski slopes, but also tennis courts. This one is put on sale by the Sultan of Saudi Arabia, Prince Bandar himself. In the middle of the nature of Colorado, this exceptional property promises incomparable views and a total change of scenery.

Value: € 118 million


10 - Updown Court, England
For the 10th place in this ranking, we go to England, in Windlesham, in the property Updown Court. This sumptuous English mansion features 22 ostentatious, gold-studded bathrooms and 5 pools. One thing is certain, the villa deserves its place in the ranking.

Value: € 102 million
 
11- Bran Castle, Romania
In 11th position, we find the famous Bran Castle, or in other words, the Castle of Dracula. This historical pearl is now considered as a tourist monument of Romania. Thousands of tourists come each year to experience the unique experience of this castle with a strong historical dimension, where we find the remains of the Middle Ages. It is an imposing fortress that dominates the natural landscapes of Transylvania.

Value: € 70 million

 
1 – Antilia, India
Finally, at the top of this ranking is, triumphantly the first place of the most expensive house in the world, Antilla in Mumbai, India. More than 37,000 m2, a living area comparable to the Palace of Versailles and its 2,000 rooms. It is a house of glass and steel, 173 meters in height. Almost transparent, it is composed of verandas and terraces perceptible by all eyes. The property then has 27 ostentatious floors, offering an unbeatable view of Oman. Not surprisingly, in a property of such prestige, we find an olympic swimming pool, fitness center, dining room worthy of a large hotel, a home cinema and theater, not to mention three helicopter tracks on the roof . Luxury is simply at its peak, this experience is a dream many people have !

Value: € 900 million