2018 : Top 10 of our clients' favourite villas
Written on : 21 December 2018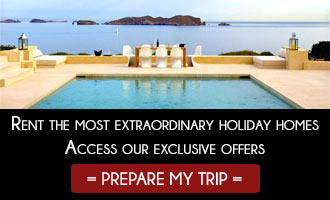 It isn't always easy to book a luxury villa during holidays. We know it is easy to get lost in such a wide choice of properties, or just not to know what to expect despite the descriptions. To help you see clearer, Villanovo presents its 10 most rented villas in 2018. All located in Marrakech, it is nevertheless their luxury service which got the heart of our clients. Discover without delay our top 10 villas in 2018!
2 - Villa Palmeraie 32 - Marrakech, Morocco
On the 2nd place of this top lies Villa Palmeraie 32. It offers luxury and discretion, thanks to a service of quality, a large private garden hosted by wonderful trees, a heated pool of 110 m2, a massage room, sport room, and even traditional hammam. Visitors enjoyed its shadowed terraces where they could indulge with fabulous tagines and tea menthe prepared by the local house staff. This huge villa where 32 person can actually stay welcomed several big events such as weddings, birthdays, parties or just family or friends vacations.  

>>> Villa Palmeraie 32
Average grade: 9/10

"We loved the layout of the villa. Very spacious and perfect for a large group. Excellent pool and outdoor area. The staff were very welcoming despite the language barrier and were happy to help at any time. Food was well prepared for any of the breakfast, brunches or dinners that we consumed. Mathilde the Villanovo concierge was really excellent and helped organise a fabulous 40th birthday celebration. Thank you Mathilde." - Cliv A.
3 - Villa Elo - Marrakech, Morocco
Now is time for the top 3 of the most rented villas in 2018, with Villa Elo. As a luxury property, it deserves without a doubt its place on the top: large private garden, private pool as well as house staff, visitors benefited from exclusive holidays. Close the Golf of the Palmeraie, it has an hypnotizing environment where the garden and the traditional architecture are the greatest assets. The cook and the rest of the house staff drew attention thanks to their culinary skills and professionalism.

>>> Villa Elo
Average grade: 9,1/10

"We have just spent a wonderful ten days at Villa Elo being looked after so well by Abdel, Fatma and Fatma. We all loved the space in the villa and the enormous garden which were much used with boule, tabletennis and the badminton set we bought with us. Fatima the cook was utterly amazing providing us with endless delicious meals beautifully presented every day and although we went out to a restaurant three times her food was as good or better than the restaurants so we have all returned several pounds heavier from our holiday. It was a very special family trip celebrating our 40th Wedding Anniversary with members of the family aged from 9 months to 74 and we all had the most happy memorable holiday - many thanks to Abdel, Fatma & Fatma and the owners for making it so special.
Rita and Matilda of Villanovo both were available for help whenever you needed them." - David J.
4 - Dar Assoura - Marrakech, Morocco
Dar Assoura shows a charming riad in the medina of Marrakech. It provides a huge comfort and an unbeatable elegance. Being able to welcome up to 8 persons, it is perfect for diners in group in the exceptional environment that its large terrace provides on the roof. And yet, although its large welcoming capacity, its spaces offer a feeling of intimacy and friendliness. Its patio, typically Moroccan, host a charming pool.

>>> Dar Assoura
Average grade: 8,6/10

"Very nice Riad, modestly decorated and not shabby chic. Nice roof terrace. It was a bit cold in Jan/Feb but the sitting in the sun on the roof overlooking the landscape of Medina roof tops is just fantastic. The entire Medina is indeed within walking distance (nearest taxi pick up / drop off is a 2 minute walk). The staff is very kind (french speaking, but not english - we managed to communicate everything necessary, though). They prepared a nice breakfast every morning and also lunch and dinner upon request.
Helpful service of Villanovo. Our host came to the Riad on the first day and sorted out everything and made sure that we arrived well. She also helped us book day trips." Jacob B.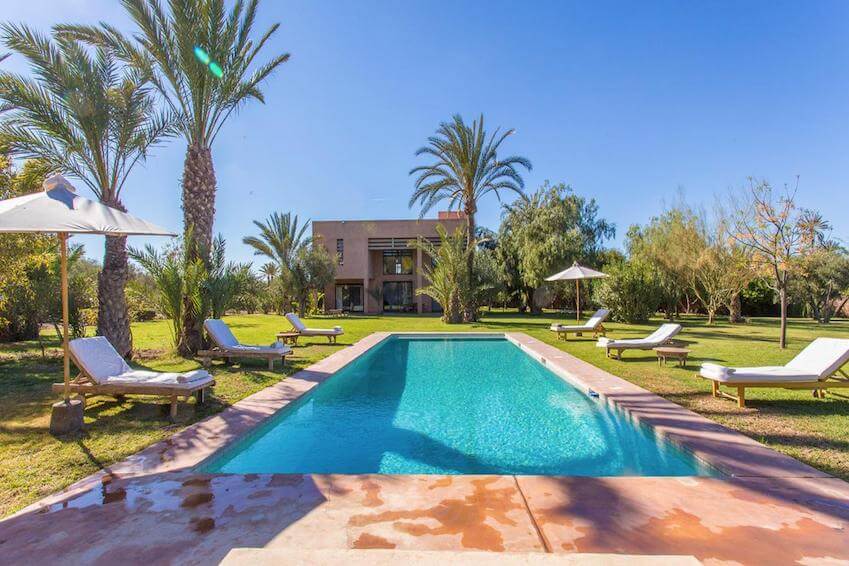 5 - La Maison de Marion - Marrakech, Morocco
The Maison de Marion allowed several families to create unforgettable memories. Perfect for couples with kids, the sublime property has 3 rooms and 2 bathrooms, a large living room with contemporary spaces. Moreover, as nothing is too good for your kids, the Maison de Marion adopted a donkey who the children can ride in the huge garden. The house staff and the visitors had a great relationship thanks to professionalism and dedication.

>>> La Maison de Marion
Average grade: 8,7/10

"The + : Villa design and space internal
Size of garden
Swimming pool
Cook at hand
Manager and gardener on site
Donkey and tortoise in garden - positive surprise for children

Very good Villanovo service. Happy and keen to use in future.
Description of villa could be improved. The mention of the following would be beneficial in promoting the villa to customers:
- floor plan of villas
- photo or greater reference to kitchen
- mention of donkey and tortoises - a positive sell to families with children
The - : No photos or description of kitchen
Ants in kitchen and on counters, food preparation areas, cupboards - need for insect control measures."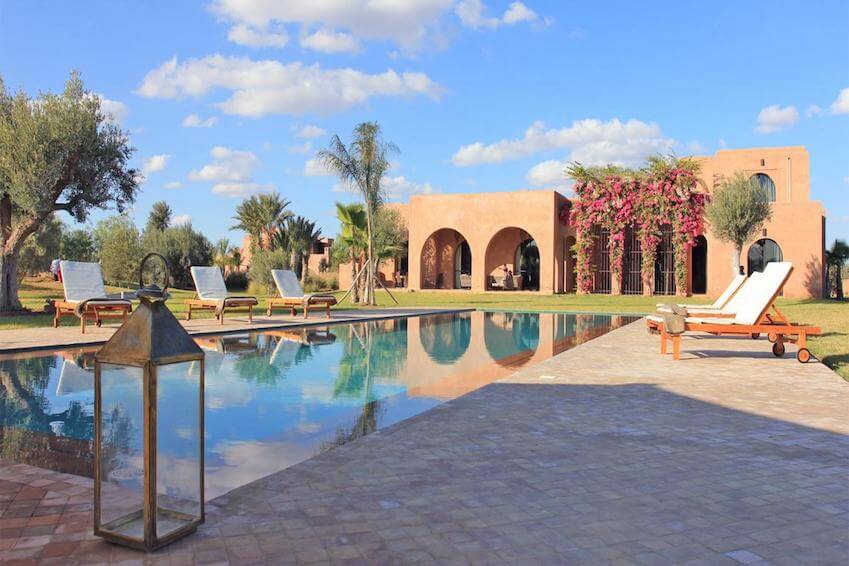 6 - Dar Mana - Marrakech, Morocco
Only 10min away from the famous square Jemaa El Fna, the Dar Mana allowed travelers to discover Marrakech on a exclusive manner. Surrounded by a park of one hectare, the villa benefits of an exceptional view on the Atlas that you can admire from its pool. Regarding its interior, just as stunning as the outside, it provides a large living room with a chimney for the winter and beautiful dining room of large bay windows which gives access to the garden. The house staff knows how to be discreet and gives a service of quality (which our visitors loved !)

>>> Dar Mana
Average grade: 9,5/10

"The service was lovely and the house beautiful. We thought the location was great for getting about. The drivers the house provided were friendly and very helpful.
It was difficult when some of the guests were hungry and we hadn't ordered to eat. It would be good to have some food always available so that guests could order snacks/light meals during the day if they haven't booked in lunch. The food we did have was excellent!"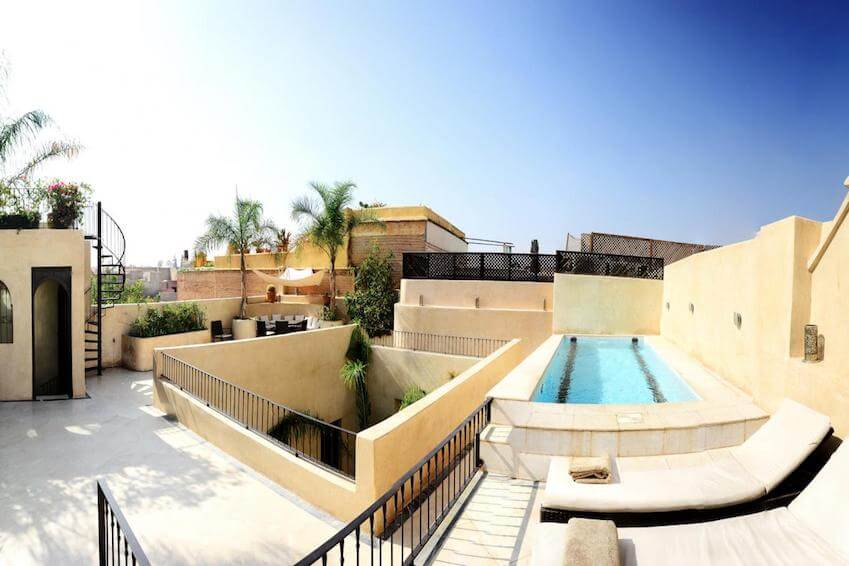 7 - Riad Vania - Marrakech, Morocco
Another one in Marrakech, where one of our most sumptuous villas convinced our holidaymakers. This mix of local and contemporary style offers a real luxury dimension. It is in a privileged sensational decor that visitors stayed: nice spaces, large terraces on the roof, exceptional views over the Atlas mountains, and a heated pool. Regarding the confort, there's nothing more to say. The house provides a massage room and large dining room open on the patio, which reveals a luxurious fountain. Hosting up to 10 persons, the riad welcomed friends groups or large families.

>>> Riad Vania
Average grade: 8.8/10

"The service and staff were exceptional and they could not do enough to please you. The food was good and the pool was clean and warm. The areas were clean and tidy. But getting a taxi was difficult." - Asif A.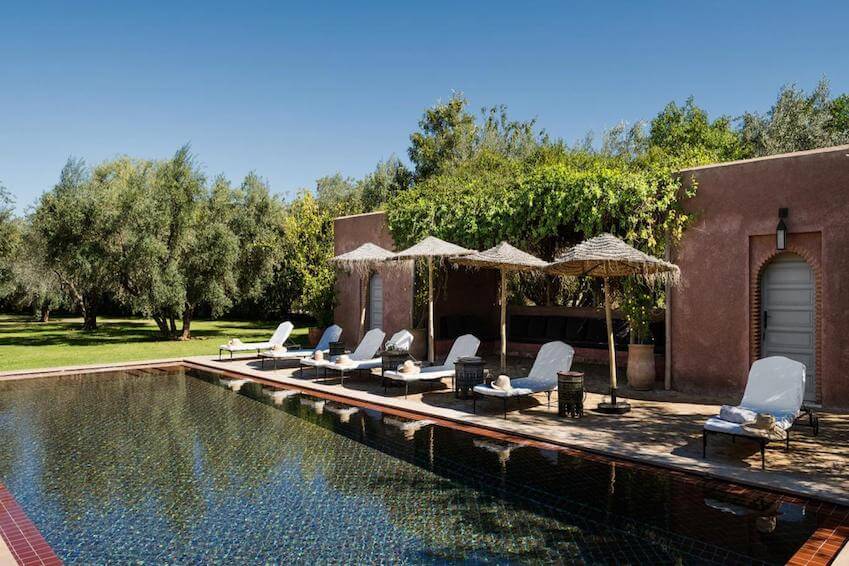 8 - Villa Mauresque - Marrakech, Morocco
On the 8th top position comes the villa Mauresque for its undeniable charm given by its incredible garden of olive trees, its quiet and calm environment as well as its professional house staff. Only 25 minutes from the center of Marrakech, this sublime property was the perfect shelter for travelers seeking for a getaway in Morocco, while still keeping the calm and quiet of an intimate setting. Besides its wonderful environment and panoramic views, the villa has its own cook who will be pleased to prepare local specialties according to the will of visitors.

>>> Villa Mauresque
Average grade: 9/10

"Just outside the exciting, bustling world of central Marrakesh lies a beautiful, tranquil oasis of calm – Villa Mauresque. It is beautifully appointed, set in the most wonderful garden full of ancient olive trees. It is truly a house set in sympathetic surroundings, with helpful and courteous staff and a short ride from the centre of the city. We enjoyed exploring the nearby mountains, visited the ski slopes and the local Kasbahs of the Ourika Valley area. Perfect for walks and day trips – we would definitely recommend and return." - Sarah and Peter B.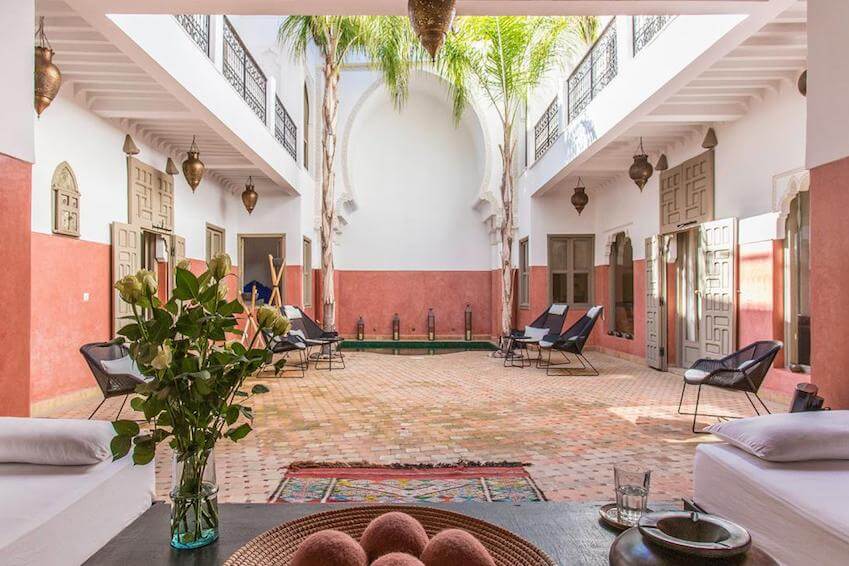 9 - Riad Darmina - Marrakech, Morocco
The wonderful Riad Darmina drew attention in 2018. Located in the medina of Marrakech, this wonderful riad of 7 rooms and 7 bathrooms allowed several families to reunite for luxury holidays around a large patio and nice terrace on the roof with pool. If we are certain of one thing, it is that the visitors of this authentic property are plunged into an hypnotizing environment thanks to an exceptional view and local decoration.

>>> Riad Darmina
Average grade: 9.9/10

"The riad was awesome the interior design great so cosy and modern and we loved the staff and the food!
At the beginning we were not very confident to rent a Riad throw internet but Villanovo provide us a secure way to rent and the staff was very helpful in every moment, so I really recommend Villanovo and for sure I will use them again in the future!" - Maria P.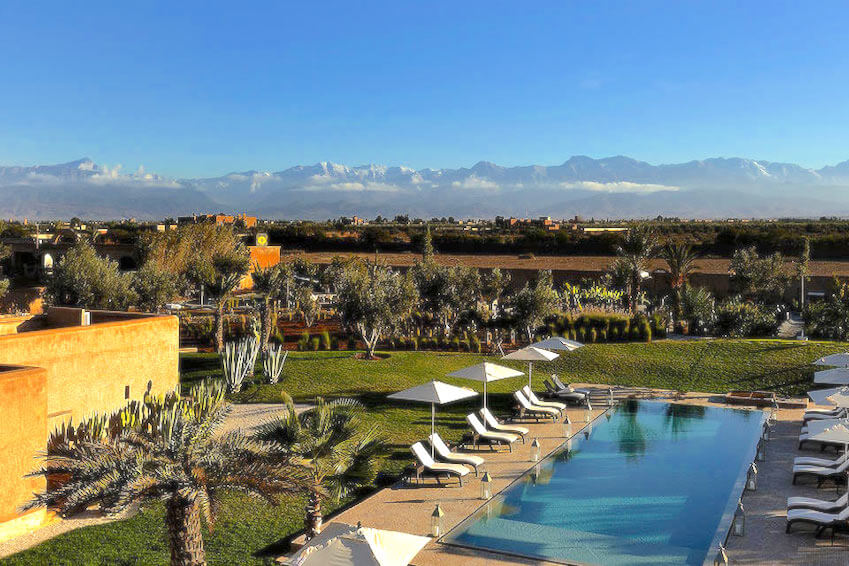 10 - Villa Eden Rose - Marrakech, Morocco
On the 10th position of this top of the most rented villas in 2018, we find the Villa Eden Rose. The later pleased our visitors thanks to its charm, calm as well as luxury equipments. Travelers enjoyed its private spa, its wonderful garden and its heated pool. The authenticity of the place and its unbeatable comfort got the heart of the lucky residents.

>>> Villa Eden Rose
Average grade: 8,6/10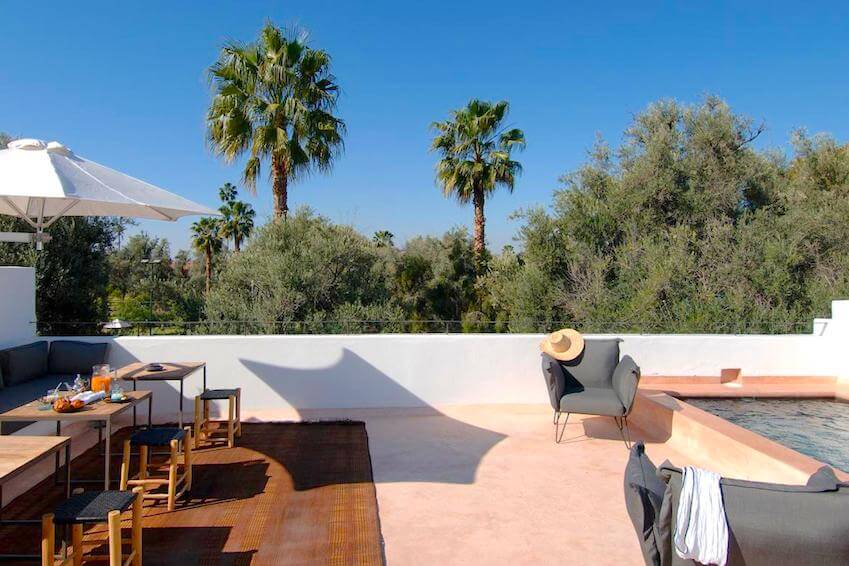 1 - Dar 118 - Marrakech, Morocco
At last, on the top of this top… The Dar 118! Qualified as a "rare house", the property of typical Moroccan charm convinced our 2018 holidaymakers. With a breathtaking view over the gardens of Mamounia, the Dar 118 is organized around a contemporary patio, connecting its two floors around an helicoidal stair. No matter what the season is, the property held its promises of full comfort holidays, thanks to a heated pool, a patio that is covered during the winter, a hammam and a massage room. Several visitors said they wanted to do it again!

>>> Dar 118
Average grade: 9,6/10

"We absolutely loved this Road. The first night, it was daunting walking through the back streets at night and wondering where we were staying, but once we arrived through the doors ..... wow!
The facilities were great, the staff were absolutely superb, and like family towards the end. The quality of the cooking ... we tried eating out a couple of times during the week, and to be honest, it was not even close to the quality of what the two ladies served up. Our children can be fussy, but they ate everything! Already recommended to several friends and family, and done a review on Trip Advisor.
VILLANOVO : Never come across you before in the UK, but now we are looking at our next holiday with Villanovo already!"-  Ahmad F.