Top 10 most beautiful villas for Yoga
Written on : 02 May 2018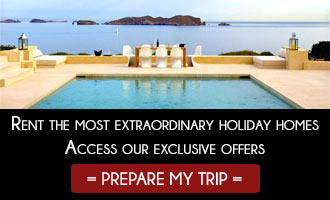 Going on vacation to dream destinations also means relaxing and taking time for yourself. In the four corners of the world, our luxury villas offer you idyllic frames to help you recharge your batteries. In the heart of nature and facing landscapes and breathtaking views, Villanovo guarantee a well-being stay ideal for yoga.

Discover our selection of villas ideal for yoga practice you can rent with us: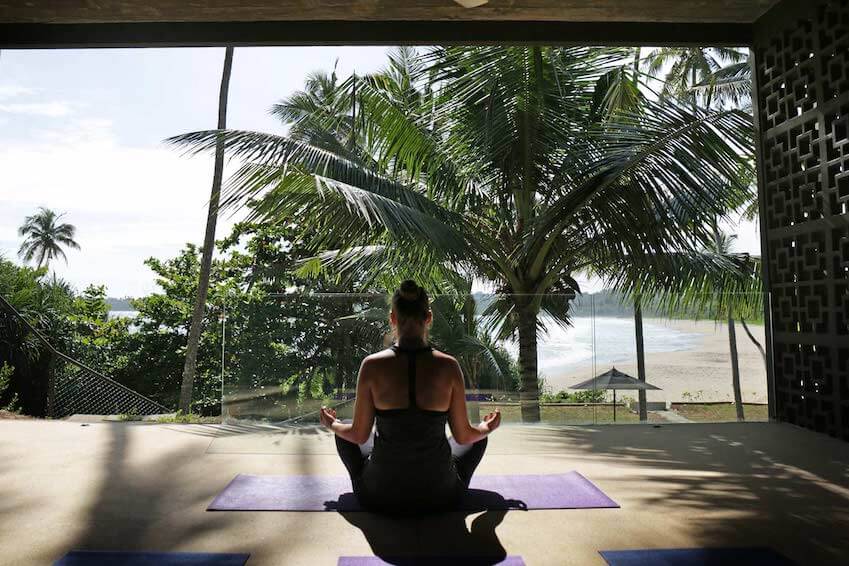 Villa Talalla - Tangalle, Sri Lanka
On the edge of the place on the South coast, Villa Talalla offers high quality services for your enjoyment. With direct access to the sea, to admire from the terrace or from the private pool, all you have to do is relax and enjoy the yoga area on the first floor of the property, facing the mesmerising blue of the water. And, in the roof garden, you can relax in the heart of a beautiful nature. Ideal for 10 people, the house staff will answer all your requests to make your stay unforgettable.

Rating given by our customers: 9.4 / 10

>>> Discover our villas in Sri Lanka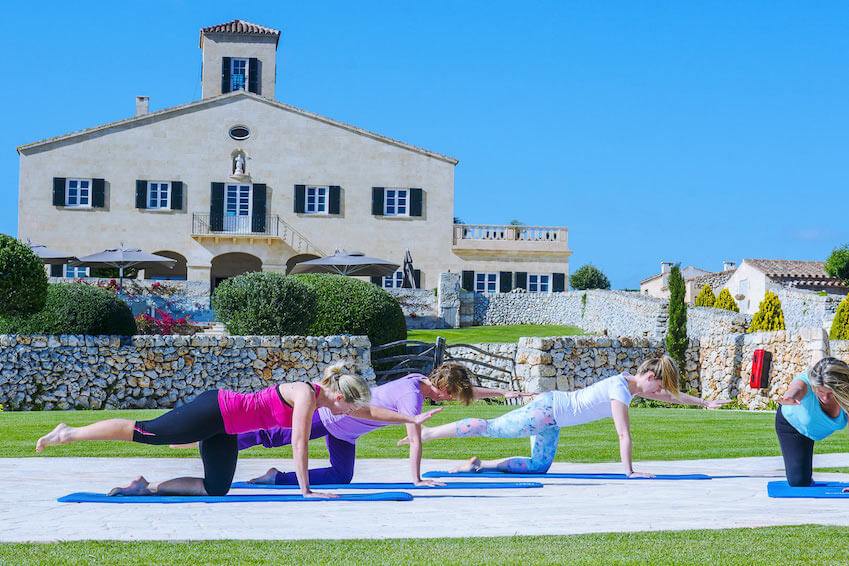 Villa Sant Climent - Menorca, Spain
Near Sant Climent, this old manor farm offers a rural and intimate setting for your holidays. The decor has been carefully crafted and with great attention to detail to create a charming atmosphere. From the beautiful private infinity pool, enjoy the incredible 180° view of Mallorca and the splendid garden of the property with its outdoor dining areas. Moreover, the children will be delighted by the games and the tree house and parents will enjoy high-end services in the villa.

Up to 24 people, you will have the honour of enjoying a hotel service of excellence and especially the benefits of private professionals just for you. Indeed, you will have the opportunity to have a personal coach, a nutritionist, a therapist or a teacher of yoga and pilates. They will take care of you in the gym or in the spa area where the official beautician of the area will take care of your face and your body. All you have to do is relax and rejuvenate.

>>> Discover our guides in Spain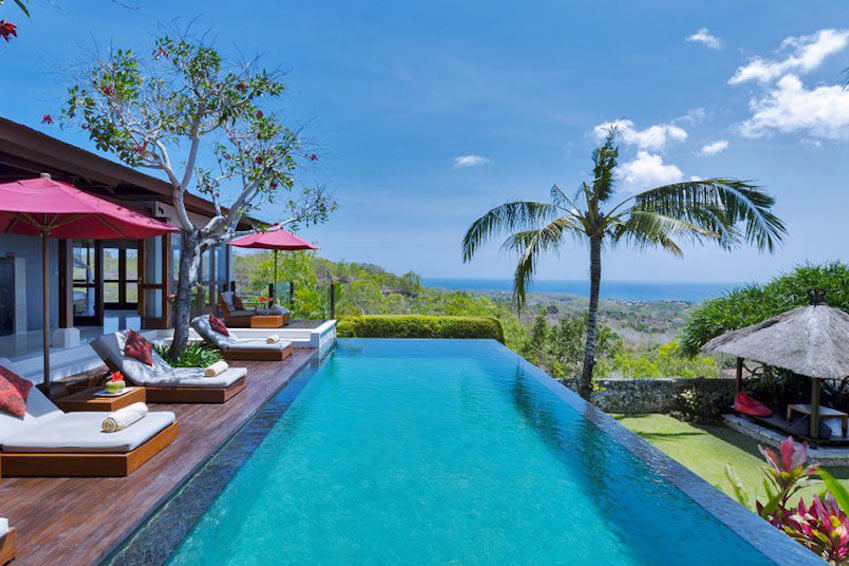 Villa Capung - Bali, Indonesia
A calm and quiet place, it is Villa Capung. Nestled on the lush Bukit of the Isle of the Gods, it stands in the heart of tropical vegetation facing the sparkling waters on the horizon. A few minutes from the beach, it offers a beautiful sunset from its large garden and private infinity pool. And, with its open pavilion, you will constantly have a breathtaking view for your enjoyment. And, what better than a house staff at your disposal, to add to your stay, a touch of incomparable luxury?

>>> Our guides in Indonesia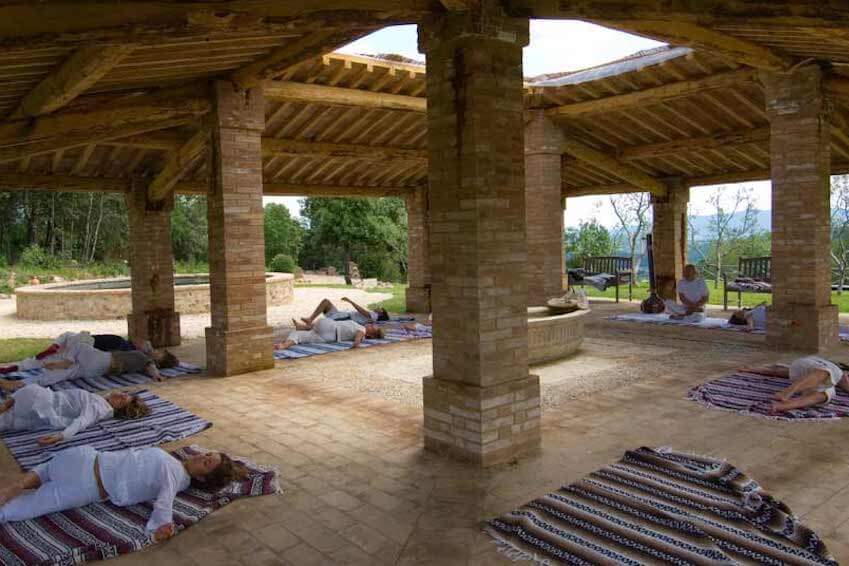 Villa Tocchi - Tuscany, Italy
In the heart of Tuscany, Villa Tocchi is ideal for beautiful ceremonies and family reunions. South of the historic city of Siena in the nature reserve of Tocchi, this luxurious property offers an unspoiled setting for a holiday under the sign of relaxation. This small hamlet of three adjacent buildings transports you to the heart of ancient local traditions with its Roman baths and natural wood sauna but also with typical local dishes, to enjoy around a good Tuscan wine.

Combining tradition and luxury, this architectural marvel gives you a 360° view of the Tuscan landscape and its huge garden with ancient varieties of roses. In particular, the property will be your point of departure for beautiful authentic excursions: horseback riding, trekking, yoga classes or tastings of oils and wines.
Beach Villa Praslin - Praslin, Seychelles
The island of Praslin in the Seychelles is a real oasis of peace with prestigious properties... and one of them, Beach Villa Praslin, is exceptional. Near Anse Government Beach, enjoy an all-inclusive stay with a bespoke service and house staff at your disposal. From its private pool overlooking the ocean, enjoy breathtaking views of the azure expanse. A show that is worth it!

In addition, in the heart of the villa, enjoy an excellent wine cellar and yoga sessions to fully enjoy the relaxing atmosphere of the place. And, you will also have privileged access to the Raffles Hotel's spa as well as the opportunity to indulge in golf on the Constance Lemuria Resort's course. Then, if you want to go on trips, we offer you snorkelling equipment, kayaks, a paddle boat or everything you need to paddle. Villanovo can help you organise excursions with our local team.

>>> Discover our guides in the Seychelles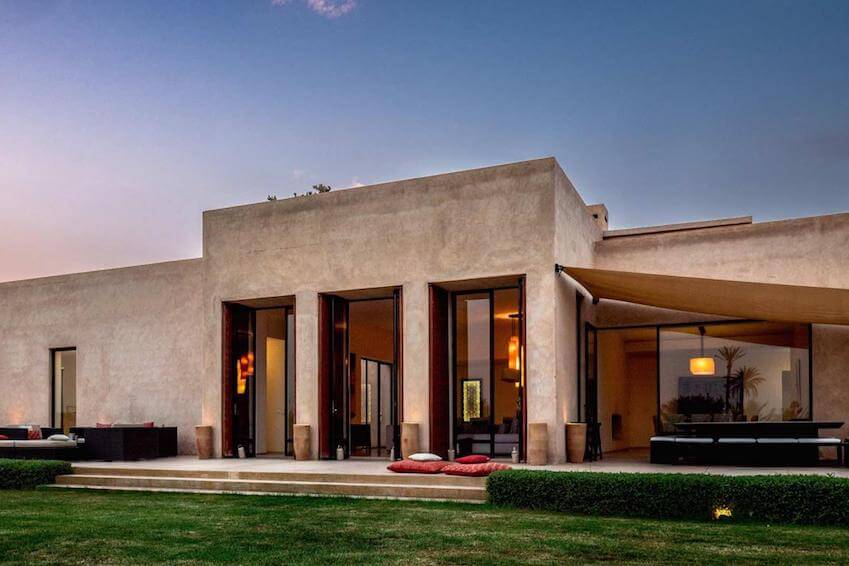 Villa Noor Palmeraie - Marrakech, Morocco
Facing the grandiose Atlas, in the heart of the Palmeraie, Villa Noor Palmeraie is an architectural splendour. Its contemporary style combined in perfect harmony with minimalist design and ethnic objects is a real wonder. In a zen atmosphere, refined and chic, enjoy high-end services with a heated pool, a hammam, a private tennis court and especially a discreet team of staff for excellent service. From the pool house with its wellness area and the hammam, or near the seguia flowing along the pavilion, the garden will also charm you.

Rating given by our customers: 9.2 / 10

"Dream house, in a heavenly setting, a haven of peace 20 minutes from the centre of Marrakech. Lovely staff, very discreet and extremely efficient, attentive and always smiling. Excellent cook. Many activities: swimming pool, hammam, tennis, billiards, ping pong, petanque... everything for a great stay!" - Aude R.

>>> Discover our other villas in Marrakech
Villa Areal - Peloponnese, Greece
In privacy, nestled among lush olive trees, it is in Greece that you will discover the beautiful Villa Areal. Only 3 minutes from the Gulf of Costa Navarino, it is a property out of sight in a natural environment and a warm atmosphere. Ideal for long naps in a hammock under the olive trees, the villa offers a jacuzzi and a beautiful heated infinity pool with views of the Ionian Sea. And, at dinner with family or friends, you will enjoy the authentic atmosphere near the outdoor fireplace.

>>> Our guides on Greece
Amilla Villa Residence - Baa Atoll, Maldives
Staying at Amilla Villa Residence means guaranteeing you a Maldives vacation right on the water. In Baa Atoll, a magnificent UNESCO biosphere reserve, facing an attractive white sand beach, this property is your place to relax! Notably, it has all the comforts of our luxury villas: 2 infinity pools, a large garden and a team of house staff who are attentive and ready to meet your needs. Indeed, with a private chef, you will have the opportunity to taste typical dishes but also to develop menus according to your tastes and preferences.

More so, by renting this wonderful villa, you will have exceptional facilities: a buggy and a fleet of bicycles, a tennis court, an ocean-facing gym or a world-renowned spa with private therapeutic treatments. And for memorable family activities, we can organise scuba diving or catamaran trips, turtle safaris or dolphin watching.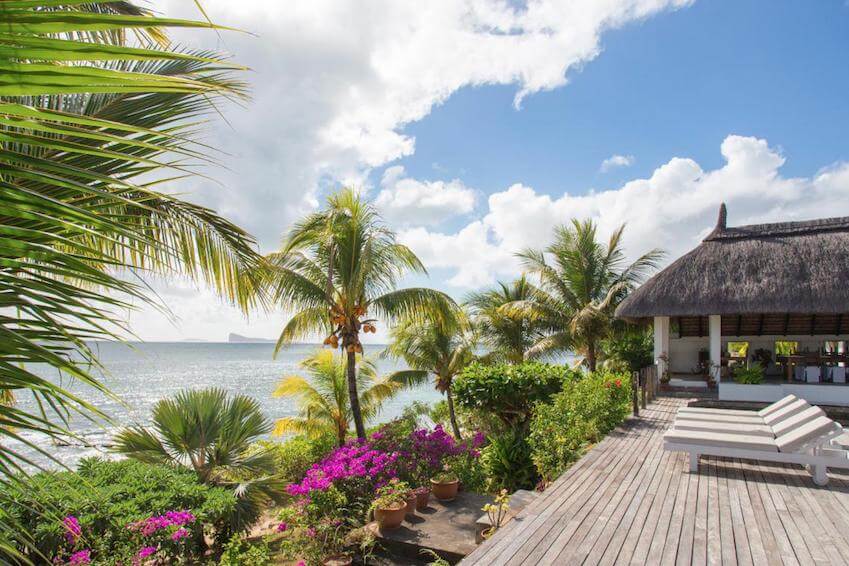 Villa Coloniale - Pointe aux Canonniers, Mauritius
To enjoy your holidays in a house of character in Mauritius, sounds great, right? In Villa Coloniale, the newest colonial house on the North coast of Mauritius, you will experience a stay in the image of the colonial aristocracy with a decoration made of family furniture from the East India Company and a tropical garden brimming with colours. With a magical view, enjoy a lovely private slate pool overlooking the private white sand beach and the turquoise lagoon. And, to perfect this so you have an ideal stay, house staff will offer you a discrete and attentive service.

Rating given by our customers: 8.4 / 10

"A spacious character house with stunning views and direct access to the beach, an undeniable catch, friendly outdoor spaces, beautiful period furniture, a well-kept garden, laundry, quality dishes, friendly staff who listen" - Pascale B.

>>> Discover all about Mauritius