Lamai beach - Koh Samui
Located in the south east of the island, Lamai is the second largest beach of Koh Samui. Wilder than Chaweng, the main one of the island, it runs over 4 kilometers and owns two legendary rocks about which the locals will be honored to narrate you the story. Clean and maintained thanks to the hotels nearby, you will be pleased have a cocktail while enjoying a traditional massage and why not indulge yourself with aquatic activities such as diving or snorkeling.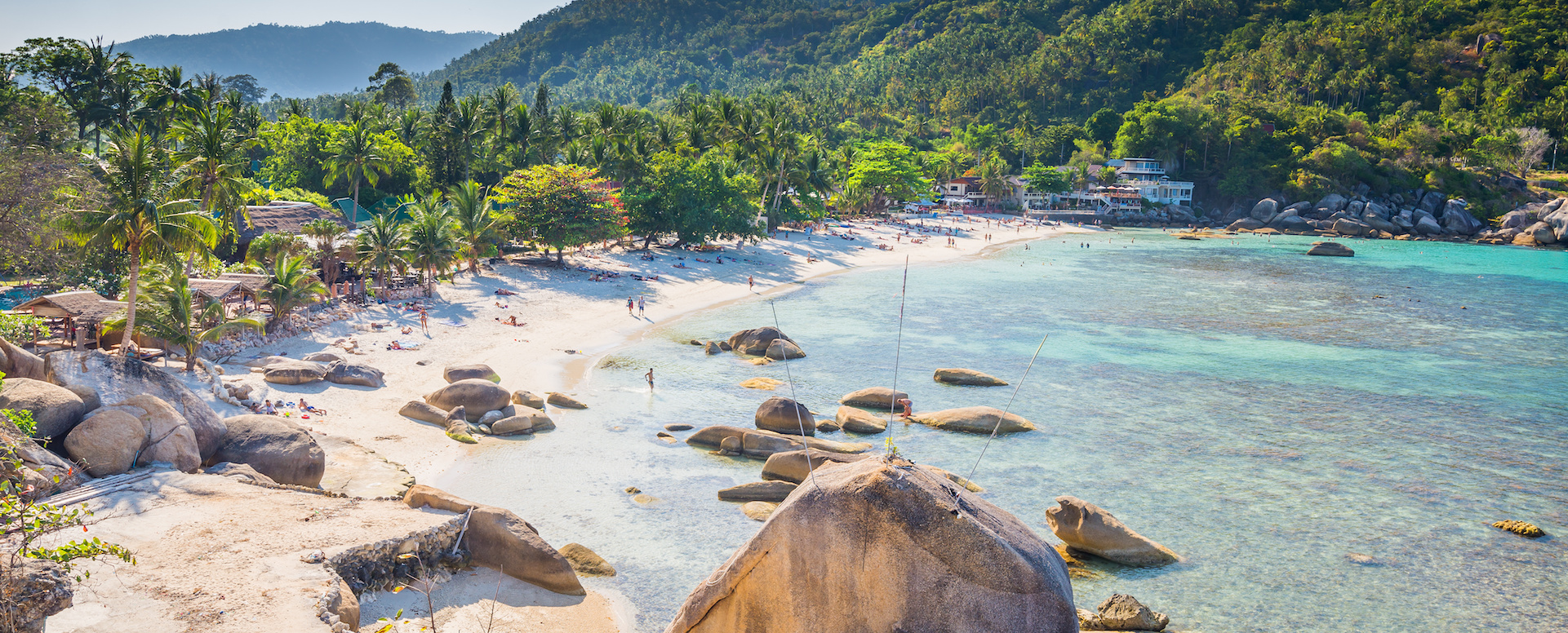 Long beach - Ko Lanta
If you know the island thanks to its mediatisation on TV shows, the island of Ko Lanta is full of treasures for nature lovers. If its beaches vary from one to another, we will remember two. First, the long beach. Main attraction of the island, you will also find it under the name of Phra-Ae. Perfect to swim, the beach also attracts loads of young people who like to parties thanks to its activities and night festivities.
Nui Bay beach - Ko Lanta
If you are looking for a more intimate setting, the bay of Nui will charm you by its space, small indeed, but sublime as well. Fine sand, clear water, away from tourists, the beach is ideal for persons seeking for calm. At last, if the absence of restaurants contributes to the charm of the place, have a sit in one of the rare bars you will find to enjoy a great view over the sea and an incomparable calm.
Nai Harn beach - Phuket
During your stay in Phuket, how to miss the wonderful Nai Harn beach? Promising breathtaking panoramic views, fine sand and supervised swimming, travel with peace of mind! If it is indeed better to go on low season, the beach makes all tourists agree, especially families: it is considered as the most beautiful one of Phuket. Few shaded, you will get the chance to rent deckchairs and parasols. At last, delicious restaurants on the seaside will please your whole family. What are you waiting for?
Surin Beach - Phuket
Imagine: an easy access, deckchairs, shadow from coconut trees, a huge space… Surin Beach is a magnificent beach that both locals and tourists love. If you get the opportunity to go in the morning, you will avoid groups and will fully enjoy moments with your family or your friends. Admire fish through the transparent water, taste the specialties served on the seaside and contemplate the sunset with your loved ones before coming home have a rest in one of our marvellous villas.
Sunrise beach at Haad Rin - Koh Phangan
How to talk about Thailand beaches without mentioning the very famous Full Moon? This monthly event reunites one night per month, during the full moon, thousands of locals and tourists ready to dance until the morning. Festivities of all kinds in the company of the greatest international DJs will animate your nights on the island of Koh Phangan. And if you prefer cultural activities, here's our top 10 of what to do in Thailand!
Haad Thong Reng - Koh Phangan
The most secret of our beaches: Haad Thong Reng. Unknown from public, this beach is almost empty and enables then to immerse yourself in one of the most authentic spots in Thailand. Fine sand, rocks and turquoise water, you will access this haven of peace by crossing the bridge in the end of Haad Than Sadet. Also, if you like to swim, the spot is ideal. Do not forget to think of getting your own picnic if you would like to eat on the spot, as there is indeed no restaurants.
Maya Bay - Koh Phi Phi Leh
Although Thailandese authorities decided to temporarily close its access in order to preserve its coral reefs and marine life, the beach made famous by Di Caprio in the movie "The beach" remains one of the most beautiful ones of the country. Now reopened, its huge popularity indeed harmed it. Attracting thousands of tourists in high season, one has to admit that its fine sand, herbaceous vegetation and turquoise water would seduce anybody.
Long beach - Koh Phi Phi Don
Not to be confused with the long beach of Ko Lanta, this beach of Koh Phi Phi is perfect for water based sports lovers. While it is common to see sharks around the shark point, diving enthusiasts will discover an amazing a truly extraordinary marine fauna. Although it may be hard to access, the beach is very appreciated for its peaceful atmosphere perfectly adapted to families.