Top 11 of our best villas with a gym
Written on : 19 April 2018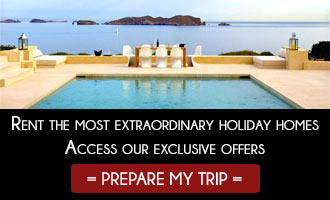 A private gym: a luxury
Even if your vacation is an opportunity to finally rest, staying in shape can also be part of these days of disconnection. And if the gym is inside your own private villa, without having to be shared with anyone and without schedules, taking care of your body is much easier. Between activities, you will always find the time to take care of your body. And if you decide to do it with your family, all the better, it will be a good experience for everyone! That's why at Villanovo we wanted to offer you this guide to our Top 11 villas with private gym you can rent with us to stay in shape during your stay.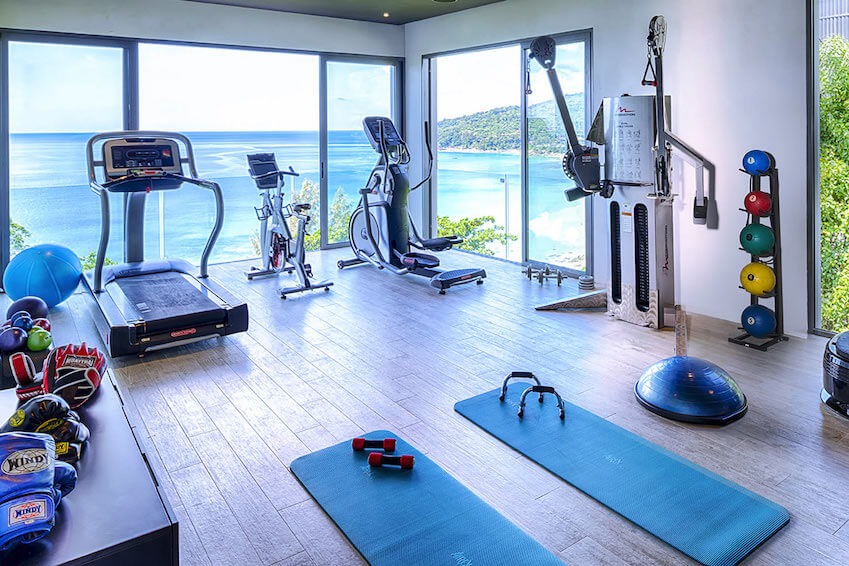 Malaiwana - Villa M (Thailand)
In the luxurious Villa M, exteriors are of great importance. It has space to enjoy the incredible views of Nai Thon beach. Its infinity pool accentuates the charm of this place even more.

It has 5 bedrooms (maximum 10 people) which also enjoy a view of an incredibly blue sea. The gym could not be better, and it also gives you the opportunity to exercise in front of the sea, a privilege you should not give up! Here you will find a variety of machines, a punch bag and a pool table. If you wish, you can use the services of a personal coach to advise you, a boxing coach and even a Pilates teacher. And after physical exertion, a spa session will be the perfect plan to recover lost energy. The interiors have a modern and elegant design that will conquer you from the beginning, as well as the exquisite dishes that your personal chef will prepare for you.

>>> Take a look at our Thailand guides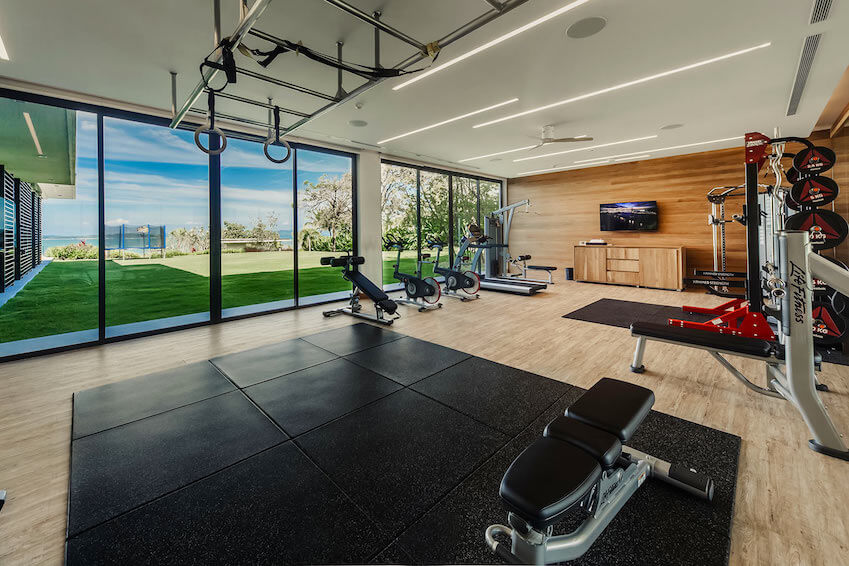 Villa Thaia (Thailand)
Villa Thaia, located in Phuket, will leave you speechless. From its imposing entrance to the last detail, it is designed to offer guests all the comfort and luxury they deserve during their holidays. There are 7 bedrooms and 8 bathrooms that can accommodate up to 16 people.

Tennis court, basketball, golf... the exterior of this luxurious property is part of its charm. The incredible infinity pool will seem even more impressive when you realise that the image right in front of you is the Andaman Sea. Next door you will find a kind of pavilion which houses a long table where 10 guests can sit. In addition to the different outdoor areas, you can enjoy the view from the outdoor hot tub, a luxury to which you can not say no!

But the interior is no less surprising. Indeed, its careful decoration, its golf simulator, its cinema and its spacious fitness room make this villa a real gem where there is absolutely nothing missing. What could be more perfect?

>>> Unforgettable holidays in Thailand
Villa Formosa (Algarve)
If you are looking for a luxurious and quiet Portuguese property for a family holiday, Villa Formosa is the perfect place. It is located in Quinta do Lago, in the famous Algarve. Its imposing garden will be the playground for the youngest members of the house, as well as an ideal place for adults to relax. There is a private pool surrounded by sun loungers and umbrellas, which can be heated on request, and while it sounds amazing, there is also a small outdoor golf course where you can play this sport, which will surely awaken the curiosity of children.

This Mediterranean architecture house offers 5 bedrooms and 5 bathrooms, and different spaces equipped with a pergola, a barbecue and seats to share lunch or just a moment outdoors.

The playroom will completely conquer the little ones because it has a ping-pong table, a pool table, a set of goals and more. And if that's not enough, there's also a movie theatre waiting for you where you can watch your favourite movies. And, of course, the perfectly equipped gym will be your temple of well-being to release tension.

>>> Discover our luxury villas in the Algarve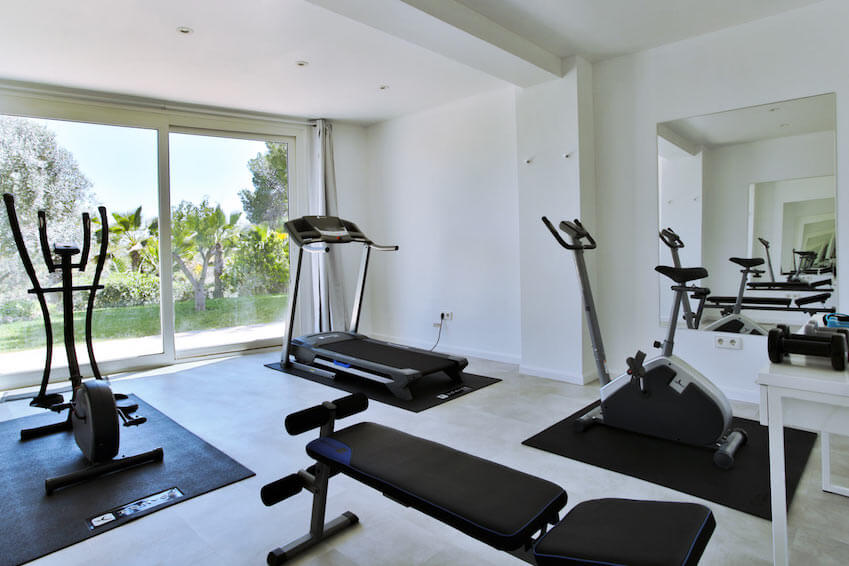 Villa Marlin (Ibiza)
The extraordinary Villa Marlin is the result of the combination of intimacy, tranquillity and luxury. It is located in the South of the incomparable Ibiza and has 8 rooms and the same number of bathrooms. It can accommodate up to 16 people, making it an ideal property for a unique holiday with family or friends.

Outside, there is a swimming pool to cool off under the Ibiza sun, as well as several spaces to share a good meal, breakfast or a moonlit dinner with the sea as a backdrop. In your private gym, you will find a variety of machines and weights to help you keep fit, so you will not have to worry about enjoying your vacation. There is no problem in Ibiza!

>>> Discover our luxury villas in Ibiza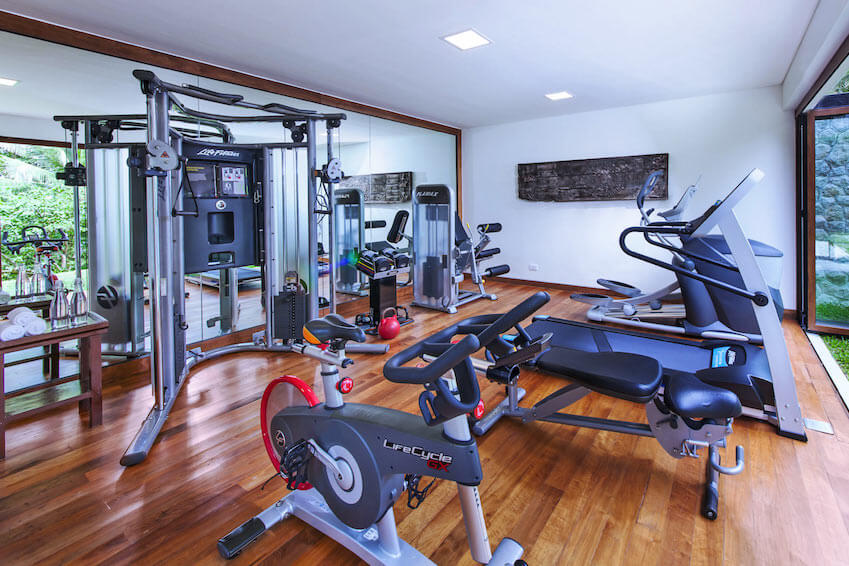 Villa Laemson (Thailand)
The splendid Villa Laemson is located in Phuket, near Kamala Beach, and has 7 bathrooms and 6 spacious bedrooms that can accommodate up to 14 people. Without a doubt, its strong point is its privileged location on the West coast of the island and its spectacular views of the Andaman Sea. Its interior is modern, but reflects Thai charm to perfection. Although being a contemporary property, it exudes a warm and welcoming atmosphere.

In your gym you will find all the necessary equipment, including a leg extension machine, a bike and weights of different sizes, as well as access to the outdoors. You can also use the yoga space to practice this relaxation discipline and disconnect from the world for a few moments. And, if you wish, kayaks are at your disposal to have a good time on the water.

Its swimming pool and its staff will be the final touch of a stay that promises to be wonderful.

>>> Try the charms of Thailand!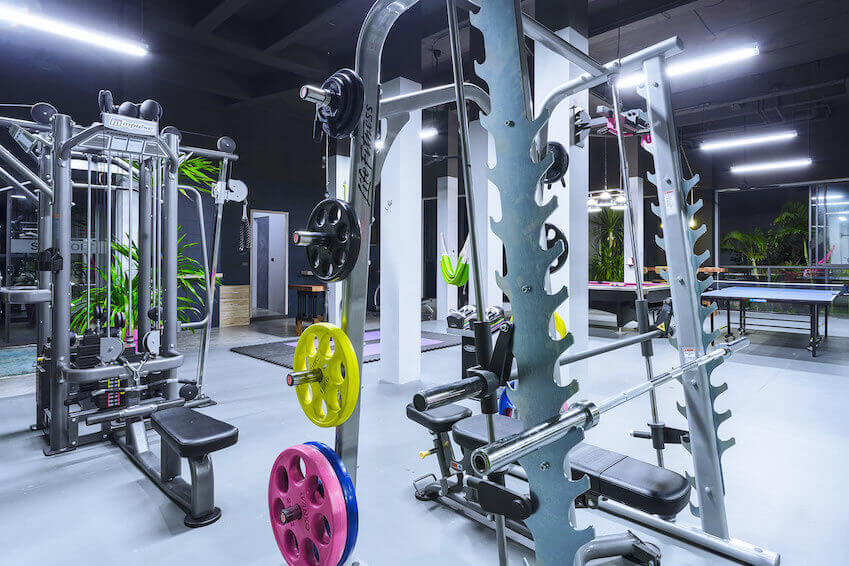 Loft Villa (Thailand)
We are going to Thailand, more precisely to Koh Samui, to present to you the marvellous Loft Villa from where you will be able to enjoy incomparable views. With 6 bedrooms, this luxurious property can accommodate up to 12 people. Its original architecture and modern decoration will attract your attention. Your infinity pool with sea view will be the setting for unforgettable moments with your partner, your friends or your family.

In the same room where your fully equipped private gym is located, you will also find a pool table and a ping-pong table to enjoy entertaining games. This area also houses tables for aperitif and even hammocks for rest.

House staff will be at your disposal to make your stay unforgettable. Breakfast is included in the price, so start your day with breathtaking views!

>>> Discover our luxury villas in Thailand
Villa Gava (Greece)
Corfu hides a treasure that we highlight today: Villa Gava. In this luxurious property where the bright white and the blue of the sea predominate, you will find facilities that will make your stay much more comfortable and exclusive.

Without a doubt, admiring the fusion of the sun with the waters of the Ionian Sea is a spectacle that, seen from its large infinity pool, becomes a memory that will remain engraved. This exclusive villa can be inhabited by 8 people and has several outdoor spaces equipped to share great moments.

If you are passionate about physical activity, or if you simply want to get away from a sedentary lifestyle, do not hesitate to take advantage of the private gym to enjoy a view of the outdoors. And, next to an outdoor hot tub and direct access to the sea, we could say that Villa Gava has everything you need and much more. What are you waiting for to discover the Greek charm in this luxury house?

>>> Discover our luxury villas in Greece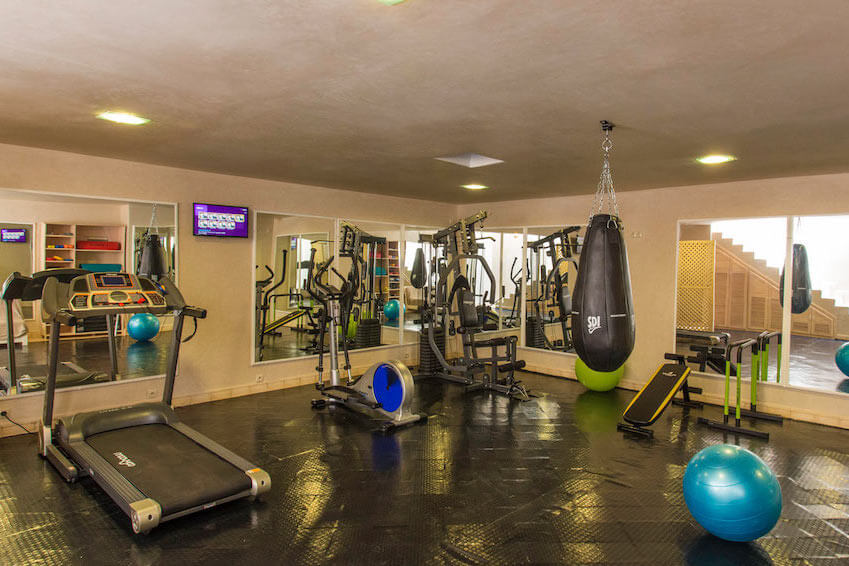 Maison Illi (Essaouira)
All the charm of Morocco is hidden in Maison Illi, located in Essaouira. With its typical Arabic architecture and exquisite Moroccan decoration, this property can accommodate up to 8 people and is the ideal place to spend holidays with family or friends.

In your gym, you will find everything you can imagine so that you can enjoy your stay by playing sports and doing a variety of exercises. In addition, your large private garden can be used for outdoor sports before or after a relaxing swim in your heated pool. And after so many activities, there is nothing better than a hammam session and delicious traditional dishes prepared by your chef. And if you wish, a fully equipped kitchen is also available for you to showcase your culinary skills.

At Maison Illi, you do not have to worry about anything other than having fun, as it has an attentive team of house staff who will make sure your vacation is a real vacation.
 
"The property was amazing, perfect for kids to run and adults to relax in. The staff were outstanding and they fed us well and kept the place spotless by cleaning every day, taking care of the pool. By organising the steam room and massages on site, we had a great time and can not wait to get back." - Laura P.
★★★★★
Villa Blue Ocean (Phuket)
In Phuket, you can also pamper yourself in one of our villas: Villa Blue Ocean. With its 6 bedrooms and capacity of 12 people, this property will make your holiday a unique experience. It's a perfect mix of luxury and intimacy, close to the most touristy areas, but keeping exclusivity, away from the annoying noise of cities. Its design reaches a balance between the minimalist and the traditional, the same as you will find in its sophisticated decoration with Thai touches like the Buddha statue. In addition to a gym, there is also a spa, an outdoor pool and a barbecue where you can enjoy a good meal with family or friends. The best part? Private access to the beach and views of a turquoise ocean that will leave you speechless. Enjoy Thai holidays that will give you unforgettable moments!
 
"Wonderful stay and services offered." - Sebastien P.
★★★★★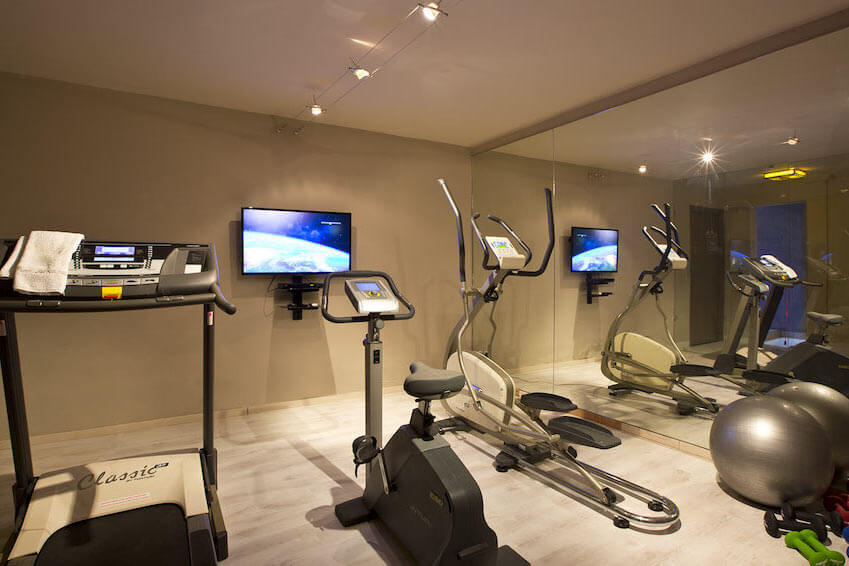 Villa Amanassa (Marrakech)
Travelling to Marrakech is already a unique experience, but staying in a luxury property like Villa Amanassa will give it a unique touch. Its architecture reflects an Arab-Andalusian blend that will remind you of the country in which it is located, as well as the decorative elements that you will find there. Its privileged location on the first line of the famous Amelkis golf course, as well as its private gym make this property, with a capacity of 10 people, a perfect place for those who refuse to give up the sport during their holidays. You will have at your disposal all the sports equipment necessary to enjoy moments of exercise alone or with family.

And after a workout, there's nothing better than taking a dip in the heated pool, relaxing the tension in the spa and massage room and purifying yourself in the steam room. You can also immerse yourself in the pages of a book in the garden surrounded by lush vegetation, enjoying the rays of the sun. When the moon rises and it's time to sleep, you can choose from the 4 rooms in the villa where luxury bedding will enhance your rest. The house staff (butler, cook, housekeeper, technician and gardener) will make your stay the one you have always dreamed of.

A comfortable villa, near Marrakech, with attentive staff so that everyone can enjoy an unforgettable stay.
 
"This stay will be a very nice memory, to recommend without a doubt." - Yannick B.
★★★★★
>>> Discover our luxury villas in Marrakech
Villa Bayu Gita (Bali)
Villa Bayu Gita, located in the wonderful Bali, has everything you could want. And, of course, among these facilities, there is a perfectly equipped gym where you can spend as much time as you want to do different exercises and then take a well-deserved dip in its beautiful pool. To relax, just watch the waves crash in front of your private villa, watch a movie in the movie theatre (you can choose from 500 different movies), play pool or throw some darts to aim for a bullseye.

The little ones will have a lot of fun playing in the water or enjoying the video games that will be available to them. And your personal chef will prepare exquisite dishes that will conquer your palate.

While Villa Bayu Gita has everything you could wish for, you will also have the opportunity to discover all the surprises Bali has to offer. We particularly recommend you to get to know the art and culture of Ubud, you will be impressed! You can share this 6 bedroom paradise with 11 other people. It's perfect for your next trip with family or friends!

The property is facing the ocean and the staff are incredibly friendly.
 
"Very good team, Villanovo, especially Evane who was very professional." - Marie Charlotte A.
★★★★ ✩
>>> Discover our luxury villas in Bali