Craving exoticism? Fly to Asia! Cultural and historical, Asia is full of fantastic landscapes to explore with family or friends. Go meet these Eastern civilizations where spirituality and nature occupy essential places. Here, the wonders of the past succeed each other and give the Asian countries an atmosphere of absolute tranquility. For your holidays in Asia, discover the splendors of Thailand. From the bustling Bangkok to its islands lined with beautiful beaches, Thailand is a jewel steeped in customs and traditions. If you are looking for peace and like to meditate, head towards Bali. From volcanic reliefs to hills covered with abundant vegetation, Bali is a little paradise, ideal for taking some long needed rest. Are you convinced? Discover our most beautiful villas in Bali and Thailand and treat yourself to the best with our personalised and luxurious services.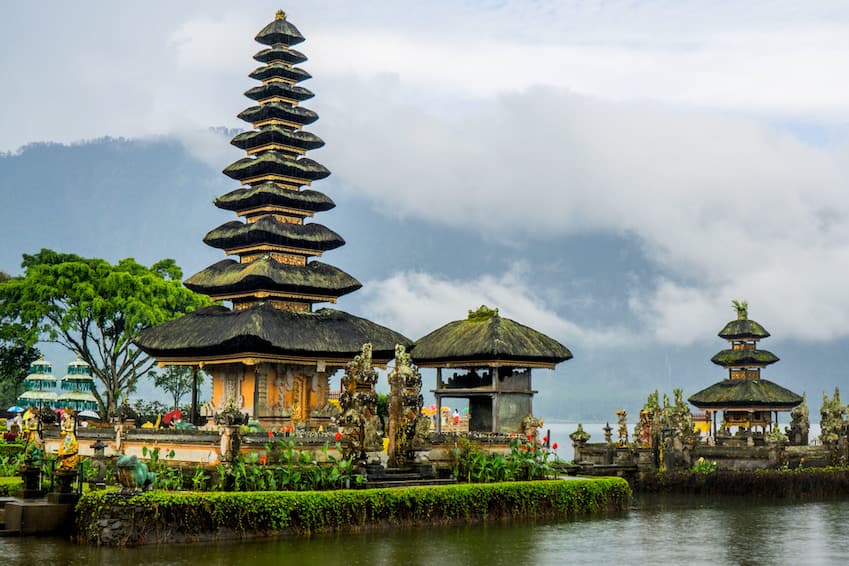 Bali and Thailand: an invitation to travel
Mystical and hypnotic, Bali and Thailand are two dream destinations to discover with both family and friends.
The exceptional sites of Thailand
Unpack your suitcases in the ancient Kingdom of Siam, Thailand, here you will go on to discover a civilization frozen in time. Between tradition and modernity, Thailand surprises its travelers with its culture and relaxed lifestyle. Upon your arrival, you will be amazed by the bustling city of Bangkok. Capital of excess, Bangkok marvels with its colorful markets, lively bars and typical villages adjoining the city center. Let yourself be lulled by this urban tumult and the delights of the locals who will welcome you with open arms. Then go to
Koh Samui
, an Island that attracts tourists from around the world. Nicknamed the "Island of coconuts", Koh Samui is a
haven favored by families
. Treat yourself to a relaxing break on the fine sand and swim in the turquoise and warm waters. Change of scenery guaranteed!
To discover Thai culture, take a tour of Chiang Mai. A cultural capital, Chiang Mai seduces you with its wide variety of temples and mountainous landscapes around the city.
Stroll through this old town, which you can explore by bike
, then stroll through the maze of alleys to meet Buddhist monks. After a tour through the craft shops to bring back souvenirs of your trip, admire the imposing Doi Suthep, the most spectacular temple in Chiang Mai.
Finally, if you want to play sports and have fun, head to the Surin Islands and the Similan Islands, two small paradise spots known worldwide for their
scuba diving spots
. Organize a
boat trip with your family
to reach these two wonders from Khao Lak. Here you will discover the fascinating aquatic life as you swim alongside manta rays and whale sharks. Above the water, these islands are also worth a visit as they sport a backdrop covered with tropical jungle, white sand and splendid coral reefs.  
Discovering Bali, "The Island of the Gods"
One can easily get lost in the green rice fields of Bali, nicknamed "the island of the Gods". Magnetic and fascinating, Bali is an
Indonesian
pearl in the middle of the Indian Ocean. Here, the
beautiful beaches
flow into lush forests, integrated perfectly with an enchantingly
historical and religious culture
. Discover this civilization that seduces travelers with its lifestyle and its bewitching gentleness.
During your stay, let yourself be enchanted by
local crafts
where authenticity and ancestral know-how are intertwined. Ideal for bringing back souvenirs of travel, these shops offer wooden sculptures, colorful masks and kites shaped like butterflies. When you come out of these shops, you may have the chance to attend a Balinese dance show. Dressed in silk and ikat, locals here surprise travelers with the precision of their movements, their joie de vivre and their indisputable grace.
Then head towards the myriad of Balinese temples that fascinate with their beauty as much as they do with their
history
. In particular, do not miss the Pura Luhur Uluwatu, perched on top of a cliff, isolated at the southwestern tip of the Bukit Peninsula, this picturesque temple overlooks the Indian Ocean. Dedicated to the deities of the sea, the Pura Luhur Uluwatu offers breathtaking views of cliffs and coasts. A real spectacle!
Bali is also a surfer's paradise
, and more generally, water sports. If you are passionate about surfing, or just curious, go in search of the ultimate wave on the various spots of the island. While beginners will head to
Canggu
or Kuta, the more experienced will want to face the fiercest waves of Green Bowl Beach or Dreamland Beach. If you prefer to rest or even meditate, Bali's numerous beaches offer the perfect getaway from the hustle and bustle of the city. In particular, Kuta Beach, one of the most beautiful beaches on the island. Here, the beach extends into an infinite rainbow of gold and turquoise.
After tasting
Jimbaran's
delicious marinated shrimp or a warung for lunch, discover
Ubud, Bali's authentic cultural hub
. Celebrated in Eat, Pray, Love,
Ubud
is undoubtedly the cultural center of the island. Here, traditional dance shows attract hundreds of spectators every night. From art galleries to museums, Ubud will enchant you for sure!
After  enjoying the jaw-dropping view of the green rice fields of Jatiluwih gracefully rippling like ribbons of greenery, take a trip to
Seminyak
, where local designer boutiques follow one another, accompanied by
typical restaurants
and small boutique hotels.
Lombok
is also worth a visit due to its spectacular natural spaces. In particular, if you are in good physical condition, we recommend climbing the volcano Gunung Rinjani, one of the largest volcanoes in the Indonesian archipelago. Though the road is challenging and winds all the way up to the top, your efforts will be rewarded once you reach your destination. From there you will enjoy breathtaking views of the surrounding area including the sacred lake below, a spiritual landmark on the island.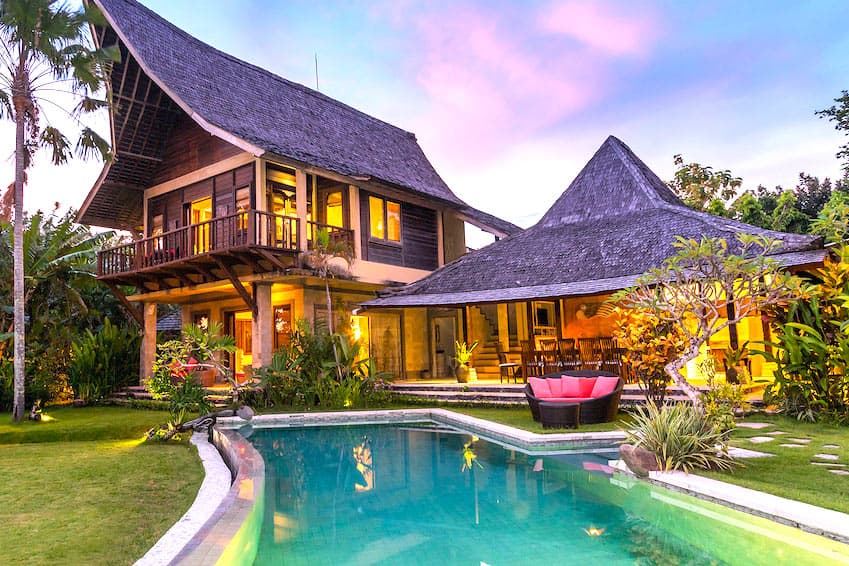 Ultra-luxury holidays in Bali and Thailand
To make your dreams come true, Villanovo works to find the most beautiful homes in the world to offer you an unforgettable holiday. In Bali and Thailand, our properties provide you with an abundance of luxury. More than just a place to stay, these villas immerse you in the local culture. A member of the house staff is in charge of responding to your requests and making your trip more enjoyable. Butler, housekeeper, babysitter or chef ... We have thought of every detail to make your stay in Thailand or Bali a unique and relaxing experience.

In Thailand, Koh Samui, hides a real gem: Villa Akatsuki. Located on the seafront, this luxurious property offers breathtaking views of the West Coast of Koh Samui. Stroll through the beautiful lush garden or enjoy a relaxing break in the beautiful infinity pool. Your holidays in Thailand have never been so marvelous. Inside, you will find rooms with a warm touch and tastefully decorated with Japanese and Thai influences. Lie back in one of five unique suites, each offering a unique atmosphere in which to relax. Through the bay windows, you can admire the Gulf of Thailand. At the end of the day, relax in the villa's spa, where treatments are provided upon request.

Also located in Koh Samui is Villa Drimea, an architectural marvel. Perched in the hills overlooking Chaweng Noi, on the east coast of Koh Samui, this property charms with its original structure and unparalleled brightness. Equipped with two private pools with Jacuzzi, Villa Drimea will provide you with an abundance of luxury for your holiday in Thailand. During your stay, you can admire the ocean and the mountains in the background. A member of the staff is there to maintain the garden and the swimming pool. An outstanding cook is also at your disposal to prepare your meals on the spot or to take away.

Finish your vacation at the superb Villa Praana Residence. This 4700m2 property offers spectacular views of the rainforest and the Gulf of Smui. Immerse yourself in either of the two infinity pools and relax in these warm, turquoise waters while enjoying the breathtaking view. A gym and a private tennis court are also available for those who want to exercise during their stay. To end the day, we recommend you take a trip to the sauna or steam room and treat yourself to a unique relaxing break. Throughout your stay, there will be a staff member to meet all your expectations by preparing your meals and ensuring that the villa is flawless, leaving the place as if each day was the day of your arrival in this private paradise.  

Let's go now to Bali, nicknamed "Island of the Gods" where you will discover Villa Bunga Desa. Located in the south-west of Bali, in Canggu, this sublime property is one of the most beautiful traditional houses of the archipelago. Inside, you'll find seven splendid suites with beautiful teak furniture and traditional artwork that grants the place a unique and sophisticated atmosphere. Perfect for a family holiday, Villa Bunga Desa is a huge paradise where you will enjoy swimming in the beautiful private pool. Then sunbathe on the fully furnished terrace and stroll through the tropical garden of 1700m2 which will enchant you with its imposing palm trees, frangipani trees and lush vegetation.

Not far away, in Cemagi, by the sea, is the splendid Villa Jagaditha. Set amidst landscaped gardens, this prestigious property is one of Bali's most spectacular. Thanks to its direct access to the beach, Villa Jagaditha offers ultra-luxury to share with family or friends. Relax away from the crowd by diving into the sublime private pool or pamper yourself in the villa's sauna. You can also take a break in any of the tastefully decorated living rooms. From contemporary sofas to the huge antique daybed, to the superb terraces to enjoy a meal under the stars, Villa Jagaditha will not stop surprising you.

Further south, on the Bukit peninsula, is the beautiful Villa Jimbu. With an exceptional view of the ocean, this property of great rarity will offer you an unforgettable stay on "the island of the Gods". Upon arrival, you will be greeted by two Buddha statues that give the place a peaceful and soothing atmosphere. In this private haven of peace, you can enjoy the huge tropical garden surrounded by large vases and water lilies. At sunset, the view looks like a real fairy tale. Overlooking the ocean, the property becomes a sublime mirador from which to observe the spectacle of the fiery sky.